Texas Health offers a full continuum of quality, advanced cancer care – including diagnosis, treatment, rehabilitation, education, support, prevention, research and long-term follow-up of patients.

Your Cancer Journey
Texas Health supports cancer patients by offering a full range of services throughout the continuum of the cancer journey – from screenings and diagnosis through treatment and recovery.
Cancer Services
Combining support and knowledge with skilled specialists and advanced services, Texas Health gives cancer patients the quality medical care to help in their fight against their disease.
Brain tumors can cause uncomfortable symptoms, such as seizures, nausea, blurred vision and personality changes. If you suspect you or a loved one has a brain tumor, a specially trained physician on the medical staff of a Texas Health hospital can provide a neurological exam and a personalized treatment plan, if needed. Simple observation, surgical removal, radiation therapy and chemotherapy are all options for treating brain tumors and may be used in a combination of ways.

Whether a brain tumor is benign or malignant, Texas Health offers the latest in diagnosis and care. Physicians on the medical staff — including neurosurgeons, neuroradiologists, neurologists, pathologists and radiation oncologists — work together to provide comprehensive care.

Learn more about brain tumors and treatment options.

Breast cancer remains the most common cancer among women, other than skin cancer, according to the American Cancer Society. However, men can also be diagnosed with breast cancer. Texas Health is dedicated to the prevention and advanced treatment of all breast cancer patients.

Today, breast cancer patients have more treatment options and more hope for survival than ever before. Texas Health offers many advanced treatment options, along with care strategies selected for each breast cancer patient and implemented by multidisciplinary teams of care providers led by physicians on the medical staff.

Diagnosis and treatment options include:

Advanced diagnostics
Genetic testing
Chemotherapy
Breast surgery
Reconstructive surgery
Resource centers and support groups

Stay ahead of breast cancer and schedule your mammogram today.

From diagnosis to treatment, specialists on the medical staff at Texas Health Presbyterian Hospital Dallas work with physical therapists, occupational therapists, dietitians, psychiatrists on the medical staff and others to provide the best possible care for orthopedic oncology and complex reconstruction.

Bone Cancers

Tumors within the bone destroy normal bone tissue and most often begin as cancer that has spread from another organ, such as the breasts, lung or prostate. Often, simple observation with physical exams or X-rays is all that is necessary for benign conditions, while more complex benign and malignant tumors usually require surgical removal.

Diagnosing Bone Cancer

Bone cancer can be quickly and effectively diagnosed. Diagnostic tests may include X-rays, blood tests, bone scan, computed tomography (CT) scan, magnetic resonance imaging (MRI), positron emission tomography (PET) scan, biopsy and angiogram. Once a diagnosis is made, orthopedic oncology specialists on the medical staff can perform advanced surgeries, as well as make recommendations about other treatments.

Colorectal (Colon or Rectal) Cancer

Texas Health is dedicated to the prevention, diagnosis and treatment of colon cancer. Excluding skin cancers, colorectal cancer remains the third most common cancer in the United States. According to research supported by the National Cancer Institute and the Centers for Disease Control and Prevention, this type of cancer starts as a small growth, called a polyp, long before symptoms appear. Screening tests can find polyps that can be removed before they turn into cancer.

Diagnosis and Treatment

It is important to find colorectal cancer early when the chance of survival is good, according to the National Cancer Institute. Physicians on the medical staff of a Texas Health hospital use advanced diagnostic and therapeutic procedures when diagnosing and treating colon cancer, which can include:

Colonoscopy
Anal nanometry/Pap smear
Flexible sigmoidoscopy
CT scan
Barium enema
Radiation and chemotherapy
Open and laparoscopic surgery

Texas Health offers advanced clinical care for patients with esophageal and gastrointestinal cancers. Cancers of the esophagus are treated by a collaborative team of physicians and surgeons on the medical staff of Texas Health hospitals, including specialists in esophageal/upper gastrointestinal (GI) and thoracic surgery. The esophageal cancer programs at Texas Health combine knowledge and compassion with advanced services and therapies to promote the best possible outcomes for patients.

Learn more about esophageal cancer and diagnosis and treatment options at Texas Health.

According to the American Cancer Society, lung cancer is the leading cause of cancer deaths in the United States with 160,000 deaths annually. More women die of lung cancer than breast cancer and more men die of this disease than prostate cancer.

Texas Health offers comprehensive lung cancer screening programs across North Texas. These programs aim to identify patients who are at an increased risk for lung cancer and are led by a multispecialty team of physicians, including oncologists, radiation oncologists, radiologists, thoracic surgeons, pathologists and pulmonologists.

Timely diagnosis is important in diagnosing lung cancer. Pulmonologists and thoracic surgeons on the medical staff of a Texas Health hospital use advanced technology to diagnose and treat lung cancer.

Learn more about lung cancer screenings.

According to the American Society of Clinical Oncology, pancreatic cancer is the fourth leading cause of cancer deaths in the United States. Hepato-Pancreato-Biliary (Liver, Pancreas, Gallbladder and Bile Duct) programs at Texas Health aim to improve that statistic. HPB programs bring together specialists in the treatment of pancreatic cancer, including doctors and surgeons on the medical staff, dietitians, and genetic specialists who can diagnose and manage all stages of pancreatic cancer.

Learn more about pancreatic cancer and available diagnosis and treatment options.

Texas Health offers care for advanced spinal conditions -- such as malignant or benign spinal tumors -- with a focus on the patient and their individual needs. Full-service oncology programs are located throughout North Texas that offer medical support to patients dealing with cancers affecting the spine.

Learn more about spinal tumors.

Urologic Cancers (Prostate, Kidney/Ureter, Bladder, Testicular)

Urologic cancers include cancers of the bladder, kidney, prostate and testicles. Texas Health specializes in providing comprehensive urologic cancer care using advanced techniques and technology.

Urologic cancers are treated by a multidisciplinary team of physicians on the medical staff of Texas Health hospitals, and includes urologic surgeons, interventional radiologists, radiologic oncologists and medical oncologists.

Treatment options for urologic cancers include:

Prostate Cancer

Robot-assisted radical prostatectomy
Open radical prostatectomy for patients who are not eligible for robot-assisted surgery
Brachytherapy – radioactive seeds implanted in the prostate
External beam radiation therapy
Anti-androgen therapy
Immunotherapy
Chemotherapy

Kidney/Ureteral Cancer

Nephron-sparing surgical procedures (partial nephrectomy) performed laparoscopically and/or robot-assisted. Only the tumor is removed while sparing the kidney.
Radical nephrectomy (removal of kidney) usually performed laparoscopically and/or robot-assisted
Ureterectomy – removal of the section with tumor and re-anastomosis
Cryotherapy – freezing the tumor in the kidney to destroy the cancer
Chemotherapy
Immunotherapy

Bladder Cancer

Laser ablation of tumors in the bladder
Transurethral resection of bladder tumors
Cystectomy (complete removal of the bladder) in cases where the tumor has invaded through the bladder wall with the creation of a neobladder (new bladder)
Intravesical immunotherapy

Testicular Cancer

Testis-sparing surgery
Orchiectomy (removal of the testis)
Reconstructive genitourinary surgery (insertion of testicular prosthesis)
Multimodality chemotherapy (when appropriate)
Multimodality immunotherapy (when appropriate)

Find a Cancer Specialist
Cancer requires advanced care. Find out how Texas Health can help you. Make an appointment with a physician today.
Genetic Counseling
Cancer is fairly common, but some people are more at risk than others for developing the disease. Genetic counseling aims to identify individuals who are at high risk for cancer due to genetic predisposition.
Screenings
Early detection of cancer is one of the best ways to increase your chance of survival. That's why Texas Health is dedicated to the early detection of cancer and provides many prevention and screening tests.

Cancer Diagnosis & Treatment Options
Texas Health offers a wide variety of advanced cancer treatment options and care plans based on diagnosis, physician recommendations and patient goals.
Cancer Support Services
A cancer diagnosis and treatment can be devastating. That's why Texas Health is committed to caring for patients — body, mind and spirit.
Oncology Rehabilitation
Oncology rehabilitation offers compassionate and customized programs for patients during and after treatment.

Prevention and Wellness
As with almost all forms of cancer, early detection, prevention and adoption of healthy-lifestyle habits can increase your odds of survival.
Accredited Cancer Programs
Texas Health is committed to providing quality cancer care, which is demonstrated by our accreditations of The American College of Surgeons' Commission on Cancer and the National Accreditation Program for Breast Centers.
The Commission on Cancer (CoC) Accredited Programs

The Commission on Cancer (CoC) is a consortium of professional organizations dedicated to improving survival and quality of life for cancer patients, promoting cancer prevention, research, education, and monitoring of comprehensive quality care.

Texas Health CoC accredited programs are:

The National Accreditation Program for Breast Centers (NAPBC)

The National Accreditation Program for Breast Centers (NAPBC) is a consortium of national, professional organizations focused on breast health and dedicated to the improvement of quality outcomes of patients with diseases of the breast through evidence-based standards and patient and professional education.

Texas Health NAPBC accredited programs are: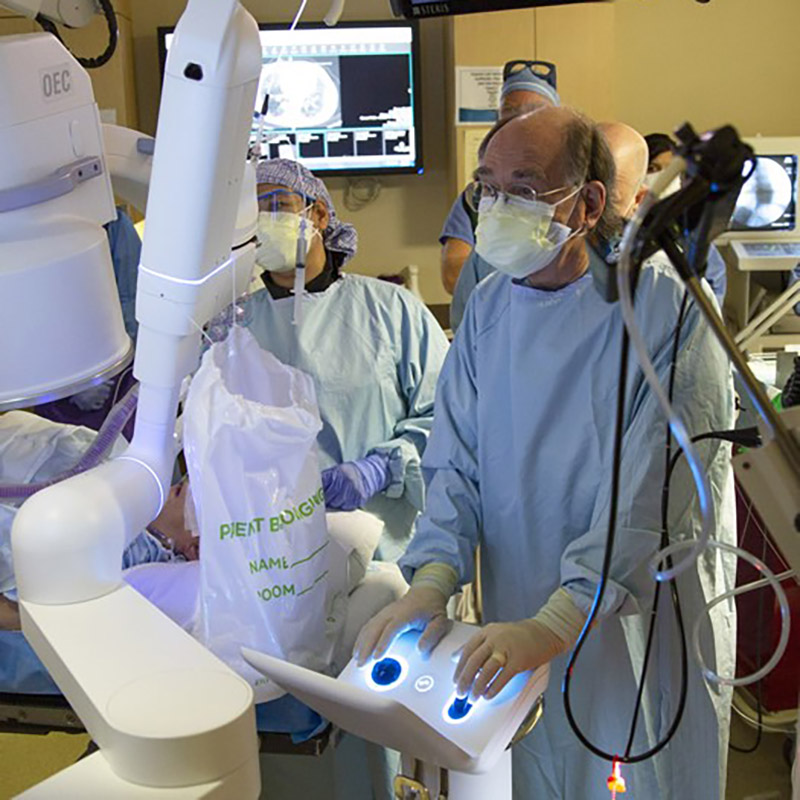 Texas Health Fort Worth is first in Region to Offer Robotic Lung Biopsy
New robotic-assisted technology biopsies potential lung cancer tumors earlier than traditional diagnostic tests allow.


Research and Clinical Trials
Texas Health is dedicated to cancer research aimed at achieving advances in medicine and bringing innovative therapies to patients. Researchers work to understand the disease, identify potential treatments or preventive therapies and establish treatment alternatives for patients.
Why Texas Health
Texas Health is proud to provide comprehensive, advanced oncology care using the latest technology and focusing on a multidisciplinary approach to education, support, and survivorship.