May 10, 2022
Texas Health Dallas teams up with Austin Street Center to find jobs for homeless
DALLAS — A small monitor and poor eyesight cost Stanford Dixson his job at a major delivery service. A hacker later took what was left of his money.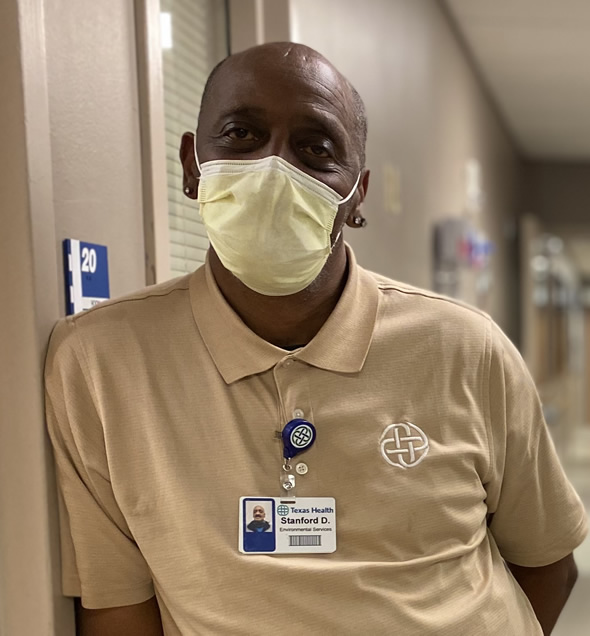 Stanford Dixson
Fearful that his brother would lose his Section 8 housing for allowing him to stay at his place, Dixson asked to be dropped off at the Austin Street Center, then immediately began looking for a job.
"I just wanted a job, so I could get out of the shelter. I just wanted to get back on my feet, so I would take anything," said Dixson, 60.
Now, thanks to a collaboration between Texas Health and Austin Street, Dixson has a job in Environmental Services at Texas Health Presbyterian Hospital Dallas.
Jim Parobek, president of Texas Health Dallas, said the alliance is another way that Texas Health is working to improve the health and well-being of North Texans.
"Lack of employment can be a hefty barrier for those trying to lift themselves out of homelessness and the health disadvantages that so often come with it," Parobek said. "If we can extend a helping hand, we not only acquire talented employees, but we can also hopefully put these men and women on a path toward a better, healthier life."
Sharon Chisholm, Human Resources officer for Texas Health Dallas, said the recruitment effort grew from the hospital's work with Austin Street in Health to Home, a medical respite program.
"Some of these people are homeless because they had something very specific happen to them. It's not homelessness by choice," Chisholm said. "We wanted to work with Austin Street to help these individuals get back on their feet and off the streets by helping them become gainfully employed."
Kajuana Young, assistant director, Education and Employment for Austin Street, screens incoming shelter clients for those who may be a good fit for the hospital. She also aids them in building their resumes and applying.
New hires receive transportation assistance from Austin Street to get to and from work. Both the shelter and Texas Health help supply the new employees with the uniforms needed for work.
Young said Texas Health is at the "top of the list" of employers willing to work with the shelter to fill vacancies.
"You do find that some employers don't want to work with them or even give them a chance, because they're homeless," Young said. "Sometimes, it's because they've just lost a job and, literally, a lot of us are just one paycheck away from being homeless."
Another recent hire, Rodney Howard, worked in mortgage banking up until October, making good money. But life quickly changed after he moved in with his mother, who was having memory issues.
After his mother suffered a major stroke and had to be hospitalized, a family situation caused him to have to move out of his mother's home. He slept in his car for months and later lost his job after being caught sleeping at his desk. Then, after his hospitalization for diabetes, he was discharged, only to find that his car, filled with all his clothing and belongings, had been repossessed.
He moved into Austin Street but said his true low point came in late February, when his biggest supporter — his mother — passed away.
Since being hired in Food and Nutrition Services, Howard takes pride in doing his part to represent Texas Health.
"I remember how I felt when I was in the hospital for nine days and the best time of day was when that person knocked on that door and said, 'Nutrition. I got your plate.' Oh, I lit up like a Christmas tree," said Howard, 59. "So, I understand the importance of bringing a patient their tray, saying, 'Hello, how are you doing?' and smiling. In any good company, each section is just an extension of the other one."
With his degree in financing, Howard said he hopes to find other job possibilities at Texas Health.
"It's opportunity, it's hope... but the number one thing this situation has done for me is healing," Howard said. "You get up, talk to people, you work, you get breathing fresh air. I'm starting to heal now."
Dixson said his first few weeks on the job have been good and described his new colleagues as "friendly people, very helpful too."
He said he hopes other businesses will follow Texas Health's lead and give the homeless a chance.
"We're not looking for a handout, we want to do it for ourselves," he said. "Just let us get our feet in the door, and we'll show you that we work. We're not scared to work."
About Texas Health Resources
Texas Health Resources is a faith-based, nonprofit health system that cares for more patients in North Texas than any other provider. With a service area that consists of 16 counties and more than 7 million people, the system is committed to providing quality, coordinated care through its Texas Health Physicians Group and 29 hospital locations under the banners of Texas Health Presbyterian, Texas Health Arlington Memorial, Texas Health Harris Methodist and Texas Health Huguley. Texas Health access points and services, ranging from acute-care hospitals and trauma centers to outpatient facilities and home health and preventive services, provide the full continuum of care for all stages of life. The system has more than 4,100 licensed hospital beds, 6,400 physicians with active staff privileges and more than 26,000 employees. For more information about Texas Health, call 1-877-THR-WELL, or visit www.TexasHealth.org.