December 16, 2022
New protocol at Texas Health Fort Worth providing immediate, quality care
FORT WORTH, Texas — Classical music filled Bass Performance Hall as the pianist's fingers delicately danced across the keys. Hearing the applause and exiting the stage, Ken Iisaka collapsed, just seconds and feet from where he finished performing.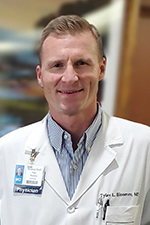 Tyler Bloomer, M.D.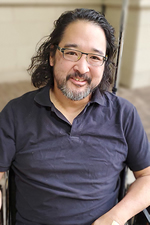 Ken Iisaka
Thanks to Texas Health Harris Methodist Hospital Fort Worth using a new lifesaving protocol, a grateful Iisaka will soon be back at the keys.
"I don't remember the performance at all," said Iisaka, who suffered a sudden cardiac arrest. "I just remember waking up, freezing, in a hospital ICU, and I didn't know why."
Fellow competitors called 911, and first responders arrived to find Iisaka not breathing and with no pulse.
Receiving immediate treatment, quality care
According to the American Heart Association, less than 8 percent of people who suffer from cardiac arrest outside the hospital survive. ECPR, or extracorporeal cardiopulmonary resuscitation, is an intricate rescue strategy process that helped save Iisaka's life.
"Just like a challenging piece of music involving a variety of notes, timing and accuracy were key components to Mr. Iisaka's survival," said Miranda Peterson, M.S.N., R.N., CCRN, Texas Health Fort Worth's ECMO Program coordinator. "Although ECPR is an elaborate process, seeing a patient looking and feeling better than when they arrived, makes every extra step worth it."
Understanding the process
"This protocol involves early identification and early treatment for patients meeting eligibility criteria for ECPR, then early notification to the ECPR center and transport," said Dwayne Howerton, M.S. M.B.A., R.N. LP, chief of staff for the Office of the Medical Director of the EMS Authority. "Eligible candidates are in cardiac arrest with a quivering heart rhythm that resists being shocked back to normal. Unfortunately, patients unresponsive to standards of care would often die before reaching the hospital, but with ECPR, these patients have a better chance at survival."
ECPR involves constant CPR from paramedics and detailed communication with Texas Health Fort Worth's Emergency Department and physicians on the medical staff. Upon arrival, patients are immediately placed on ECMO. About the size of a small suitcase, extracorporeal membrane oxygenation (ECMO) is a machine that pumps blood through an artificial lung back into the bloodstream of the patient.
"Texas Health Fort Worth was two miles away from where Ken [Iisaka] had his sudden cardiac arrest. Without immediate CPR and ECMO, I don't think he would have survived," said Noah DeGarmo, M.D., a friend and an emergency medicine physician on the medical staff at Texas Health Arlington Memorial Hospital who was also performing that day.
The sooner CPR is administered and the closer the hospital with ECMO capabilities, the better the outcome for ECPR patients, DeGarmo added.
"ECMO allowed his vital organs to receive oxygenated blood when his heart could not provide the needed circulation with his cardiac arrest," said Tyler Bloomer, M.D., an interventional cardiologist on the Texas Health Fort Worth medical staff and with Texas Health Heart and Vascular Specialists, a Texas Health Physicians Group practice*. Further tests determined one of the arteries in Iisaka's heart was completely blocked.
"The artery was successfully opened with two coronary stents that restored blood flow to his heart," Bloomer said. "Above all else, Mr. Iisaka's journey is a testament to what Texas Health Fort Worth can now provide to patients when they present with a life-threatening cardiovascular event. It is a team effort that begins outside the hospital. We all rely on the skills and knowledge of one another to provide quality care for the most critically ill patients."
Grateful for quality care, quality friendship
DeGarmo checked on Iisaka daily and visited him whenever he could. From working at New York City's ground zero after 9/11 to treating COVID patients throughout the pandemic, DeGarmo has experienced good and bad medical moments.
"I've seen it all, but seeing my friend alive in that hospital room was the single greatest moment I have experienced in my career," DeGarmo said. "As a physician, we don't often get emotional, but seeing him awake, talking and moving his fingers as if playing the piano, I was overcome with tears of joy."
After 20 days at Texas Health Fort Worth, Iisaka continues his recovery at home in California, and he's thankful to be alive and still playing the piano.
"Everything just lined up in my favor," Iisaka said. "I was surrounded by medical professionals at Bass Hall, and that personal treatment continued with amazing doctors and nurses [at Texas Health Fort Worth]. With a second chance at life, there's more music to be made and more friendships to be formed."
Learn more about heart and vascular services at Texas Health hospitals.
*Physicians employed by Texas Health Physicians Group practice independently and are not employees or agents of Texas Health Resources hospitals.
About Texas Health Resources
Texas Health Resources is a faith-based, nonprofit health system that cares for more patients in North Texas than any other provider. With a service area that consists of 16 counties and more than 7 million people, the system is committed to providing quality, coordinated care through its Texas Health Physicians Group and 29 hospital locations under the banners of Texas Health Presbyterian, Texas Health Arlington Memorial, Texas Health Harris Methodist and Texas Health Huguley. Texas Health access points and services, ranging from acute-care hospitals and trauma centers to outpatient facilities and home health and preventive services, provide the full continuum of care for all stages of life. The system has more than 4,100 licensed hospital beds, 6,400 physicians with active staff privileges and more than 26,000 employees. For more information about Texas Health, call 1-877-THR-WELL, or visit www.TexasHealth.org.