August 25, 2022
Father of three grateful for quick response and expert care at Texas Health Fort Worth
FORT WORTH, Texas — Philip Brawley, calm and collected, made his way to the starting line of the 5K race. He had participated the previous 10 years in the Fort Worth fundraising event, but Brawley suddenly lost focus and nearly lost his life just minutes before his 11th running of the race began. The father of three is grateful for the individuals at Texas Health Harris Methodist Hospital Fort Worth and their commitment to supporting the highest level of stroke care.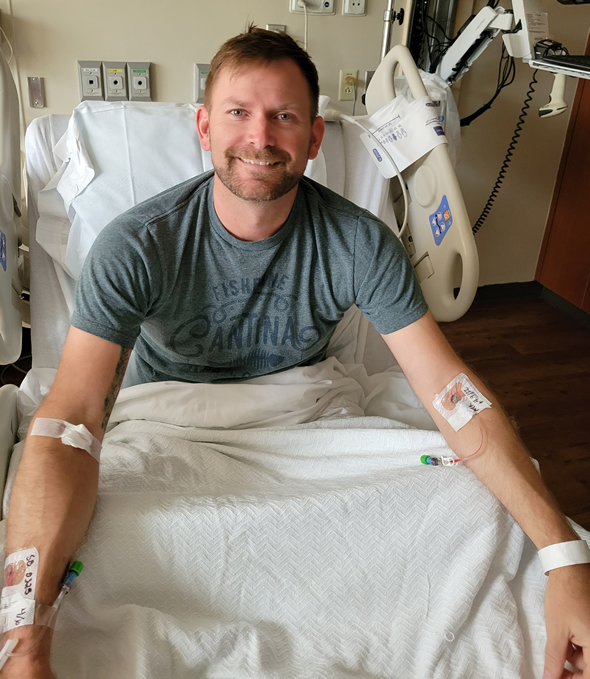 Philip Brawley
"Moments before running, I thought I was talking to my wife, but nothing was coming out of my mouth," he said. "I wasn't in any pain, but I think that the brain was disconnecting from the body at that point."
At 40 years old, the avid runner, snowboarder and skier was having a stroke. Family and friends immediately dialed 911. He heard sirens, then everything went black. Paramedics arrived and rushed Brawley to Texas Health Fort Worth.
Seeking care at a comprehensive stroke center
Texas Health Fort Worth is one of fewer than 40 comprehensive stroke facilities in the state of Texas. It's also the only advanced comprehensive stroke center in Tarrant County certified by The Joint Commission. The designation encompasses the full spectrum of stroke care — diagnosis, education, rehabilitation and treatment.
In fact, Texas Health Fort Worth cares for the highest number of stroke patients* in North Texas.
"When Mr. Brawley came to us, he was completely paralyzed on his left side. His speech was extremely slurred as well," said Yinn Cher Ooi, M.D., an open vascular and endovascular neurosurgeon on the Texas Health Fort Worth medical staff. "It's imperative for patients similar to Mr. Brawley to be taken immediately to a comprehensive stroke center, such as Texas Health Fort Worth, where various stroke treatment options are immediately available during and after diagnosis. Time is of the essence. Every additional minute that goes by where the patient does not get treated, roughly 1.9 million additional brain cells die."
Texas Health Resources is committed to providing high-acuity neuroscience services throughout North Texas, said Kirk King, Texas Health's executive vice president and Hospital Channel chief operating officer. "Whether patients require emergency care or rehabilitation after a stroke, our facilities and the experienced, multidisciplinary team of caregivers are committed to providing the best care possible so you can return to enjoying life as quickly as possible."
During Brawley's emergency surgery, Ooi made a small incision in his upper thigh, threaded a small catheter and suction device through the involved artery of the brain and then removed the blood clot.
"The pea-sized clot was affecting one of the major arteries in his brain, the right middle cerebral artery," Ooi said. "If left untreated, it can lead to permanent brain damage, paralysis, facial disfigurement, loss of speech and, unfortunately, sometimes death."
After the successful stroke treatment, physicians ran additional tests to determine why a healthy individual would suffer a stroke. Specialized echocardiograms soon revealed a patent foramen ovale (PFO), which is a small opening between the upper two chambers of the heart that doesn't close properly after birth.
Understanding a PFO diagnosis
"I've lived 40 years with a PFO, and before running a long-distance race I have a stroke," Brawley said. "I was definitely at the right place with the right people who recognized stroke symptoms, because I could've been paralyzed on my left side had I been anywhere else."
According to Gurpreet Baweja, M.D., an interventional cardiologist on the Texas Health Fort Worth medical staff, clinical research has demonstrated that PFO closures, particularly in younger patients with cryptogenic stroke (a stroke of unknown cause) has helped with the reduction of recurrent stroke.
Baweja, also a member of Texas Health Heart and Vascular Specialists, a Texas Health Physicians Group practice,† performed Brawley's second operation, a transcatheter repair, to close the PFO. Making a tiny incision in the groin area and using a long, flexible cable inserted through a catheter, Baweja maneuvered a device that looks like two metal mushroom discs through a vein all the way to his heart.
Returning home a day after his PFO closure, Brawley said he is beyond grateful. "Everyone at Texas Health Fort Worth was awesome, taking care of me through the days and nights. They showed compassion and attentiveness, and I'm forever in their debt."
Learn more about how Texas Health is advancing neurological care throughout North Texas.
* Source: Statistical information provided by Texas Health Care Information Collection.
† Physicians employed by Texas Health Physicians Group practice independently and are not employees or agents of Texas Health Resources hospitals.
About Texas Health Resources
Texas Health Resources is a faith-based, nonprofit health system that cares for more patients in North Texas than any other provider. With a service area that consists of 16 counties and more than 7 million people, the system is committed to providing quality, coordinated care through its Texas Health Physicians Group and 29 hospital locations under the banners of Texas Health Presbyterian, Texas Health Arlington Memorial, Texas Health Harris Methodist and Texas Health Huguley. Texas Health access points and services, ranging from acute-care hospitals and trauma centers to outpatient facilities and home health and preventive services, provide the full continuum of care for all stages of life. The system has more than 4,100 licensed hospital beds, 6,400 physicians with active staff privileges and more than 26,000 employees. For more information about Texas Health, call 1-877-THR-WELL, or visit www.TexasHealth.org.