June 01, 2023
Genetic testing led to Texas Health Dallas patient catching her own breast cancer early
DALLAS — Of the many gifts that Cecilia Garton gave her daughter, the most valuable proved to be the gift of knowledge.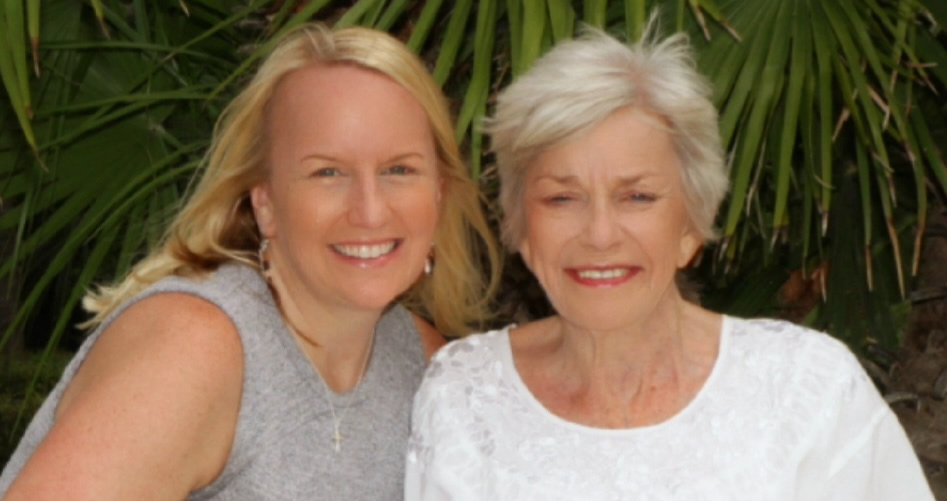 Laura Garton Heims, left, and her mother, Cecilia.
Garton, who had successfully battled breast cancer in the late '80s, when Laura Garton Heims was in the fourth grade, chose to undergo genetic testing in 2015. The results revealed she had a CHEK2 mutation that increased her risk for certain types of cancer, including breast cancer.
"She really did the testing for me and my sister," Heims said. "I remember her communicating the results and telling us, 'You guys need to do this, too, because it can help your doctors screen you better."
Heims took her mother's advice and later learned she had the mutation as well, prompting her to undergo more rigorous cancer screenings. An MRI later revealed suspicious spots in Heims' right breast in October 2019, which a biopsy confirmed to be cancer.
Heims underwent a double mastectomy at Texas Health Presbyterian Hospital Dallas in January 2020 and, today, remains in remission.
"Because of the genetic testing that my mom was proactive in doing, I had a different screening plan, and because of that, it was caught so early," Heims said. "Also, the tumor was slower growing, so without the MRI, it might have taken another couple of years for that to grow to a size where it could have been seen on a mammogram. That was a real lightbulb moment for me, and I felt very blessed that Mom had gotten the genetic testing."
The Texas Health Dallas Cancer Center offers comprehensive oncology care, including a cancer and risk prevention program to identify individuals at higher risk due to genetic predisposition. A genetic counselor can provide patients with a cancer-risk assessment, awareness and education for early detection and prevention.
Genetic testing was simple; Heims gave a saliva sample.
When she learned she had the CHEK2 mutation, her mother insisted she go see the doctors she trusted with her own breast health, oncologist Jaya Juturi, M.D., and breast surgeon Archana Ganaraj, M.D., both on the medical staff at Texas Health Dallas.
"They both told me, 'Just because you have CHEK2 doesn't mean that you're going to get breast cancer, but we're going to be screening you more closely and with different types of imaging more often than an annual mammogram, so if something were to ever pop up, we can get on it right away,'" Heims said. "And that's exactly what ended up happening."
Juturi said experts used to believe hereditary breast cancers — or those stemming from genetic mutations passed on from a parent — accounted for less than 10 percent of all breast cancer cases but now suspect it could be as high as 15 percent to 20 percent.
Juturi recommends genetic testing for anyone with a personal or family history of premenopausal breast cancer, bilateral breast cancer, male breast cancer at any age or a history of breast cancer and an overlapping cancer such as ovarian, pancreas, colon, uterine or melanoma. Those with a personal history of triple-negative breast cancer should also consider testing, she said.
Ganaraj said because Heims' cancer was caught so early, she had numerous options for treatment — ranging from a lumpectomy to a double mastectomy.
"She chose to have a double mastectomy knowing that her genetics put her at increased risk for developing cancer," Ganaraj said. "The early detection made the other treatments like chemotherapy or radiation unnecessary."
Heims later underwent breast reconstruction surgeries with Fadi Constantine, M.D., a plastic surgeon on the medical staff at Texas Health Dallas, who rebuilt Heims' breasts using fat, skin and blood vessels from her abdomen.
Her mother, Garton, underwent surgery and treatment in 2019 after being diagnosed a second time with breast cancer. She passed away in November 2020 due to cancer in other organs.
Heims now volunteers with the National Breast Cancer Foundation and shares her story with others to help breast cancer patients know what to expect when recovering from surgery and to advocate for genetic testing.
"I am eternally grateful to my mom for being so medically proactive and always encouraging me to stay on top of my medical care," Heims said. "The decision she made to undergo genetic testing and the knowledge we gained from her test results, and later mine, resulted in the most positive of outcomes for me and my breast cancer journey."
About Texas Health Resources
Texas Health Resources is a faith-based, nonprofit health system that cares for more patients in North Texas than any other provider. With a service area that consists of 16 counties and more than 7 million people, the system is committed to providing quality, coordinated care through its Texas Health Physicians Group and 29 hospital locations under the banners of Texas Health Presbyterian, Texas Health Arlington Memorial, Texas Health Harris Methodist and Texas Health Huguley. Texas Health access points and services, ranging from acute-care hospitals and trauma centers to outpatient facilities and home health and preventive services, provide the full continuum of care for all stages of life. The system has more than 4,100 licensed hospital beds, 6,400 physicians with active staff privileges and more than 26,000 employees. For more information about Texas Health, call 1-877-THR-WELL, or visit www.TexasHealth.org.