August 01, 2023
Former NBA player credits survival on quick actions of 'MVP' and others at Texas Health Fort Worth
FORT WORTH, Texas — Opening his eyes one July morning, Robert Williams knew something was wrong with his body. Pain wasn't an issue, but his movement and thought process were off-kilter.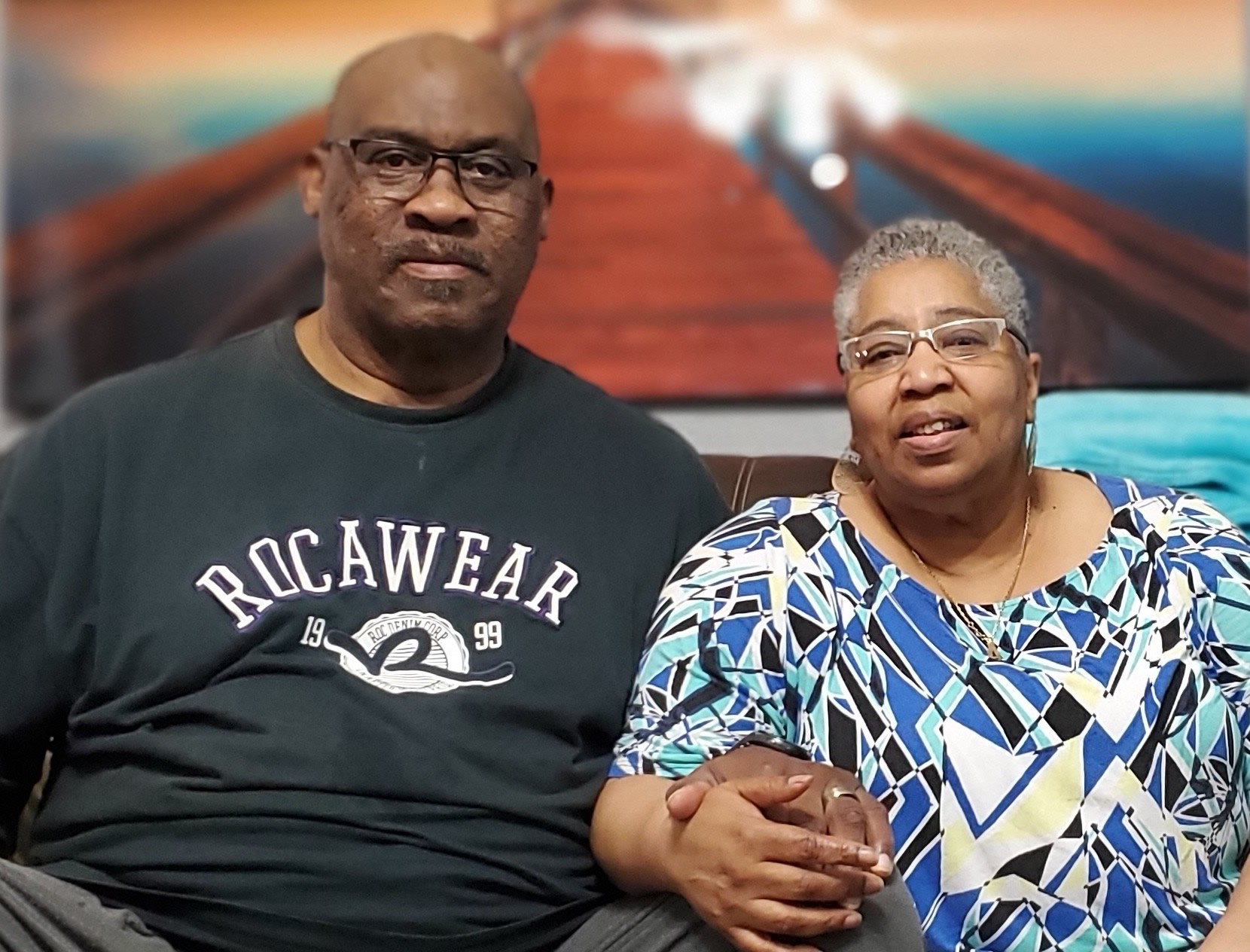 Robert Williams, a recent Texas Health Fort Worth stroke patient, and his wife, Priscilla
As a former NBA player for the San Antonio Spurs, Williams knew all about competition, but he was fast becoming his most challenging opponent, on and off the court. A survivor of not one major stroke, but two, Williams is grateful for the individuals at Texas Health Harris Methodist Hospital Fort Worth and their commitment to supporting the highest level of neurological care.
Williams credits his wife, Priscilla, as his most valuable player, because of her quick response.
"The scariest part was that he couldn't talk," she recalled. "I'd ask him a question, and he'd just make a hissing sound."
After she called 911, paramedics arrived and confirmed her worst fear. Her husband was having a stroke. Unable to speak, comprehend or move one side, Williams was immediately taken to Texas Health Fort Worth by ambulance.
Seeking treatment at a comprehensive stroke center
Texas Health Fort Worth is one of fewer than 45 comprehensive stroke facilities in Texas. It's also the only advanced comprehensive stroke center in Tarrant County that is certified by The Joint Commission. The certification encompasses the full spectrum of stroke care — diagnosis, education, rehabilitation and treatment.
In fact, Texas Health Fort Worth cares for the highest number of stroke patients* in North Texas, including high-acuity patients such as Williams.
Several tests determined Williams was suffering from an ischemic stroke, which involves major blockage in an artery supplying blood to the brain.
A clot about the size of a watermelon seed was blocking blood flow to the left side of Williams' brain, said Yinn Cher Ooi, M.D., an open vascular and endovascular neurosurgeon on the Texas Health Fort Worth medical staff.
"Without treatment, it's likely he would have been completely paralyzed on his right side and unable to speak," he said. "And if swelling developed in the brain, he could have died from his stroke."
Ooi added that Williams' stroke was triggered by atrial fibrillation (AFib), which is an abnormal, often rapid heartbeat. AFib risk factors are more prevalent among Black people, and Black Americans have the highest stroke death rate compared to all other racial groups, according to the American Stroke Association, a division of the American Heart Association. Unfortunately, the reasons for the disparities have yet to be determined.
Traditionally, a physician performs a mechanical thrombectomy to remove a clot. This is done through a small incision in the thigh and catheters are navigated all the way to the brain to suction out the clot, restoring normal blood flow.
"Unfortunately, Mr. Williams had tortuous vessels, with extreme twist and bend throughout his chest and neck, making it impossible to perform a traditional thrombectomy," Ooi said.
He recommended enrolling Williams in a national clinical trial, with Texas Health Fort Worth being one of the participating sites. The procedure allowed Ooi to use a novel approach to directly access Williams' carotid artery, a major artery in the neck, through a small incision just above the collar bone and bypassing the tortuous vessels and successfully extract the clot.
"Time is of the essence," Ooi said. "Every additional minute that goes by where the patient does not get treated, roughly 2 million additional brain cells die."
Surviving a harrowing journey
A day after his first procedure, another clot formed — this time on the right side of his brain — causing back-to-back strokes and another emergency surgery.
Priscilla Williams said it was touch and go for several days, but she never felt alone.
"Every question I had, they answered, and [Texas Health Fort Worth] gave him great care. But the nurses would always ask me how I was doing," she said. "That was such a wonderful feeling and truly appreciated."
Williams spent 19 days at Texas Health Fort Worth and a total of three months for rehab and recovery at health facilities across North Texas, facing numerous challenges and a few setbacks on his journey.
"He's a walking miracle," his wife said.
Going from a wheelchair to a walker to walking on his own and now driving, the former athlete said his journey is far from over.
"God left me here to do something. I don't know what it is, but I do know that I want to help others in the same situation as me."
Follow this link to learn how Texas Health is advancing neurological care throughout North Texas..
* Source: Statistical information provided by Texas Health Care Information Collection.
About Texas Health Resources
Texas Health Resources is a faith-based, nonprofit health system that cares for more patients in North Texas than any other provider. With a service area that consists of 16 counties and more than 7 million people, the system is committed to providing quality, coordinated care through its Texas Health Physicians Group and 29 hospital locations under the banners of Texas Health Presbyterian, Texas Health Arlington Memorial, Texas Health Harris Methodist and Texas Health Huguley. Texas Health access points and services, ranging from acute-care hospitals and trauma centers to outpatient facilities and home health and preventive services, provide the full continuum of care for all stages of life. The system has more than 4,100 licensed hospital beds, 6,400 physicians with active staff privileges and more than 26,000 employees. For more information about Texas Health, call 1-877-THR-WELL, or visit www.TexasHealth.org.