February 01, 2023
OB-GYN removes 26 tumors using Texas Health robotic-assisted surgical system
DALLAS — An estimated 26 million girls and women between the ages of 15 and 50 have uterine fibroids in the United States. While most common in women in their 40s and early 50s, African Americans frequently get them at younger ages and have larger and more numerous tumors.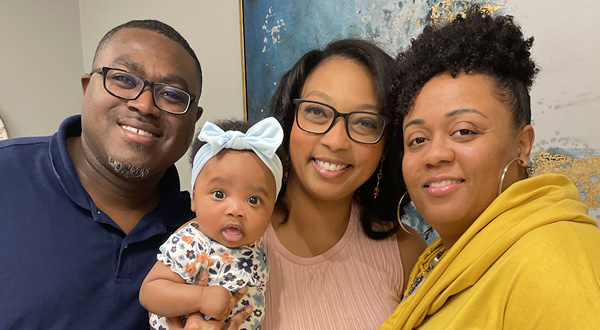 Adrian and Ashley Burnett with daughter Scarlett and obstetrician/gynecologist Quanita Crable, M.D.
"Some of the symptoms of fibroids are heavy or painful periods, feeling 'full' in the lower abdomen, lower back pain and reproductive problems," said Quanita Crable, M.D., an OB-GYN on the medical staff at Texas Health Presbyterian Hospital Dallas. "However, we need to keep in mind some women might not even have symptoms. That's why routine checkups are so important."
According to the Centers for Disease Control and Prevention (CDC), uterine fibroids are the most common noncancerous tumors in women. They're made of muscle cells and other tissues that grow in and around the wall of the uterus, or womb. The cause of fibroids is unknown.
Ashley Burnett, 36, of Mesquite was diagnosed with uterine fibroids at age 20 after experiencing heavy bleeding and pain. She went through two procedures after her diagnosis: a myomectomy and a fibroid radiofrequency ablation, a procedure that uses heat to target fibroids one by one, reducing their size significantly.
"I found out the fibroids returned after the myomectomy," Burnett said. "At 33, when I married my husband, Adrian, I decided to go for that second procedure because I wanted to have a baby. The following year I was scheduled for a fibroid ablation, which reduced the size of the fibroids, but it didn't work the way it needed to."
In December 2020, the Burnetts found out they were expecting a baby boy, Silas, but they also learned the procedure had failed. The number and positioning of the fibroids caused her water to break at 19 weeks. Silas was born at 22 weeks on April 26, 2021, and he passed away four hours after delivery.
"It had been a long journey for me, and I was so frustrated with myself," Burnett said.
Following the death of her son, Burnett found Crable while researching physicians who could help with her diagnosis. Crable performs myomectomies using the robotic-assisted da Vinci Surgical System. With the help of this technology, the physician sits at a console next to the patient and operates using tiny instruments. A camera provides a high-definition, 3D magnified view inside the body.
In her 12 years as a practicing physician, Crable has removed fibroids as large as 20 centimeters, roughly the size of a cantaloupe.
"For women who want to have children in the future, a myomectomy is the best treatment option. It removes the fibroids while preserving the uterus. While fibroids can re-grow, patients are hopeful when I tell them it's possible to conceive," said Crable.
Burnett scheduled her myomectomy in June 2021. Crable removed a total of 26 fibroids, with the largest being 6 centimeters.
"I was terrified, but Dr. Crable spoke to me to assure she got all of them out," Burnett said. "She made me feel safe."
Seven months later, Burnett was pregnant.
"I had a million and one thoughts. There was a lot of fear, but it all worked out. I gave birth to a healthy baby girl in September 2022," said Burnett. "I felt even more safe knowing Dr. Crable was going to deliver our baby. It was an emotional day for my husband and me."
"I feel like I am serving one of my purposes in life," said Crable. "I have so much joy and elation knowing that my patient is obtaining a desire of her heart."
Burnett's daughter, Scarlett, is now 4 months old.
"Being a mom is hard work but it's the most rewarding thing ever," said Burnett. "You start to see why they say every baby is a miracle. Scarlett is a miracle."
Visit Texas Health's Women and Infants website for more information on Gynecology and Fertility.
About Texas Health Resources
Texas Health Resources is a faith-based, nonprofit health system that cares for more patients in North Texas than any other provider. With a service area that consists of 16 counties and more than 7 million people, the system is committed to providing quality, coordinated care through its Texas Health Physicians Group and 29 hospital locations under the banners of Texas Health Presbyterian, Texas Health Arlington Memorial, Texas Health Harris Methodist and Texas Health Huguley. Texas Health access points and services, ranging from acute-care hospitals and trauma centers to outpatient facilities and home health and preventive services, provide the full continuum of care for all stages of life. The system has more than 4,100 licensed hospital beds, 6,400 physicians with active staff privileges and more than 26,000 employees. For more information about Texas Health, call 1-877-THR-WELL, or visit www.TexasHealth.org.