December 07, 2022
National certification created by The Joint Commission and the American Heart Association
DALLAS — Texas Health Presbyterian Hospital Dallas has earned The Joint Commission's Gold Seal of Approval® and the American Heart Association's Heart-Check mark for Comprehensive Heart Attack Center Certification. Texas Health Dallas is the first facility in Texas and the fourth hospital in the nation to receive this level of certification.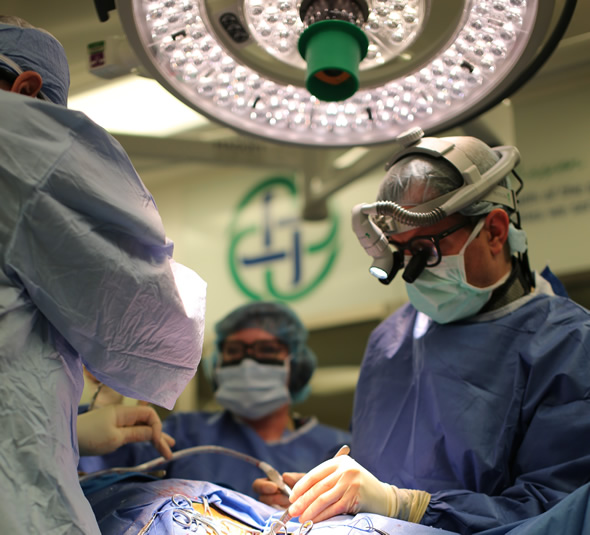 "It's definitely an honor to be the first hospital in Texas to earn this distinction, but it simply confirms we're striving to do what's best for our patients," said Aurora Estevez, M.D., Texas Health Dallas chief quality and medical officer. "Our efforts aren't driven by accolades but instead by a commitment to providing exceptional patient care with compassion by all involved — from the physicians on the medical staff, to nurses, to each and every hospital employee."
Created in July of this year, the advanced certification requires health facilities to complete a rigorous, on-site review by The Joint Commission. During a two-day site visit in Dallas, reviewers evaluated the quality of the hospital's treatment of acute coronary syndrome — a description for various conditions that cause sudden reductions in blood flow to the heart — and STEMI — one of the most common and lethal types of heart attacks. STEMI, or ST-Elevation Myocardial Infarction, is a major heart attack caused by complete blockage of a main artery in the heart.
"We are so proud of our team and the work that they have done," said Melinda Hirshouer, D.N.P., R.N., Critical Care and Cardiology director for Texas Health Dallas. "It validates the commitment and effort for the multidisciplinary care that our patients receive — from the identification and treatment of coronary artery disease — to the prevention and treatment of heart attacks, and finally to recovery and cardiac rehabilitation."
As a Comprehensive Heart Attack Center, Texas Health Dallas has shown that it has the resources and personnel to provide primary percutaneous coronary intervention (PPCI) — a procedure used to address blocked arteries — to heart attack patients, 24 hours a day, seven days a week.
According to The Joint Commission and the American Heart Association, key characteristics of the Comprehensive Heart Attack Center Program include:
Meeting several performance measures, including administering an electrocardiogram within 10 minutes of a patient's arrival. The non-invasive diagnostic test evaluates the heart's electrical system to check for disease
Providing continuous on-site PPCI coverage, along with offering a multidisciplinary approach to treating critically ill patients (i.e., patients suffering from cardiogenic shock and cardiac arrest)
Keeping door-to-balloon (D2B) times within 90 minutes or less, per guidelines from the American College of Cardiology
The door-to-balloon time references the critical moments between a patient arriving at the hospital and undergoing a procedure to restore blood flow to the heart. This is done in a cardiac catheterization lab by pushing open the clogged artery with a tiny balloon that's inflated on the end of the catheter.
"When we can achieve a door-to-balloon time in under 90 minutes, that most often translates into a better outcome for the patient," Hirshouer said. "The ultimate goal is for patients to survive and then thrive after a heart attack."
According to statistics published in 2020 by the Texas Department of State Health Services, more than 69,000 Texans were admitted to a hospital after suffering a heart attack. Knowing that someone in the U.S. has a heart attack every 40 seconds, Texas Health Resources is committed to meeting the needs of North Texans where they live. Texas Health facilities in Arlington, Fort Worth, Southwest Fort Worth and Plano have earned recognition from The Joint Commission and been certified as Primary Heart Attack Centers.
"Immediate treatment for a heart attack is critical, because timing can end up becoming a matter of life and death," Estevez said. "This certification affirms our commitment to continuously going above and beyond to care for North Texans by providing quality cardiovascular care."
Follow this link to to learn more about comprehensive heart and vascular services at Texas Health.
About Texas Health Resources
Texas Health Resources is a faith-based, nonprofit health system that cares for more patients in North Texas than any other provider. With a service area that consists of 16 counties and more than 7 million people, the system is committed to providing quality, coordinated care through its Texas Health Physicians Group and 29 hospital locations under the banners of Texas Health Presbyterian, Texas Health Arlington Memorial, Texas Health Harris Methodist and Texas Health Huguley. Texas Health access points and services, ranging from acute-care hospitals and trauma centers to outpatient facilities and home health and preventive services, provide the full continuum of care for all stages of life. The system has more than 4,100 licensed hospital beds, 6,400 physicians with active staff privileges and more than 26,000 employees. For more information about Texas Health, call 1-877-THR-WELL, or visit www.TexasHealth.org.