September 19, 2022
Hospital is growing to serve increasing needs of community
FORT WORTH, Texas – Texas Health Harris Methodist Hospital Alliance is celebrating its 10-year anniversary with a special focus on its commitment to a growing North Texas community.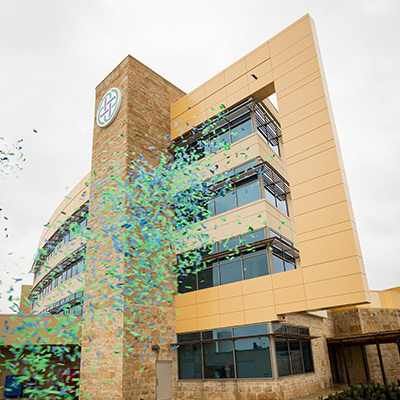 Texas Health Alliance opened its doors in September 2012 with 50 physicians on the medical staff. Since then, it's grown to more than 350 providers and allied health staff who have served 487,500 people, delivered 16,500 babies and cared for patients during 310,000 Emergency Department visits.
"From the beginning, we have been a hospital built by the community," said Clint Abernathy, president of Texas Health Alliance. "We are neighbors and friends of the people we serve. Our goal is to improve the health and well-being of our neighbors today, tomorrow and into the future."
The anniversary arrives as hospital leaders prepare for the opening of the facility's newest areas, including 17,000 square feet of renovated space that will house a Gastrointestinal Laboratory (GI) Suite.
This fall, a new GI Lab will provide increased space, access and a team dedicated to the care and treatment of patients with digestive issues.
"We are excited to have our own space and our own dedicated lab," said Jordan Fisher, B.S.N., R.N., CNOR Manager, Perioperative Services & Cath Lab at Texas Health Alliance. Fisher will serve as manager of the GI Lab, which will include a new endoscopic ultrasound (EUS) system. The lab will serve patients who need gastrointestinal consultations or procedures, including colonoscopies and upper endoscopies (EGD).
The addition of the GI Suite is the next phase of hospital expansion in a fast-growing area of North Texas.
The Alliance corridor is a thriving business center that includes regional hubs for various national companies. As it spurs economic development, it draws more employees and their families to the region.
"Texas Health Alliance serves a unique area, and we are proud to be part of this dynamic community," said Winjie Miao, senior executive vice president and COO of Texas Health Resources, who served as the hospital's first president. "In the past 10 years, we have worked with schools, small businesses, faith communities and nonprofits to help our Alliance neighbors. Improving the health and well-being of the people we serve remains our inspiration and purpose."
Last year, Texas Health Alliance opened a 3-story, $74 million expansion of the hospital's main patient bed tower. The 65,000-square-foot addition included an expansion of the women and infants center and 10 more Emergency Department beds, bringing the total to 28, including a seven-bay fast-track area.
Texas Health Alliance earned a Level III designation in April 2021, validating it as a maternal care facility providing comprehensive care for pregnant women, with programs such as non-invasive therapies to avoid unnecessary C-sections, breastfeeding support, education, and medical and surgical treatments for complex obstetrical conditions.
The hospital earned a Level III Neonatal Intensive Care Unit designation last February. It is also a Level III Trauma facility and a STEMI-receiving facility, treating complex emergencies and heart attacks.
Texas Health Alliance also has earned The Joint Commission's Gold Seal of Approval® and the American Heart Association's Heart-Check mark for Advanced Primary Stroke Center Certification. This designation by The Joint Commission and the American Heart Association/American Stroke Association, certifies the hospital's expertise in addressing the needs and treatment of stroke patients.
About Texas Health Resources
Texas Health Resources is a faith-based, nonprofit health system that cares for more patients in North Texas than any other provider. With a service area that consists of 16 counties and more than 7 million people, the system is committed to providing quality, coordinated care through its Texas Health Physicians Group and 29 hospital locations under the banners of Texas Health Presbyterian, Texas Health Arlington Memorial, Texas Health Harris Methodist and Texas Health Huguley. Texas Health access points and services, ranging from acute-care hospitals and trauma centers to outpatient facilities and home health and preventive services, provide the full continuum of care for all stages of life. The system has more than 4,100 licensed hospital beds, 6,400 physicians with active staff privileges and more than 26,000 employees. For more information about Texas Health, call 1-877-THR-WELL, or visit www.TexasHealth.org.