Welcome to Texas Health Kaufman
For more than 40 years, Texas Health Presbyterian Hospital Kaufman has served the communities of Kaufman, Crandall, Forney, Gun Barrel City, Mabank, Terrell and surrounding areas. As a nationally recognized facility for quality improvement, we can meet your health care needs close to home.
Parking & Transportation
Free parking is available for all patients and visitors on the Texas Health Kaufman campus.
For more information on where parking is available, view or print a copy of the adjacent campus map.
---
Visitor Information
Hospital Inpatients
Effective 4/6/2021, two visitors per patient per day.
Emergency Department
No visitors in treatment areas of the Emergency Department unless needed to support with disability or impairment needs.
Behavioral Health
No visitors. One visitor, but only if needed to support outpatient minors with disability or impairment needs.
For safety, positive/suspected positive COVID-19 patients will not have visitors.
Note: Dining Options currently limited; Gift Shop temporarily closed.
Dining Options
---
Cafeteria
Location: First Floor
Monday – Friday: 8:30 a.m. – 9:30 a.m.
Saturday – Sunday: Noon - 1 p.m.
Chapel
---
The Chapel
People of all faiths are welcome to use the chapel, located on the first floor. If you need a chaplain, please ask the nurse or call 972-932-7200.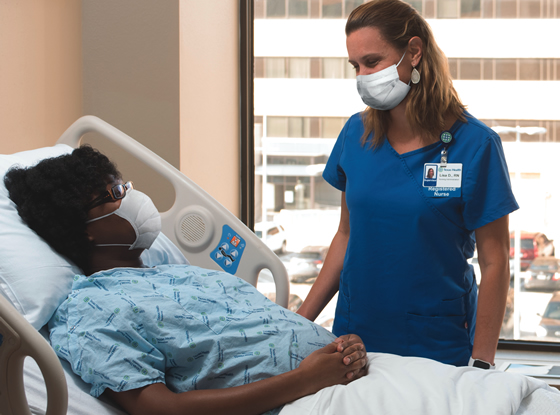 Your Upcoming Hospital Visit
We have modified many of our procedures to help keep our patients, their visitors, our care teams, and the entire North Texas community safe. Find information to help you prepare for your surgery or procedure.


Mark William Sij, Chief Medical Officer

Mark Sij

Mark William Sij, D.O., is the chief medical officer at Texas Health Presbyterian Hospital Kaufman.

In this role, Sij works closely with hospital and physician staff leadership to promote clinical excellence and safety in patient care. He also works with Texas Health leadership around the system to advance clinical initiatives.

Under his leadership, Texas Health Kaufman has received a quality care financial reward from the Healthcare Quality Incentive Demonstration project and has been named a QUEST Top Performing Hospital. Sij specializes in internal medicine and also serves as the medical director for Your Health Team, Home Health Care and Bridgeway Hospice.