Welcome to Texas Health Kaufman
For more than 40 years, Texas Health Presbyterian Hospital Kaufman has served the communities of Kaufman, Crandall, Forney, Gun Barrel City, Mabank, Terrell and surrounding areas. As a nationally recognized facility for quality improvement, we can meet your health care needs close to home.
Parking & Transportation
Free parking is available for all patients and visitors on the Texas Health Kaufman campus.
For more information on where parking is available, view or print a copy of the adjacent campus map.
Dining Options
---
Cafeteria
Location: First Floor
Monday thru Friday: 7:30 a.m. – 9:30 a.m.,
and 11:30 a.m. – 1:30 p.m.

Saturday: 11:30 a.m. – 1 p.m.

Sunday: Closed
Chapel
---
The Chapel
People of all faiths are welcome to use the chapel, located on the first floor. If you need a chaplain, please ask the nurse or call 972-932-7200.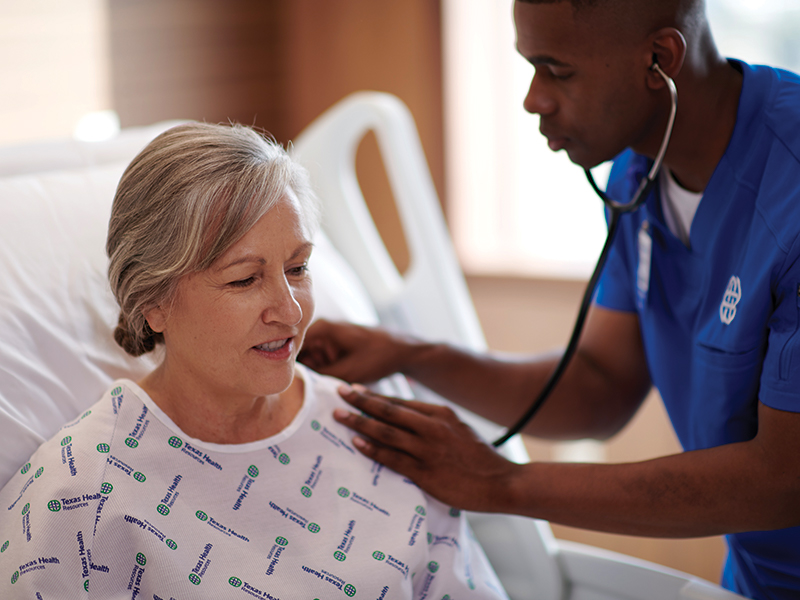 Visitor Guidelines & Your Upcoming Visit
We have modified many of our guidelines to help keep our patients, their visitors, our care teams and the entire North Texas community safe. Find information to help you prepare for your procedure or visit.
Toya White, Chief Operating and Nursing Officer

Toya White

Toya White, J.D., MBA, M.S.N., APRN, FNP-C, CBN, joined Texas Health Presbyterian Hospital Kaufman as chief operating and nursing officer in April 2021.

White brings 20 years of health care experience, including leadership in operations, business development and strategic planning. She began her healthcare career as a nurse extern at Texas Health Presbyterian Hospital Dallas in 2001. After earning her master's degree in nursing, she left the hospital to gain experience as a nurse practitioner in a primary care setting.

She returned to Texas Health Dallas in 2012 and has served in several leadership positions at the hospital. Most recently, White has served as senior director of Clinical Programs, with responsibility for the strategic and operational oversight of the Joint Operating Company activities, which involve expanding the integration between Texas Health Dallas and UT Southwestern Medical Center. She has also had responsibility for the hospital's major clinical programs, including heart and vascular, oncology, neuroscience, general surgery, orthopedics, and the Institute for Exercise and Environmental Medicine.

White earned a juris doctorate degree from the University of North Texas Law School and a Master of Business Administration degree from Texas Woman's University. She received master's and bachelor's degrees in nursing from Texas Woman's University.

Outside of work, she enjoys traveling, outdoor recreational activities, reading and volunteer work. She and her husband, Michael, also enjoy spending time with family, especially their nieces and nephews.

Mark William Sij, Chief Quality and Medical Officer

Mark Sij

Mark William Sij, D.O., is the chief quality and medical officer at Texas Health Presbyterian Hospital Kaufman.

In this role, Sij works closely with hospital and physician staff leadership to promote clinical excellence and safety in patient care. He also works with Texas Health leadership around the system to advance clinical initiatives.

Under his leadership, Texas Health Kaufman has received a quality care financial reward from the Healthcare Quality Incentive Demonstration project and has been named a QUEST Top Performing Hospital. Dr. Sij specializes in internal medicine and also serves as the medical director for Your Health Team and Always Accurate Hospice.