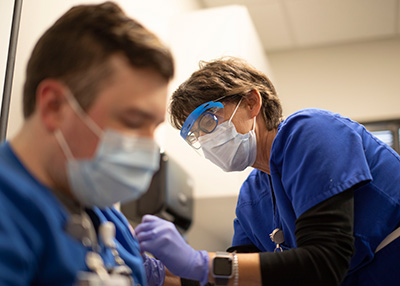 Providing vaccines that offer hope and protection in the fight against COVID-19 is at the heart of Texas Health's Mission to improve the health of those in the communities we serve.
Since first receiving the Pfizer vaccine on Dec. 15 and later the Moderna vaccine, Texas Health immediately began administering vaccines to our healthcare workers according to the state's guiding principles. First in line were the dedicated front-line caregivers who have been working tirelessly since March caring for COVID-19 patients.
Upon authorization by the state, Texas Health began vaccinating members of the community in early January who are eligible under Phase 1B guidelines – individuals age 65 or over and anyone 16 or over with at least one chronic medical condition that puts them at increased risk for severe illness from the virus.
As of Jan. 25, we have administered over 45,000 doses of vaccine.
As a designated community vaccination hub for Tarrant County, Texas Health is working with Tarrant County Public Health, and community organizations that focus on underserved populations to vaccinate these high-risk individuals. We have set up three Vaccination Clinics in Fort Worth, Hurst-Euless-Bedford and Lake Worth. Registration is handled through the Tarrant County Health Department. Each week, we will be given as many names as we have vaccine available off the Tarrant County waiting list and will work with those individuals to make an appointment at one of our three sites.
In addition, we are bringing vaccines to underserved and rural communities through community center vaccination clinics. We are working with our community clinic partners to identify high-risk patients and bring our vaccination program to them.
We are also now providing vaccines through our Texas Health Physicians Group (THPG) primary care practices across the Metroplex. THPG patients do not need to call and register for the vaccine but rather will be contacted to make an appointment to be vaccinated if they meet the criteria and as vaccine supplies allow.
We are in the planning stages of opening more sites in Dallas, Collin and Denton counties and will work with the respective public health departments to take individuals off their waiting lists. The timing for clinic expansion is dependent on increased vaccine availability and allocations from the state.
Vaccines are the first major step in a long journey to bring the pandemic under control by keeping people from getting sick.
Who Can be Vaccinated?
The Texas Department of State Health Services (DSHS) opened up vaccinations to Texans in Phase 1B as of Dec. 28. According to DSHS, "Spring 2021 is the best estimate of when vaccine will be available for the general public, but that may change. It depends on vaccine production and how quickly other vaccines become available."
At Texas Health, we're committed to being part of the process to make sure that every North Texan who wants a vaccine will get a vaccine.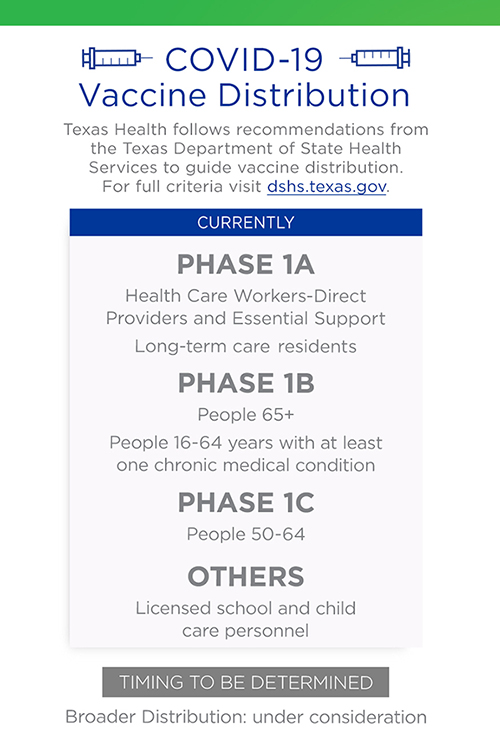 How to Get a Vaccine
The best place to start is by registering with your county health department: Collin, Denton, Dallas, Tarrant. Information for additional counties can be found on the state Health and Human Services website. You can also find more information and updates about vaccine distribution efforts here.
Ensuring Equity in the Vaccination Process
Long-standing systemic health and social inequities have put many people from racial and ethnic minority groups at increased risk of getting sick and dying from COVID-19. To achieve health equity, barriers must be removed so that everyone has a fair opportunity to be as healthy as possible. And that includes providing access to these lifesaving vaccines.
One of the goals of our vaccination efforts is to provide access to those underserved by the healthcare system by partnering with community clinics and organizations to reach these populations. We are identifying the ZIP codes hardest hit by this pandemic and collaborating with our broad network of community partners and alliances – including Federally Qualified Health Centers – throughout North Texas to bring vaccines where they are needed most.
Safety and Efficacy
In a large clinical trial of nearly 38,000 participants, the Pfizer vaccine was found to be highly effective and safe. Both the Pfizer and Moderna vaccines show efficacy of over 94% in preventing cases of COVID-19.
It is not possible to get COVID-19 from vaccines. The Pfizer and Moderna vaccines use only a messenger RNA (mRNA) gene, not the actual virus, to trigger a person's immune system to produce protective antibodies against COVID-19. Other vaccines being studied use inactivated virus. None of these can cause COVID-19.
Don't let Your Guard Down
While vaccinations will help us curb the rising cases of COVID-19 in our community, vaccination does not replace the need for safety precautions such as wearing a mask, maintaining a safe distance, washing your hands and limiting gatherings with individuals outside your household. Stay safe and don't let your guard down, whether you've been vaccinated or not.
For More Information
More information is available at Texas Health's COVID-19 Vaccine Information webpage and through the Texas Department of State Health Services COVID-19 Vaccine Information website.