Over the last few years, advances in technology, changing payor models and evolving regulations have allowed Texas Health to provide new offerings, from the low-tech house call to the high-tech, on-demand virtual visit.
We're dedicated to meeting consumers where they are – or want to be – and providing quality healthcare that's more convenient than ever. And it's not a one-size-fits all approach. In fact, Texas Health patient Catherine Martin, is happy to share how she benefited from receiving care in multiple locations, including her own home.
Here are newer ways to connect with a provider beyond a physician's practice or a hospital.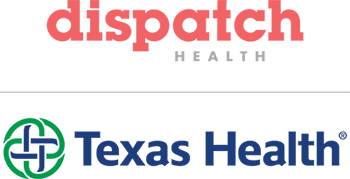 Since 2018, Texas Health has collaborated with DispatchHealth to bring back the house call. The service brings a mobile medical team equipped with tools and technology to a patient's home to care for minor to serious injuries and illnesses, similar to an in-person urgent care visit.
Texas Health Breeze Urgent Care connects patients with fast, convenient and affordable personalized care. With 25 centers (and growing!) open 8 a.m. to 8 p.m., 365 days a year, and the ability for most patients to leave with medication in hand at no additional cost, Breeze is a new kind of urgent care experience.

Last fall, Texas Health launched Texas Health Care at Home, an innovative new model that brings acute-level care directly into a patient's home.
As technology transforms the healthcare industry, Texas Health Care at Home focuses on a specific subset of acutely ill patients and allows participants to be cared for in the comfort of a familiar setting, surrounded by loved ones, while receiving constant monitoring from a medical command center supplemented by in-person healthcare services.
And our latest offering, Quick Care Video Visits, connects consumers to a provider online via video within minutes with no advanced scheduling required. It's a good alternative for people who need care right away and who do not have, or cannot get in to see, their primary care provider.
Know where to go for the care you need by clicking here.