Overview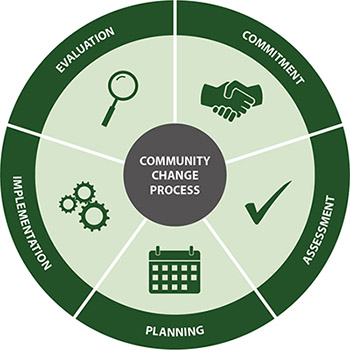 The mission of Texas Health is to improve the health of the people in the communities we serve, and we are accomplishing this mission by working in communities through the implementation of community health improvement (CHI) programs, which includes the Texas Health Community Impact (THCI) initiative that was launched in January 2018 to improve collaboration with community organizations for the purpose of enhancing our reach and engagement in the target communities.The collective aim of these programs is to increase access to behavioral health services, improve chronic disease prevention and management techniques, and increase access to health literacy and navigation services.
The Opportunity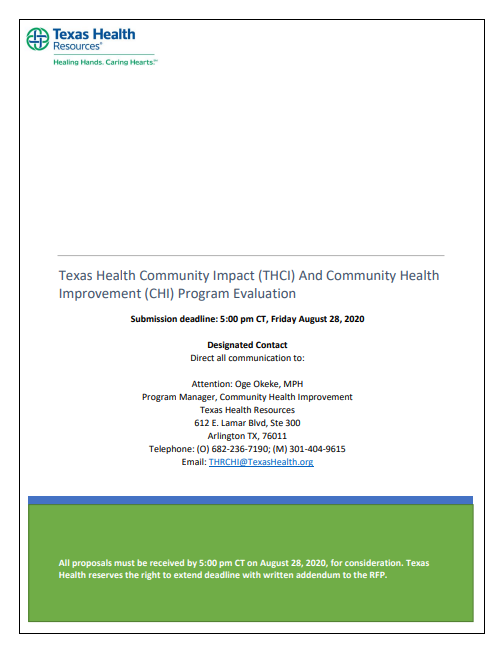 Texas Health is seeking a team to lead the process and outcome evaluation for the Texas Health Community Impact (THCI) Initiative. In addition to supporting the development of an evaluation framework for Texas Health Community Health Improvement (CHI) programs.
Through this effort, we intend to understand the performance of our programs in our target communities and determine possible adjustments to further strengthen our philanthropy.
Are you ready to embark on this phase with us? If yes, then download the RFP to learn more. We look forward to reviewing your proposal!
Important Information

Process Timeline
RFP Publication – July 13, 2020
Deadline for questions submission to Texas Health: July 20, 2020 by 5pm CST
Responses posted on Texas Health website: July 28, 2020
Deadline for proposal submission (electronic only): August 28, 2020 by 5pm CST
Texas Health Proposal Review: August 31 – September 7, 2020
Top finalists identified and invited to present plan – September 8, 2020
Finalists to attend and present at theTHCI Board Meeting – September 21, 2020
Evaluation team notified – October 2020: Anticipated start date – January 4, 2021
Submission Guidelines
All proposals (including corresponding attachments) must be emailed in a PDF format on or before August 28, 2020 to THRCHI@TexasHealth.org. Please use the following Email Subject Line: 2021 THCI Evaluation Proposal.
Proposals submitted later than the deadline WILL NOT be accepted nor considered. Proposals submitted within the deadline will receive an email confirmation acknowledging receipt.
There will be an opportunity to submit written questions for clarification regarding this RFP. All questions should be directed by email to THRCHI@TexasHealth.org by July 20, 2020. Please use the following Email Subject Line: THCI Program Evaluation RFP Questions. Submitted questions and corresponding answers will be posted on Texas Health evaluation webpage by on July 28, 2020.
Expenses incurred due to proposal submission, including related travel if invited to present proposal as a finalist will be covered by the applicant.