Our personalized model of care enables coordinated care among several medical specialties.
Comprehensive pain care requires an informed team approach. At Texas Health Pain Relief & Wellness Center, all patients receive an initial evaluation from the Center's board-certified Family Nurse Practitioner, Norin Ukani, M.S.N., F.N.P.-C. Ukani earned her M.S.N. and F.N.P. at Indiana State University and B.S.N. from the prestigious Aga Khan University.
Her core competency is comprehensive pain management which includes:
History and pain assessment
Diagnostic testing
Monitoring the effectiveness of prescribed medicines
Verifying post-procedure protocols
Educating the patient at every step.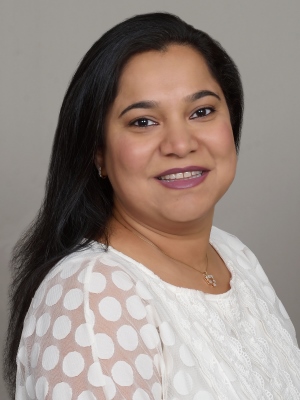 Ukani believes that each patient is unique and partners with them to design a holistic, comprehensive care plan. Her goal is to be proactive, supportive and a great listener while delivering culturally appropriate care to each patient and promoting healthy lifestyle changes.
In her spare time, Ukani enjoys spending time with her family, sports, outdoor activities and traveling.
Multidisciplinary Pain Care
After an initial evaluation, the Center provides coordinated access to the following clinicians throughout your journey to pain relief:
Patient care coordinator
Chiropractor*
Pain management physician
Physical therapist
Occupational therapist
Dietician
Neurosurgeon
Orthopedic surgeon.
* Texas Health Pain Relief &Wellness Center often refers patients to MyoCore, a chiropractic provider. Chiropractors are not members of the medical staff at Texas Health Plano.
Doctors on the medical staffs practice independently and are not employees or agents of Texas Health hospitals or Texas Health Resources.
Make An Appointment
Your journey to personalized pain care begins here. Please contact us to schedule an appointment or ask a question. Call 972-981-4090 today. Someone will get back to you within one business day.