Sports Injuries
Many people enjoy an active lifestyle which can sometimes result in injuries, regardless of whether you are a competitive athlete or enjoy sports for leisure. 
Support Services
Texas Health Sports Medicine offers several support services to help athletes of all ages and skill levels.
When you eat well, you perform well.If you're looking to get a natural edge as an athlete, nothing can take the place of proper nutrition. Athletes need more vitamins, minerals, and calories to train at a high level. The lack of these essential nutrients can lead to fatigue, injury, and decreased performance. Your goal is to fuel your body all day long through meals, snacks, and fluids.

From individual nutrition sessions to personalized meal plans, grocery shopping trips, and sports team presentations, the sports dietitians at Texas Health Sports Medicine can help athletes achieve performance goals through a myriad of sports nutrition services.

Texas Health Sports Medicine offers the following sports nutrition services:

Individual nutrition sessions, meal plans and education to meet your schedule and food preferences
Fast food, restaurant, and travel eating tips and meal plans
Sports nutrition team and booster club seminars
Small group nutrition sessions
Nutrition and wellness seminars at businesses, luncheons, events, gyms, etc.
Grocery shopping trips
Healthy cooking tips
Follow-up and accountability sessions in person, over the phone and email

Sports dietitians apply the latest nutrition research to help athletes optimize performance and recovery while also promoting long-term health. Sports nutrition differs from basic nutrition by focusing on macronutrient needs according to training, recovery nutrition to prevent chronic soreness or injury and tailoring your daily intake to match specific goals. Whether it be changing body composition, speed, strength or a personal record, we want to help athletes of any age to achieve their goals.

Proper nutrition can help athletes in the following ways:

Increase athletic performance
Increase conditioning levels
Increase strength levels
Increase energy levels in everyday life and training
Increase mental capacity, acuity and alertness
Increase metabolic functioning
Boost immune system
Increase the amount of lean muscle mass
Improve recovery time after injury
Improve hydration status
Promotes muscle repair and growth
Decrease risk for injury
Decrease risk of chronic fatigue
Reduce total body fat
Decrease the amount of muscle tissue lost during training

If you are interested in taking the health and performance to the next level with sports nutrition, we will be happy to meet for a detailed, one-on-one assessment to custom-design a plan tailored to your specific lifestyle, exercise and recovery requirements. Through our individual sports nutrition services, you have the option to choose a one-time appointment or a package option that provides more education and accountability to drive results.

We also provide team and group sports nutrition services including presentations, menu development, and sport-specific recommendations for optimal fueling and recovery.

Contact us for more information on our sports nutrition services and pricing.

The stress of the big game or tendency to choke under pressure can cause some athletes to suffer from mental distractions even when they have the physical skills to perform well. Athletes who benefit from a mental performance consultant usually identify mental challenges and distractions in their game and work through them with the help of a trained professional.

Sport psychology services are designed to help identify areas in an athlete's mental game where they can improve. They can learn mental skills to improve performance and enjoyment of their sport.

Athletes who are looking to overcome a fear or mental block in their game typically learn mental strategies through sports psychology.

Our Mental Performance Consultant can help:

Learn how to stay focused and "psyched up" rather than feel "psyched out"
Learn how to manage performance anxiety
Discover ways to enhance your focus and cope with distractions effectively
Bounce back quickly after a mistake
Perform more "In the Zone"
Learn how to use imagery to enhance confidence and performance
Find solutions to the mental blocks, fears, frustrations and stressors that arise when performing
Create strategies for confidence-building during injury recovery
Get motivated
Learn how to develop resilient athletes
Learn strategies for effective team communication

Texas Health Sports Medicine offers the following services:

Individual Consultations

Sessions designed to identify personal goals, evaluate strengths and improvement areas, and develop a plan of change to enhance the "mental game"

Peak Performer Clinics

Interactive presentations discussing the key mental skills in developing peak performance in a chosen sport such as baseball, golf, soccer, etc.

Coaching Clinics

Interactive presentations providing strategies for enhancing athlete and team performance

Team Building Workshops

A series of team building sessions designed to enhance team cohesion and performance

If you need to address painful muscle tension, Texas Health Sports Medicine offers sports massage from a licensed massage therapist. Many athletes find this service helpful in loosening their muscles and their connective tissue covering.

Rehabilitative Massage Therapy

Rehabilitative massage therapy works in conjunction with your physical therapy to help facilitate the healing process. The massage therapist works with your physical therapist to enhance your rehabilitation.

Sports Injury Prevention Massage Therapy

Sports injury prevention massage therapy (SIPMT) is specifically designed to reduce your risk of injury during competitive or recreational sports. By targeting specific muscle groups used during competition, SIPMT can loosen up your muscles to give you increased range of motion and decreased muscle tightness to increase your physical output.

Medical Massage Therapy

Medical massage therapy is an outcome-based therapy. Your treatments can be specific to one or two areas of the body or a full body treatment. This type of massage therapy is designed to reduce the intensity of your acute or chronic pain.

Stress Reduction Massage Therapy

Stress reduction massage therapy is designed to lower your overall cortisol levels in the body. Cortisol is the "stress hormone" in the body. Decreasing the overall amount of cortisol allows your body to relax.

3-D Motion Analysis System

The Motion Analysis System analyzes movement for research, clinical, and sports performance purposes.

The study of human movement is the process of visualizing how one might perform certain movements in space, in this case, for the purpose of performing a specific task related to sports. Although this process may be difficult to view in real time, motion capture allows the movement to be viewed and analyzed at a high rate of speed in order to detect subtle deficiencies not seen by the human eye.

The motion analysis system provides services to individuals with orthopedic and sports medicine conditions with an emphasis on the analysis of movement in overhead athletes and movement dysfunction in the lower extremity.  Texas Health Sports Medicine can help take athletic performance to the next level with the help of a motion analysis study. 

Lower Extremity Assessment and Performance (LEAP) Lab

Athletes are at increased risk for lower extremity injuries when their movement patterns reflect decreased neuromuscular control and strength. In an attempt to decrease this risk, motion analysis identifies these deficits in each athlete.

An athlete tested in the LEAP lab demonstrates sports-specific movements with Retroreflective markers attached to his or her body. This allows the cameras to create a 3-D model to be analyzed by a biomechanist and physical therapist in order to determine risk of future ACL injury.

Following testing, each athlete will receive a report explaining their movement patterns, neuromuscular control and strength, and are then offered a tailored home exercise program that addresses any deficits shown in the report.

Baseball & Softball Throwing Biomechanics Lab

Baseball and softball players are at risk for injury when they use incorrect form or poor movement patterns. These athletes are also prime candidates for a tool to help them take their game to the next level. Motion analysis might be the answer. The 3-D motion analysis system studies an athlete's movement in order to identify areas of weakness that may contribute to musculoskeletal dysfunction and decreased performance.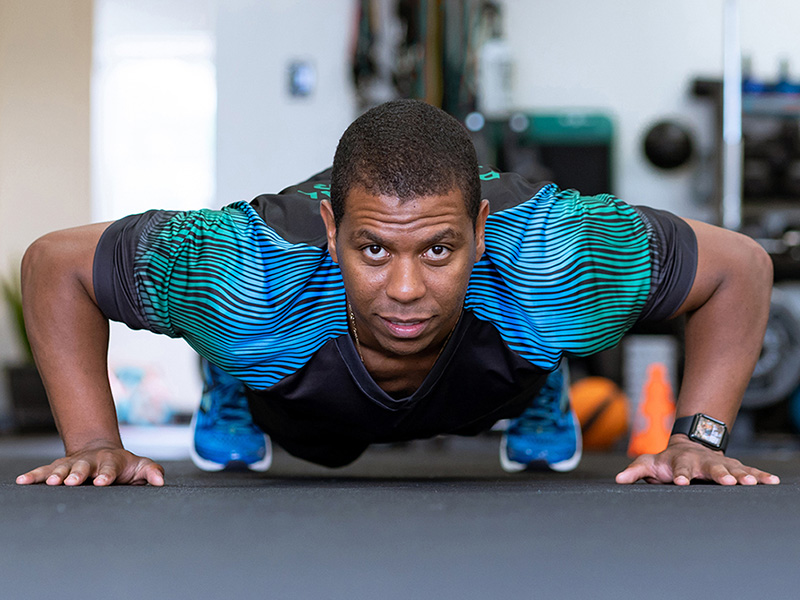 About Texas Health Sports Medicine
Many people enjoy an active lifestyle which can sometimes result in injuries, regardless of whether you are a competitive athlete or enjoy sports for leisure.
Sports Physical Therapy Locations