In this section:
Mission, Vision and Values
Fulfilling our Mission requires us to move beyond our facility walls and into the community to meet our consumers where they work, live, pray and play.
Faith-based Heritage
Texas Health's faith-based heritage and traditions are at the heart of everything we do. Recognizing that integrating faith and medicine is an essential component of the treatment and healing process, we:
Fast Facts
As one of the largest employers in North Texas, Texas Health generates significant economic growth in the region through jobs, construction and more. A 2022 Dallas-Fort Worth Hospital Council study shows that healthcare made a $38.4 billion economic impact on the region.
2022 Highlights
1.9+ Patients served (millions )*
6,400 Physicians on the medical staff
400+ Community access points of care
26,844 Employees**
29 Hospital locations***
*Includes discharges and outpatient visits
**Includes PRN (as needed) employees
***Includes joint ventures
4,390 Licensed hospital beds
$11.68 Total assets (billions)
$5.67 Operating revenue (billions)
20 Urgent care clinics
Our Services
Texas Health offers compassionate, comprehensive care for many stages of life. We combine clinical expertise, advanced technology, individualized care and compassion to deliver services to our consumers – from labor and delivery to primary care to sports medicine, surgical procedures and intensive care. We also offer classes and events, support groups, health risk assessments and more.
With hundreds of new residents moving to the region each week, Texas Health is expanding and building new facilities to provide quality, convenient healthcare when and where our neighbors need it.
2022 Highlights
Texas Health:
Innovative Collaborations
At Texas Health, we believe that strong relationships and collaboration allow us to make a greater impact on the communities we serve. Texas Health is affiliated with numerous organizations, including hospitals, surgery centers, imaging centers, rehabilitation hospitals, home health and more.
Texas Health and UT Southwestern jointly created Southwestern Health Resources (SWHR), a patient-centered, clinically integrated network of academic and community clinicians, researchers, hospitals and ambulatory facilities. With more than 6,000 physicians and advanced practice providers, SWHR connects physicians to patients, turns insights into outcomes and identifies barriers to better population health management.
By combining our expertise, we bring the best of two vibrant health systems: the breadth and strength of Texas Health, which cares for the most patients across North Texas, and UT Southwestern's exceptional range of complex and specialty care.
2022 Highlights
SWHR:
Texas Health Resources Foundation
The Texas Health Resources Foundation (Foundation) engages generous donors to inspire philanthropic gifts to improve community health. Funds raised help to support clinical, educational and community health programs that address the region's most critical needs. The Foundation builds key strategic relationships through additional community campaigns, programs, events, endowments, individual giving and nonprofit organizations.
Priorities
The Foundation's primary fundraising initiatives in 2022 supported:
2022 Highlights
The Foundation received nearly $13 million in total gifts, including:
Snapshot: Donations Save and Improve Lives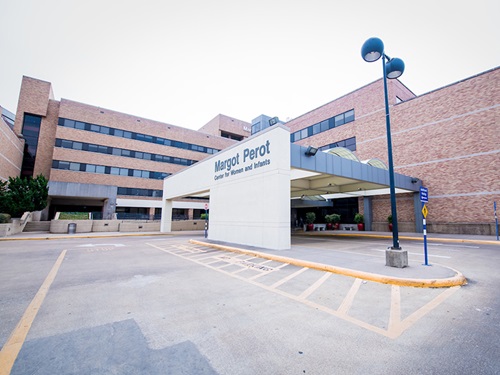 Donations to the Texas Health Resources Foundation make a lasting impression on people facing life-altering circumstances. Funds help bring critical clinical experience, infrastructure, programs and services that improve the lives of North Texans. Examples of impacts include:
Meredith, who suffered a life-threatening aortic dissection at 37 weeks pregnant. The Margot Perot Center for Women and Infants team saved her life and safely brought her son Geoffrey into this world. Thanks to fundraising, the Center is undergoing a nearly $60 million renovation to care for additional families in need.
A grateful mother who told our THRIVE program team, "Never doubt you are making a difference and changing people's lives."
Unhoused individuals who need medical care and social services to help them get on their feet. Through a medical respite program in collaboration with Austin Street Shelter in Dallas, unhoused men and women are finding employment, housing and care.