Brothers Hudson, Harrison, Henry and Hardy were born March 15 at Texas Health Dallas
Jenny and Chris Marr expected to hear one tiny heartbeat when they went for their first OB-GYN appointment late last year. Instead, they eventually heard four and started their journey to becoming the parents of natural, identical quadruplets — a type of instant family that occurs in only one in 11 million births.
Hudson, Harrison, Henry and Hardy came into the world on March 15 at Texas Health Presbyterian Hospital Dallas, just one day before mandatory stay-at-home and safe-distancing regulations began in Dallas County in response to the COVID-19 pandemic.
The couple says they were never worried, despite the obvious challenges of having four babies at once, in the middle of a pandemic.
"I knew that if God was going to give us this gift that we were going to be fine," Jenny said. "I just knew that we were going to be healthy and that everything was just going to be alright."
In the wake of COVID-19, there has been a fine line between using all necessary protective equipment to keep moms and babies safe from the virus while not provoking fear that can be caused by all the masks, face shields and other protective equipment, said Lauren Murray, M.D., the obstetrician-gynecologist on the medical staff at Texas Health Dallas who was the lead physician for the Marr quads.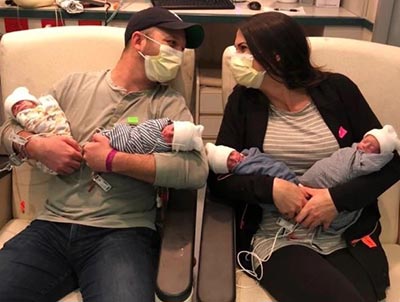 Chris and Jenny Marr
"The good news is I think pregnant women are naturally more motivated to follow the rules to keep themselves safe and like to see all these precautions we're taking," Murray said. "Jenny was an easy-going patient in that respect. She understood everything we were doing was for the safety of her and her babies. Because of that she did great, with absolutely no complications other than preterm labor, which is not unusual for multiples."
Both Chris and Jenny are only children, with no history of multiples in their family.
They learned at that first appointment that they would be having three babies. But a week later, during a visit with Brian Rinehart, M.D., a maternal-fetal medicine specialist on the medical staff at Texas Health Dallas, they found out the egg had split four ways, meaning identical quadruplets were on the way.
"This situation is so incredibly rare that there are only about 72 documented cases of spontaneous, identical quadruplets ever," Murray said. They had planned a C-section at 34 weeks, but the boys had different plans and arrived at 28 weeks, beginning at 12:46 a.m. on March 15.
While there were 24 caregivers in the delivery room, that's not unusual for a quad birth, Murray said. A small care team, including a nurse, respiratory therapist and neonatologist was ready for each baby.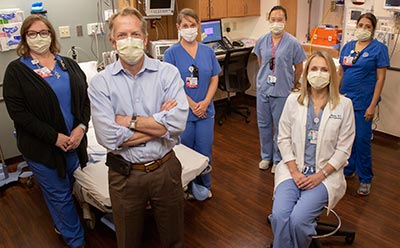 Marr quads caregivers, from left, Mary Collins, R.N.; Brian Rinehart, M.D.; Linda Taylor, R.N.; Phyllis Wan-Huen, M.D.; Lauren Murray, M.D., and Fareen Chaudhury, R.N.
"While we follow strict safety and quality guidelines for all our deliveries, the rare occasion of quadruplets being born during this time definitely created a buzz throughout the hospital," said Dede Scholl R.N., nursing manager of the Texas Health Dallas NICU.
After a 10-week stay in the NICU, they were transferred to the Special Care Nursery on April 25, where they stayed for a little less than a month. Henry, the last baby to be discharged, went home May 12.
"The babies were able to go home when they were feeding well and gained enough weight, and this happened at different times," said Cyndi Kelley, DNP, RNC-LRN, manager of the special care nursery at Texas Health Dallas. "The only impact COVID-19 had with this process was that the discharged babies couldn't come back to the unit after they went home — and who could come visit the babies."
The no-visitor policy at the hospital began on March 23. That meant only the two parents or guardians were permitted in the NICU area. Only Chris and Jenny were permitted and, like everyone, had to wear masks.
"I was appreciative and impressed by all the precautions that were taken during our stay and the attention to detail in the care we received the entire time we spent with the boys at Texas Health Dallas," said Chris.
The couple said their time at Texas Health Dallas was a powerful journey, as caregivers and hospital staff became their four baby boys' first extended family.
"It's little things that make such a difference when you're here for a long time. To be able to have people that care, and truly love you, and truly care about you, that's been the most wonderful part," Jenny said. "I can't wait until the day we can go back to the hospital for a visit and hug each other."