Join Us This October and Get Spooky Strong!
Become a new Texas Health Fitness Center Member for only $19!



Become a Member Today!
Texas Health fitness centers offer a healthy approach to wellness and exercise in a comfortable, relaxed setting. Whatever your fitness goals — from losing weight to gaining strength, from endurance building to recreation — we can help.


Mon – Thu: 6 AM to 7 PM
Fri: 6 AM to 6 PM
Sat: 8 AM to 1 PM
Sun: Closed

Is Back Pain Impacting Your Life?
Our 5-minute Texas Health online assessment offers real insight into treatment options for your pain and symptoms, with a focus on non-surgical solutions.
Guidelines for Your Safety
Your safety is our priority. Please follow these guidelines while exercising:

If you are experiencing symptoms such as fever/chills, cough, fatigue, sore throat, congestion, or shortness of breath, please stay home.

Physical distance by maintaining at least 6-feet from other members and employees at all times.

Wash your hands or use hand sanitizer frequently.

Our fitness centers are not requiring that you wear a mask in our facilities any more, it will be optional from now on.
Please keep in mind that in order to provide a safe environment for all of our clients and staff, we strongly recommend and request that individuals participating in a fitness class who are unvaccinated wear a mask during the session.
Learn more about how we're keeping you safe.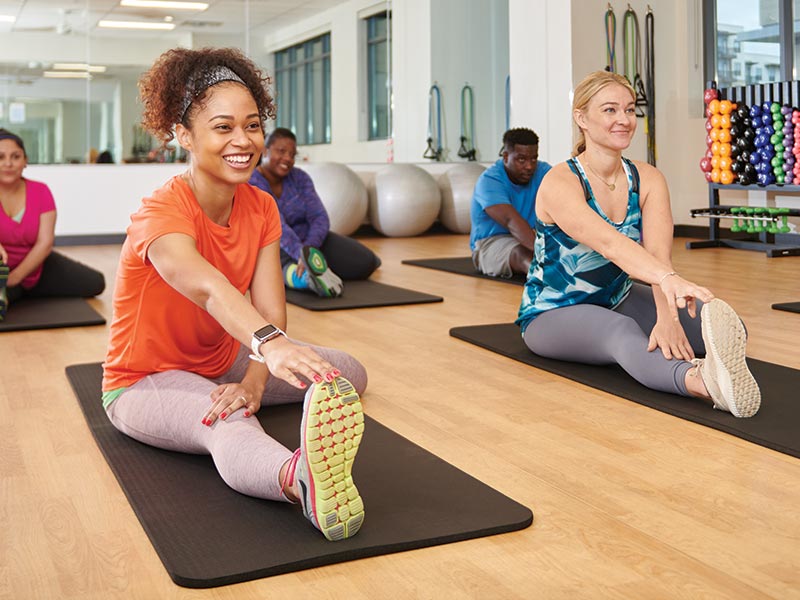 Group Fitness Classes
At Texas Health Fitness Center Dallas, we offer a variety of group exercise classes for people of all ages and skill levels. Our classes are free with any membership, check out our schedule and sign up today to begin your fitness journey!
Services & Amenities
From the equipment to the expertise, Texas Health Fitness Center Dallas has the services and amenities you need to help you achieve your fitness goals.
A 25-yard, five-lane indoor heated pool
Basketball court
Dry Sauna
Functional Training Room
InBody Scale
Indoor track
Life Fitness, Bio Arc and Hammer Strength free weights
Saltwater pool
Spacious free weight training area
Top-of -the-line strength training equipment
Wi-Fi

Pool is available by reservation only. Please call 214-345-4625 to reserve.

Clean & Spacious Locker Rooms

Our locker rooms, showers, and restrooms are all currently open. We keep our facility up to date on COVID cleaning protocols.

Members are encouraged to bring their own clean towels and take them home each day.

Complimentary Fitness Assessments

Available for new and existing members. Enjoy up to 60 minutes free with a personal trainer to get a one-on-one orientation, utilizing our cardio and strength equipment. You'll discuss your fitness goals based on your specific needs and medical history.

We strive to positively impact people's lives through our digital wellness platform, engaging events, and design and management of fitness centers that truly drive lasting change in clients' well-being. Combining our years of experience in the health and fitness space with the latest wellness technologies, we provide a holistic approach and programs suited for a wide variety of audiences. We work with our corporate partners to develop a custom wellness solution suited to their employee population.

Services Include:

Corporate Membership pricing for our 9 fitness center locations
Dedicated Account Manager
Educational Seminars: Mindfulness, Sleep practices, Meditation, Nutrition, Workplace Ergonomics, and more
Group Fitness Classes: Yoga, Bootcamp, Boxing, Spin, and more
On-site Program Coordinator
Workshops: How to Pack a Healthy Lunch, Ways to Get in Your Extra Steps, and more
On-site Events: wellness fairs, challenges, and more
Digital Fitness App
Fitness Facility Design and Management

Design & Layout
Equipment Procurement
Graphic Branding
Facility Management
On-site/Virtual Fitness

(SENSE) Exercise classes & Educational Seminars-Virtual/In-Person

Sleep
Exercise
Nutrition
Stress Management
Enjoy Life-Engagement

Digital Programming

Centralized Connection
Challenges
Virtual Coaching
Data & Analytics
Swag Shop

*Additional fees apply

We have worked with our partners to expand our wellness services to cater to their customized needs. Contact us today to discuss your corporate wellness goals and how we can customize a solution for your organization.

The fitness center offers dietitian services. A dietitian not only can provide nutritional information and advice, but also provide motivation, support and accountability.

Nutritional Counseling for Health Concerns

Nutritional counseling is available for a range of conditions and needs, including:

Basic nutrition/wellness
Cancer
Gastrointestinal disease
High blood pressure
Metabolic rate testing
Hyperlipidemia
Diabetes
Heart disease
Aging
Pregnancy
Bariatric/weight management.

Group classes and personal training are available for people of all ages and skill levels.

Balance, Core & Stretch: Challenge yourself and bring balance to your workouts. This 45-minute class focuses on balance exercises and core muscle recruitment to ensure you have all the strength and stability to continue living an active and healthy life. The last 10 minutes of each class will focus on stretching.
Barre: Barre class mixes elements of Pilates, yoga and functional training with music. You will use the barre and exercise equipment such as small hand weights and resistance bands to sculpt, slim and stretch your entire body.
HIIT: High-intensity interval training exercises increases fat oxidation during exercise, it also rises post-exercise expenditure and fat utilization, compared with lower-intensity continuous training. Suitable for all levels
Pre-Pilates & Pilates: Increase core strength and stability while focusing on and improving breathing techniques to recondition the body from inside out. Depending on class, it may incorporate a variety of equipment.
SilverSneakers® Classic: Have fun and move to the music through a variety of exercises designed to increase muscular strength, range of movement and activities for daily living. Hand-held weights, elastic tubing with handles and a SilverSneakers ball are offered for resistance. A chair is available if needed for seated or standing support.
SilverSneakers® Yoga - Will move your whole body through a complete series of seated and standing yoga poses. Chair support is offered to safely perform a variety of seated and standing postures designed to increase flexibility, balance and range of movement. Restorative breathing exercises and final relaxation will promote stress reduction and mental clarity
Step: Increase cardiovascular fitness using creative choreography and an adjustable step platform. Challenging, fun and expressive class will keep you moving! Abs and stretching are included.
Tabata: Fast-paced, interval cardio and strength (20 seconds work:10 seconds rest) class that lasts 45 minutes.
TBC (Total Body Conditioning): This class is a mixture of core and stability training using a variety of equipment to help sculpt and define the total body. All levels welcome.
Yoga: A transformational life practice that can help improve physical fitness, flexibility, range of motion and balance, as well as mental clarity, stress management and overall well - being. Classes based on traditional Hatha Yoga.
Young at Heart: Low impact class for those who are "young at heart." This is a safe and effective class for anyone interested in low impact exercise.
Zumba Gold: Latin and International dance rhythms modified for any population

Aquatic Class Descriptions

Aqua Zumba: "Pool Party" workout for all ages! This fun and challenging workout integrates Zumba into traditional aqua fitness disciplines.
Aquacise: Resistance changes as your body moves through water creating turbulence, currents and drag. Instructor's the add equipment to increase the workload. This strengthens muscles and improves cardiovascular function.
HydroMax: A moderate to intense aqua workout that covers all the major components of exercise: Strength, cardio, flexibility, endurance, stamina, speed and agility. You will get your hair wet!
Multiple Sclerosis (Aqua): Specifically designed for those individuals with Multiple Sclerosis or Parkinson's

All classes listed are included in memberships and are ongoing, unless otherwise stated, so join at any time! Classes and instructors are subject to changes. Classes may be cancelled or times may change due to low attendance. Check our schedule here.

Massage, like diet and exercise, has a cumulative effect - it directly or indirectly affects every system of the body. Massage helps to boost the immune system, break up adhesions in muscle tissue, improve muscle tone and flush out toxins. It also helps prevent injuries and speed recovery.

Types of Massage Available

Regular Massage: Massages are available for 30, 60, 90 and 120 minutes. A 15-minute chair massage is also available.
Swedish Massage: Enjoy the combination of gentle touch and firmer strokes that this soothing massage uses to relieve tension and stress and ease sore and tired muscles.
Deep Tissue Massage: Have a massage customized to meet your individual needs with varying pressure levels, this massage can focus on one specific area or a more general muscle group.
Pregnancy and Postpartum Massage: Many women experience special physical and emotional challenges during and after pregnancy. These massages are designed to address the unique needs of new and expecting mothers.
Massage Services are open to the public, with no facility membership required.

Food is fuel and our Nutrition Experts can educate you on healthy nutrition practices meant for your culture and goals. Want to achieve a healthy lifestyle? On-site Nutritionists can provide individualized nutrition counseling and more. Consult our experts today!

*Additional fees apply

Our team of Certified Personal Trainers are passionate about helping you get motivated, see results and have fun while reaching your personal fitness goals. From weight loss, gaining strength, improving balance/coordination and increasing stamina, we are ready to help you transform your health and well-being.

Our Certified Personal Trainers provide:

A complimentary new member training assessment with every member

Customized workout plans to help you meet your specific goals

Instruction on using proper exercise techniques

Health and lifestyle coaching

Services include:

1-On-1 Training: Achieve your individual fitness goals with a trainer who can personalize your exercise routine. This type of training is for all fitness levels and is proven to help you succeed.
ABCS (Aqua): Class is limited to 8 participants. Exercises are performed to help with balance, core strength, and strengthen the total body. Some Equipment may be used.
Biometrics Nutrition and Fitness: Actively integrates exercise with a balanced, healthy eating plan, resulting in weight loss and a change in body composition - the key to a healthier, leaner you
DEXA Body Composition: DEXA is a non-invasive test that measures total body composition. It quantifies lean, fat and bone mass including visceral fat and reveals imbalances in muscle symmetry, strength and joint mechanics. Your comprehensive report will indicate your lean muscle mass, fat mass and body symmetry.
Futsal: Futsal is the only form of indoor soccer endorsed by FIFA. It is a 5 x 5 small-sided game played on a hard-surfaced, basketball-sized court with a smaller, heavier low-bounce ball. The sport is a great skill developer, as it demands quick reflexes, fast thinking, and pin-point passing. The small, heavier futsal ball requires players to hone their ball-striking and-ball handling technique.
LAUNCH: Fitness and Nutrition: LAUNCH is a personal training and nutrition program in which certified personal trainers and registered dieticians link their professional expertise in diet and exercise to help you reach your fitness goals.
Partner Training: Designed for those with friends/significant others who want to exercise together and have similar goals.
Semi-private Training (up to 4 trainees) - Train alongside friends or family members to hold each other accountable and also save money at the same time.
Small Group Training: Focus on getting in shape with four to six friends while in a setting of competition and camaraderie. Let us know what your goals are, and our training staff will design a unique and fun program for your group. To schedule an appointment with a personal trainer or for more information, call 214-345-2842.
Tone: Small group personal training class uses weight machines, dumbbells, bands, balls & more!

*Additional fees apply

Premium Fitness Equipment

Airdyne
ArcTrainer
Ellipticals
Hammer Strength Dumbbells 5-100 lbs.
Hammer Strength Plate Loaded Strength Line
NuSteps
Recumbent Bikes
Recumbent Lifecycles
Rowers
Stair Steppers
Treadmills
Upright Lifecycles