When detected early, heart failure is often treatable with medication and lifestyle changes — a promising prospect for the 1 million people each year who are newly diagnosed with heart failure. While heart failure is a chronic condition and cannot be cured, treatment can improve symptoms. At Texas Health, physicians on the medical staff can develop a care plan with treatment options after a heart failure diagnosis.
It's important to communicate any symptoms of heart failure you might be experiencing to your physician. Typical symptoms of heart failure include:
Swelling in the hands, feet, ankles, legs or stomach
Shortness of breath
Feeling tired
Cough- especially at nighttime
Chest pain
Sudden weight gain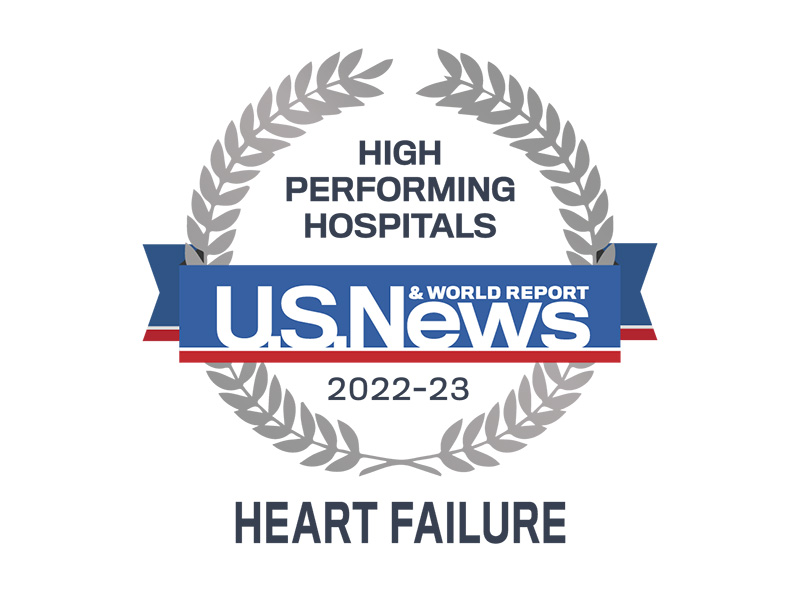 Hospitals Awarded by U.S. News & World Report
Texas Health Dallas, Texas Health Fort Worth and Texas Health Southwest Fort Worth received a "high performing" rating for heart failure by U.S. News & World Report.
Make An Appointment
Make your heart health a priority. Schedule an appointment today with a heart and vascular specialist on the medical staff at a Texas Health hospital. Call
866-870-1741
.
Learn More About Heart Failure
Learning more about the causes and symptoms of heart failure can help you take control of a heart failure diagnosis.
In heart failure, the heart muscle does not pump blood efficiently enough to meet the body's needs. It can involve the left ventricle, right ventricle or both sides of the heart. However, heart failure often starts with the left ventricle, which is the heart's main pumping chamber.

There are two different types of heart failure:

Systolic failure: The heart cannot pump blood out of the heart very well.
Diastolic failure: The heart is stiff and does not fill up with blood easily.

What causes heart failure?

Some of the causes of heart failure include:

Lung Disease
Infections of the heart

How is heart failure diagnosed?

Heart failure can be diagnosed in several ways:

History and physical exam that includes medical history review, blood pressure screening, weight measurement, and listening to the heart and lungs.
Lab work, which will likely include blood tests.
Chest X-Ray that may reveal an enlarged heart or congested lungs.
Electrocardiogram (ECG) to determine whether there has been damage to the heart or if the heart rhythm is abnormal.
Echocardiogram (echo) to evaluate the function of the heart muscle and valves with ultrasound.
Stress test to determine how the heart responds when put under stress and assess for underlying heart disease.
Heart Failure Treatment Options
There are many treatment options available to help manage heart failure including medications, lifestyle changes and surgical procedures. Physicians on the medical staff at a Texas Health hospital can help develop a personalized heart failure care plan. Some treatment options include:
Heart Failure Resources at Texas Health
Texas Health Fort Worth Heart Health Wellness Group
Find support in the community and learn more about cardiac diseases. This support group is open to all cardiac patients and their loved ones. Learn more and sign up here.
Texas Health Dallas Heart Failure Clinic
A nurse practitioner managed program that helps heart failure patients improve quality of life and lower the risk of being readmitted to the hospital. Patients are followed on a weekly basis for 30 days to help lower the chance of having a hospital stay.
8230 Walnut Hill Lane
Professional Building 3, Suite 212
Dallas, Texas 75231
214-345-2678
Learn more about the Texas Health Dallas Heart Failure Clinic here.

Find Heart and Vascular Care Today
A heart and vascular specialist on the medical staff at a Texas Health hospital can help you be young at heart for years to come.