When Gustovich's persistent knee pain finally got too much to bear, he began seeking relief.
Don Gustovich has been an active person his entire life, from his high school days of playing baseball, football and basketball, to a busy retired lifestyle that includes plenty of golf. At 69-years-old, he also loves to travel, snow ski, water ski, and play with his grandkids.
When Gustovich's persistent knee pain finally got too much to bear, he began seeking relief. He tried conservative treatment methods first, but injections, pain medications and knee braces just could not keep his pain at bay. That's when he found Kwame Ennin, M.D., an orthopedic surgeon on the medical staff at Texas Health Plano and Texas Center for Joint Replacement, a Texas Health Physicians Group practice.
He came into my clinic using crutches as his means of getting around," Ennin said. "We found that he did, in fact, have severe arthritis in both of his knees and hips."
"He found [that my joint was] bone on bone, and had osteoarthritis, and he said I would be a candidate for knee replacement," Gustovich said.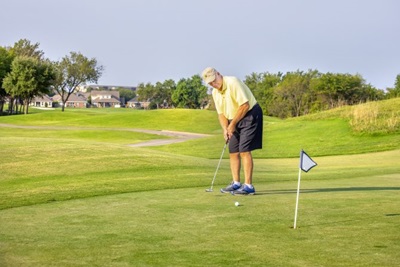 "Ennin worked with Gustovich to understand more about his pain. They decided that since the left knee was causing more pain, it was the joint that needed attention first. During the procedure, Ennin was able to remove the arthritic joint and replace it with a metal and plastic artificial joint that would allow Gustovich the motion he once had — without the pain that he had been experiencing for so long.
"He said that when I woke up from surgery, I was going to feel better than I had in years — and he was right!" Gustovich said. "It was amazing, and it was true. I had no pain."
After a successful replacement of his left knee, Gustovich also received a replacement of his right knee.
Conservative treatment options were explored to treat his hip pain, but ultimately, Ennin recommended surgical joint-replacement options to alleviate the pain in Gustovich's hips. Surgery was done one hip at a time and, after each hip replacement, he was up and walking the same day as his operation. He went home the very next day after each surgery.
"What I love about my job is that I get to make lasting changes in people's lives for the better, using cutting-edge surgical techniques," notes Ennin.
For Gustovich, these four joint replacements have given him new options for the active lifestyle he loves so much — minus the pain that had plagued him for so long. Today, his life is full of playing golf, swimming, and running around with his grandkids — even serving as a caddy for one aspiring golfing grandkid.
"I feel better physically now than I did when I turned 50," Gustovich said. "It's changed my life."
To schedule an appointment with a joint replacement specialist, visit our online Find a Physician or call 1-877-THR-WELL (1-877-847-9355).
Physicians employed by Texas Health Physicians Group are not employees or agents of Texas Health Resources hospitals.