Learn why more North Texans rely on Texas Health for their joint care than any other health system.
At Texas Health hospitals, our joint care program is built around you. We ask questions and put diagnostic tools to work for you to get the information we need. Then, the health care professionals at our hospitals — nurses, physicians on the medical staff, therapists and clinical coordinators — create a personalized care plan, centered on a conservative approach to your care.
Awards and Accreditations
Texas Health Fort Worth, Texas Health Plano and Texas Health Clearfork, a part of Texas Health Harris Methodist Hospital Southwest, are accredited by The Joint Commission® for Advanced Certification for Total Hip and Knee Replacement. This accreditation is built on evidence-based proof of clinical quality for total hip and total knee replacement care.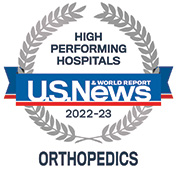 Texas Health Clearfork has received national rating as "high performing" for orthopedics in the U.S. News and World Report annual hospital rankings and ratings.
Texas Health hospitals also ranked "high performing" for the following orthopedic-related procedures.
Joint Coordinators
Walking with you through every step of your journey at several Texas Health hospitals, a dedicated joint care coordinator is available to answer questions, provide support and assist you and your family. Your joint care coordinator is an experienced health care professional who has walked others through their care plans, listening and answering the questions that arise and helping you to return to as normal a life as possible.
From the very first call, a joint care coordinator is by your side to answer questions and follow up with physicians.
Want to know more? Talk to a joint care coordinator at one of the hospitals below.
Texas Health Allen
972-747-6396
JointCareAllen@TexasHealth.org
Texas Health Arlington Memorial
817-960-6677
JointCareArlington@TexasHealth.org
Texas Health Clearfork
817-433-7432
JointCareClearfork@texashealth.org
Texas Health Dallas
214-345-8966
THDJointCoord@texashealth.org
Texas Health Flower Mound
469-322-7111
JointCareFlowerMound@TexasHealth.org
Texas Health Plano
972-981-2817
JointCarePlano@TexasHealth.org
Texas Health Southwest
817-433-7432
JointCareSouthwest@TexasHealth.org