Surgeon's kindness and patience ease decision to undergo double mastectomy.
Misti Irvin didn't choose to have breast cancer, but when the diagnosis came she knew she wanted the cancer gone. So she made the tough choice to have a double mastectomy.
But before she made her decision, Irvin sought medical support and treatment information from a number of surgeons until she found just the right one: Archana Ganaraj, M.D., a practicing breast cancer surgeon with Breast Cancer Alliance of North Texas and member of the Texas Health Presbyterian Hospital Dallas medical staff.
Difficult Choices Become Clear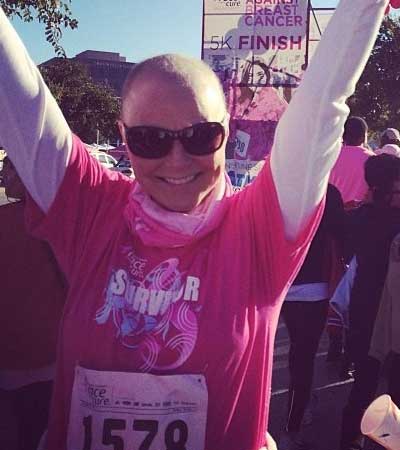 "When I got the diagnosis of ductal carcinoma, it felt like the floor dropped out from under me," Irvin recalled. "My maternal grandmother and my mother both have a history of fibroadenomas (benign breast tumors), so all along I was pretty sure that's what the lump I had found was. I was unprepared for getting the news and shock doesn't even begin to describe it. From that point, it became a whirlwind of learning and meeting doctors."
"The first surgeon I met seemed so cavalier about my diagnosis. I realize he sees this everyday, but I don't! I was scared and needed someone to treat me like a person, not a car that needed fixing. This is when I met Dr. Ganaraj. She was like a breath of fresh air. I finally found a person who deals with this everyday, and who also understood that I was a scared 37-year-old mother of two small children who was going to do everything in my power to beat this. She treated me with kindness and patience, and gave me good solid information to help me in making the decisions that lie ahead of me," she added.
Irvin was offered a number of treatment options, including a lumpectomy with chemotherapy and radiation or a mastectomy and chemotherapy. If she chose a mastectomy, did she want a unilateral (one-breast) or bilateral (double-breast) procedure? Ganaraj was able to help Irvin along her path to a decision.
"Misti knew she wanted a mastectomy, so I asked her if three years or 10 years down the road she would constantly be doing breast exams and worrying about there being a tumor," Ganaraj said. "When she answered 'yes,' the choice became clear. A bilateral mastectomy made sense for her even though I tell my patients, 'You do not live longer if you choose to have both breasts removed.' There are a lot of peace-of-mind issues that go along with this."
Irvin was not alone in her decision to have a double mastectomy. In fact, a new study in The Journal of the American Medical Association shows that a double mastectomy to treat one-sided breast cancer has increased 14 percent a year from 1998 to 2011. According to the study, in 2011 nearly a third of women under the age of 40 were having a double mastectomy.
Fighting Cancer with Comprehensive Care
Before Irvin's surgery could be done, she underwent pre-op testing at Texas Health Dallas. The hospital's comprehensive cancer program provides advanced technology and personalized support services throughout the diagnostic and treatment journey. A bone scan, MRI, CT scan and echocardiogram were all performed on Irvin to gather information that would later help Ganaraj in successfully completing the nearly six-hour procedure.
After surgery, Irvin remained in the hospital for several days and received supportive care from a dedicated nurse navigator and oncology-trained nursing team. A sentinel node biopsy was also performed to ensure Irvin's cancer had not spread beyond her breast tumor. After a two-month recovery period, she was prepared to tackle chemotherapy — with support from family members, friends and the Texas Health Dallas team.
"The nurses and staff at Texas Health Dallas were great and the nurse navigator helped coordinate my treatment schedule and medication needs," she said. "Dr. Ganaraj and her team were simply amazing as well. I cannot say enough good things about the doctor. She is truly a wonderful woman who clearly has a passion for what she does and who she does it for."
Beating Cancer, One BSE at a Time
Irvin admits that she wasn't very diligent in performing monthly breast self exams (BSEs) until her mother-in-law was diagnosed with breast cancer. It was only one month later that she found a lump. Even then, she was still unconcerned ― especially when a mammogram came back clear. She would later learn that ductal carcinoma is often difficult to detect on a mammogram or ultrasound. It took a core needle biopsy to detect the cancer.
Inspired by the passion she saw in Garanaj, Irvin now shares her story with other women whenever possible.
"I now have a passion for helping woman detect breast cancer early. I love talking to women and letting them know that breast cancer IS beatable and if you catch it early by doing self exams, your chances are even greater. I didn't get to choose cancer, but I did get to choose my attitude. I enjoy the days more now, I volunteer more at church and I have a better sense of what God's plan is for me. If I can get even one woman to start regularly doing BSEs, then this is a victory," she said.
Schedule an appointment with a breast surgeon online or call 1-877-THR-WELL (1-877-847-9355).