Chiropractic care and steroid injections were only providing temporary relief from the neck pain 51-year-old Stephanie Bland was experiencing. She traveled 100 miles to Texas Health Frisco to finally put a stop to her pain.
There's no good time for a health crisis, and a pandemic only serves to add to the anxiety and frustration. Just ask Stephanie Bland.
When the 51-year-old China Spring, Texas resident began experiencing shooting pain in her neck and loss of feeling in her left arm and fingers early this year, she became nearly bedridden. "The pain came out of nowhere. I couldn't sleep, I couldn't sit up, I couldn't really function. I chalked the pain up to being a former cheerleader and to lifting people for 26 years as a physical therapist assistant, but that didn't make the pain any easier to bear."
Bland knew she needed medical care, and fast. When her local pain management doctor couldn't get her in for three months, she turned to plan B and sought out the services of a chiropractor.
Still in pain, her primary doctor referred her to several doctors in the Dallas-Fort Worth area. Bland thought she was getting somewhere, and then COVID-19 hit.
"I was scheduled to meet with two doctors in Dallas, one for an ESI (epidural steroid injection) and the other to talk about a longer-term solution. I was afraid my appointment would get canceled, but the doctors were gracious enough to agree to still see me," Bland recalled.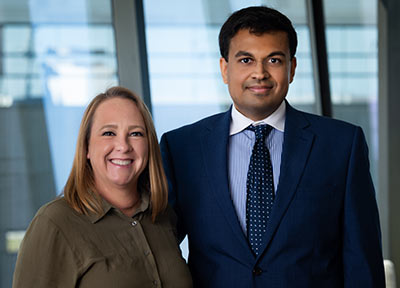 Stephanie Bland and Dr. Shaleen Vira
So she made the 100-mile trip north from near Waco. In Dallas, the pain management physician administered the ESI into the space around Bland's spinal nerve. This helped provide some relief from what was discovered to be several herniated disks in her neck. During the same visit, she was also able to meet with Dr. Shaleen Vira, an orthopedic spine surgeon on the medical staff at Texas Health Hospital Frisco.
"Many patients recover from slipped — or herniated — disks without surgery and we always look for the least invasive approach to treatment, but Mrs. Bland's case was more severe," Dr. Vira explained. "Although medication and muscle relaxers helped with pain relief and enabled her to continue working, we knew it wouldn't sustain her. She also had a noticeable change in her coordination and wasn't walking perfectly. That needed to be corrected.
Surgically removing just the portions of the disks that were protruding onto her spinal nerve wasn't going to be enough. It was recommended that Mrs. Bland undergo a cervical arthroplasty of the two impacted disks."
Just as she was making progress on her health, Bland learned she was being laid off from her job. Health insurance became a new concern for her to navigate.
"I had just met with Dr. Vira and we had made the decision to do surgery when the pandemic was gearing up," Bland said. "Everything snowballed. My insurance was in jeopardy, elective surgeries weren't happening. It was such a letdown, but I didn't have a choice other than to wait on the surgery."
Back home, Bland struggled through her pain for more than four months before she received word from Dr. Vira's office that the surgery could be done in August. She was more than ready to return to Dallas, even in the midst of the coronavirus.
Surgery in the Time of COVID-19
Only certain individuals are candidates for two-level cervical disk replacement because it only works on certain disks. Bland was a good candidate for the three-hour surgery, during which Dr. Vira replaced the damaged disks with ones made of plastic. The new disks will help keep Bland's spine stable and let her move more easily without pain and numbness.
Dr. Vira points out that more improvement is being seen with replacement over disk fusion for better movement and preservation of feeling. Bland is just happy she met the criteria for the surgery. "I'm glad I did the surgery when I did, pandemic or not. It has immensely improved my quality of life. Dr. Vira explained that the recovery time with this surgery could be anywhere from six weeks to around three months. I've felt so much better in just three weeks."
"I had an amazing experience at Texas Health Frisco. Dr. Vira and the hospital staff were so caring and attentive. I could tell everyone was focused on taking every precaution and following every protocol for my safety. I am especially sensitive to this as a health care provider myself. In the past, I have had trouble waking up from sedation and was concerned about that going in as well. I talked to the intake nurse about my situation, and she went above and beyond to communicate this to the anesthesiologist and other staff members," she added.
Bland went home the next day and says she is now back to driving, running errands and doing most everything she used to take for granted.
Take the Back Health Assessment to measure your back pain or visit YourBackHealth.com for more information.
Ready to schedule an appointment? Find a back and spine specialist on the medical staff near you.