Before her surgery, Fran McGuire weighed 377 pounds. She exceeded her goal of getting down below 200, ultimately dropping a total of 235 pounds, "which is a whole person!"
On the day her son got married in July 2008, Fran McGuire was alternately elated and terrified. While it was a happy day for her family, she remembers being petrified to even sit down at the wedding.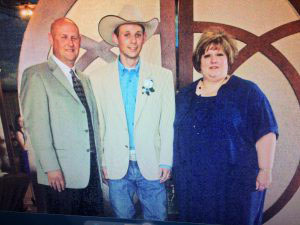 "We had rented wooden chairs and I had to hold myself up through the whole thing so all my weight wouldn't be on the chair," she recalls. "It didn't break but I heard it crack and I was just humiliated. That was the day I decided I was done. I was finished with being that big."
McGuire had never struggled with her weight until after giving birth to two children. By her late 20s and early 30s, however, the weight was there to stay and nothing she did seemed to matter much.
"I tried diets and weight loss programs but it just wasn't working," McGuire says. "My primary care physician and I had been seriously discussing my weight and health for two years. I was borderline diabetic, had high blood pressure and cholesterol, and my triglycerides were through the roof. When I first brought up the idea of surgery with my husband, he wasn't sure. Once he saw how mortified I was at our son's wedding, he was okay with it."
McGuire ended up at Texas Health Fort Worth for weight-loss surgery after doing her research.
"I knew I didn't want to go to a place where all they do is bariatric surgery because I knew the aftercare wouldn't be the same," she explains. "I wanted to be in a real hospital in case something went wrong and Texas Health had always been our hospital of choice. I decided I wanted surgery in July, was involved in support groups by August and had my gastric bypass surgery in October. My surgeon and the staff were all wonderful and it was a great experience."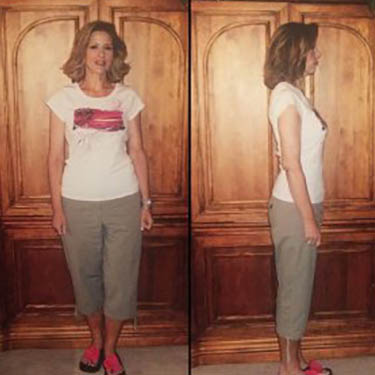 As for McGuire's weight? She met her weight loss goal—and then some.
"On surgery day I weighed 377 pounds," she said. "I dropped the first 100 pounds really quick and while the next 100 took a while, I never gave up. My original goal was just to be less than 200 pounds but I've lost 235 pounds since then, which is a whole person!"
McGuire's health went from being on a downward slide to almost perfect. Her highs — blood sugar, blood pressure, cholesterol and triglycerides — were gone almost immediately. She maintains her well-being by taking vitamins daily, exercising, touching base with a Texas Health nutritionist regularly and attending monthly support groups for bariatric surgery patients.
"I went right back to Texas Health's support groups after my surgery and think I've only missed a handful in nine years," McGuire says. "I like to have that accountability in person and keep things out in front of me. I've seen other people have weight loss surgery and not be successful, but I have worked too hard to gain the weight back. I know if I gain a few pounds, Jessilyn will help me get back on track."
Jessilyn O'Bannon, program dietitian for Texas Health Fort Worth Bariatric and Metabolic Services, said McGuire is one of the most dedicated patients.
"Most veteran patients (1+ year post-op) know that weight maintenance and the frustration of plateaus are just a normal part of the weight loss journey," she says. "What I love about Fran is that she's so willing to participate and do whatever she needs to do. There's a humility about her and she's never afraid to ask questions or work with us to figure out the next step. It's a testament to her commitment that she's almost 10 years out and still uses every available resource to her. I admire her strength, courage and bravery to fight this fight every single day."
McGuire's advice to those considering bariatric surgery is they have to be willing to do just about anything to make a real-life change.
"You really do have to be mentally prepared to change your life and do whatever it takes to be healthier so you can live longer," she says. "I was not going to have a full, productive, long life at nearly 400 pounds. That wasn't living. I was existing, but I wasn't living.
"For that reason, it was worth the risk and money to me. You have to go into it having the mindset that you are going to change your life."
O'Bannon agrees that having the right mindset before and after surgery is a big part of a patient's success.
"When we work with patients pre-operatively, we help them start changing their behaviors slowly," she explains. "These are habits that can't be undone overnight. You have to wrap your head around your goals, give yourself time to reach those goals and learn from your mistakes. You've got to be able to forgive yourself, make better choices the next day and ask for help when you need it.
"We know weight loss is an up-and-down journey, so we don't ever want our patients to feel embarrassed or judged. It's a lot easier for us to help when someone is five pounds up instead of 50 pounds, but no matter where they are, staying accountable is important to long-term success. Patients have to remember that stomach surgery is just a tool. It's not a fix-all so they have to pick up where the surgery leaves off."
While McGuire will always remember the big moment she decided to change her life, she says it's the little things that have made life that much sweeter.
"It's been wonderful to buy smaller clothes and look in the mirror and say, 'I can't believe that's me.'"
"It's been wonderful to buy smaller clothes and look in the mirror and say, 'I can't believe that's me,'" she says. "And as odd as it sounds, the day I realized I could cross my legs again was very exciting. I just did it one day and thought, 'Oh my gosh, I haven't done that in years!'
"Both of my kids are married and each has a child, so I'm a grandmother now. I can get on the floor with the kids and run around with them. I know I wouldn't be able to do any of that if I hadn't taken this step. I feel so lucky and blessed to have my life back."
If you're interested in learning more about weight-loss surgery, visit Texas Health bariatric surgery to learn more about services, support groups and programs offered at a location near you.
Get more information about the Texas Health Weight-Loss Surgery Program, or to schedule an appointment.