A piece of equipment nicknamed "The Thumper" saved the life of Allen resident Mark Johnson, and is helping him live his "best-ever" life.
When Allen resident Mark Johnson woke up one morning last June, he probably didn't anticipate that his life would nearly come to an end that day. But thanks to a quick-thinking firefighter from the Allen Fire Department, a new piece of equipment aptly nicknamed "The Thumper," and the team at Texas Health Allen, Johnson not only lived to tell his story, but is living his "best-ever" life today!
On that June day, Johnson began having severe chest pains, so his wife rushed him to nearby Texas Health Allen. Thankfully for the Johnsons, Allen firefighter Cody Jackson had just dropped off a patient at the Emergency Room. When Jackson saw Johnson hunched over in his car outside the ER, he knew he had to act quickly, so he grabbed "The Thumper," his LUCAS 3 chest compression system, from his ambulance and moved Johnson inside on a borrowed gurney.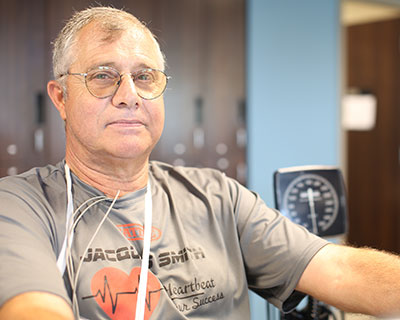 Jackson and the Texas Health Allen emergency team worked together for close to an hour to revive Johnson, finally starting his heart again with the use of a second defibrillator. From the ER, he was moved to the cath lab where a stent was inserted in the right artery of his heart. Critical to his recovery was the hospital's cardiac rehab program, and during the six days following his surgery, the program's team met with Johnson's wife and family to lay out a rehab plan to get him back on his feet.
"Following a major cardiac event like Mr. Johnson's, we work with patients to develop a rehab program that's specific to their needs," says Ashley Laible, the cardiac rehab program coordinator at Texas Health Allen. "We focus on exercise and education regarding risk factors for heart disease. Education is provided on nutrition with healthy eating guidelines such as adhering to a low fat, low cholesterol and low sodium diet. Patients are prescribed a goal of 150 minutes of moderate intensity exercise per week. We start slowly and build up over the 12 weeks, adding resistance training into the mix as appropriate for each patient. In all cases, the patient's attitude — and support from their family — plays a significant role in their recovery.
"Mr. Johnson was extremely positive about his rehab program, and we're sure his attitude played a large role in his successful recovery and his life today. He was dedicated to getting better, and on his days off, he even walked and worked out at his church gym. We are so proud of him and the improvements that he has made to his overall health," Laible continues.
Backed by considerable research, Laible explains that cardiac rehabilitation has advanced considerably in recent years, with programs that emphasize more activity and movement than programs even just a decade ago. Laible is proud to be affiliated with the Texas Health Resources Heart and Vascular team, which meets regularly to stay current with the latest research and guidelines. She's especially proud of Texas Health Allen's improvement to their Heart and Vascular service line and their dedication to providing excellent cardiovascular care for the community.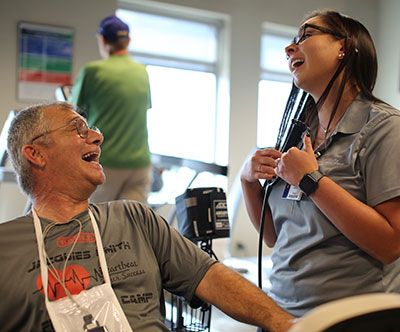 Johnson has completed his 12-week cardiac rehab program, which included a monitored exercise program at the hospital's facility three times each week. While there, he also learned more about risk factors critical to his recovery, like stress management.
Now that his cardiac rehab program is complete, Johnson is a believer in the importance of working out regularly and eating healthy, and he's continuing his recovery with regular workouts at the hospital's gym for heart patients where the staff can continue to monitor his progress. Although his diet today may be more about fish, salads and healthy vegetables than before, he is glad to be alive and gives proper credit to his 'Guardian Angel' Cody Jackson, the team at Texas Health, and God.
"God's hand was on everything that day in June. If there had been one more red light on the way to the hospital, I wouldn't have made it there," Johnson says. "And as it turned out, Kevin Hoffman, M.D., who led the ER team, also serves as medical control to the Allen Fire Department, so he knew and trusted Cody, which was a wonderful thing for me. The team at Texas Health Allen and Cody Jackson worked together to save my life that day. My wife, my family and I will always be grateful to them."
Today Johnson is living his best life, following the health guidelines for diet and exercise laid out by his health care team at Texas Health Allen, and checking in with them regularly so they can monitor his progress. The lifetime amateur fisherman even got their okay to go saltwater fishing this fall with his son and brother-in-law near Port Aransas, where he hopes to catch plenty of snapper and redfish. He also plans plenty of fishing and relaxation closer to home soon, on Lake Lavon and Lake Texoma.
Learn more about cardiac rehabilitation and the integral role the team plays in helping patients restore and maintain their health and reduce the risk of future heart problems.

Find Heart and Vascular Care Today
A heart and vascular specialist on the medical staff at a Texas Health hospital can help you be young at heart for years to come.