Welcome to Texas Health Dallas
For more than a half-century, Texas Health Presbyterian Hospital Dallas has been at the forefront of health care in North Texas. We continue to provide quality patient care for heart health, oncology, neurosurgery and women's health/infant care. Designated as a Level I Trauma Center and Comprehensive Stroke Center, the hospital's experienced team of physicians on the medical staff provides advanced emergency care in a timely manner. Our enduring commitment to the community allows us to offer this same compassionate care outside of the hospital walls, working with local organizations to provide patient education and support.
Parking & Transportation
Parking is available on surface lots and garages throughout the campus of Texas Health Dallas for a flat rate of $2. Dallas Area Rapid Transit (DART) provides service to Texas Health Dallas with buses and light rail. The Walnut Hill Station is located west of the hospital campus.
Dining Options
---
Café Presby | View Menu
Location: First floor of main hospital
Monday through Friday
7 a.m. – 10 a.m.
11 a.m. – 2 p.m.
Saturday
11 a.m. – 3 p.m.
Chick Fil-A Express
Location: First floor of main hospital inside Café Presby
Monday through Friday
7 a.m. – 10 a.m.
11 a.m. – 7 p.m.
Saturday
11 a.m. – 3 p.m.
French Garden Café
Location: First floor of the Margot Perot building
Monday through Friday
7 a.m. – 5 p.m.
Saturday
8 a.m. – 3 p.m.
Shinjuku Sushi
Location: First floor of main hospital inside Café Presby
Monday through Friday
7 a.m. – 10:30 a.m.
11 a.m. – 2 p.m.
Subway
Location: First floor of main hospital inside Café Presby
Monday through Friday
7 a.m. – 10 a.m.
11 a.m. – 11 p.m.
Saturday and Sunday
9 a.m. – 9 a.m.
Dining Options, cont.
---
Room Service
Open seven day per week
7 a.m. – 7 p.m.
Patients may order food by calling ext. 3663 (214-345-3663).
Chapel
---
The Chapel
People of all faiths are welcome to use the chapel, located on the first floor of the main hospital. If you need a chaplain, please ask the nurse or call 214-345-6789.
Hotel
---
Guest House Hotel
Conveniently located in the Main Building, The Guest House is a hospital amenity providing overnight accommodations to patients and their families. Call 214-345-4030 for more information.
Pharmacy
---
Texas Health Prescription Shop
Location: Ground floor of main hospital
Monday through Friday
7:30 a.m. – 5:30 p.m.
Saturday and Sunday
Closed
Gift Shop
---
The Gift Shop
Location: Main Hospital Lobby
Monday through Friday
8 a.m. – 6 p.m.
Saturday
10 a.m. - 4 p.m.
Sunday
1 p.m. - 6 p.m.
Perot Gift Shop
Location: First floor of the Margot Perot building
Monday through Friday
10 a.m. – 4 p.m.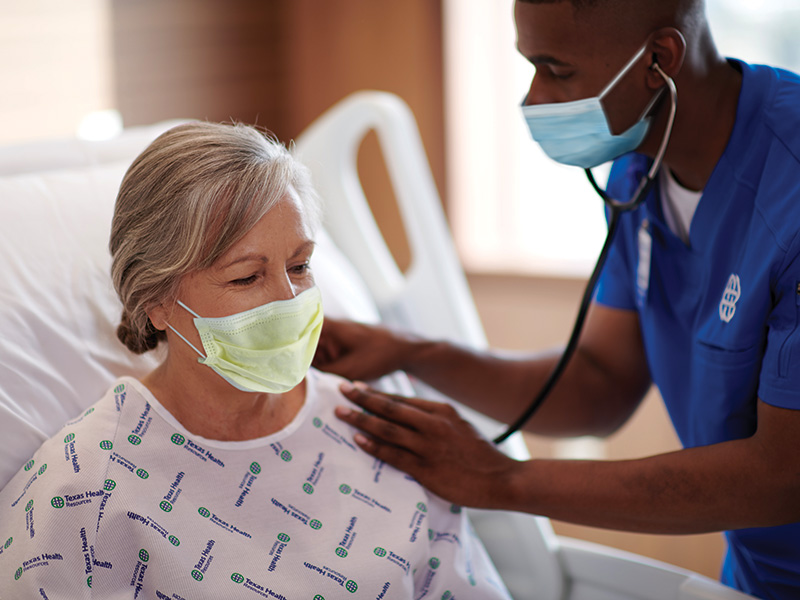 Visitor Guidelines & Your Upcoming Visit
We have modified many of our guidelines to help keep our patients, their visitors, our care teams and the entire North Texas community safe. Find information to help you prepare for your procedure or visit.
Jim Parobek

Jim Parobek serves as president of Texas Health Presbyterian Hospital Dallas, having moved into that role in June 2020 after serving as interim president since April 2019.

Texas Health Dallas and Clements University Hospital are run under a Joint Operating Agreement between Texas Health Resources and UT Southwestern.

While at Texas Health Dallas, Parobek has been instrumental in expanding integration with UT Southwestern Medical Center. He has worked with a strong executive team and with physicians on the medical staff to enhance clinical care and experience at the facility.

Since joining Texas Health in 2014, first at Texas Health Physicians Group and later in leadership roles with Southwestern Health Resources, Parobek had a significant impact on Texas Health's operations by unifying the oversight and coordination of all physician contracting, workforce development and recruitment, integrating Texas Health physician activity within the Southwestern Health Resources Physician Network, and advancing the Joint Operating Company.

He reports to John Warner, M.D., executive vice president, health system affairs, UT Southwestern Medical Center. Kirk King, executive vice president and hospital channel chief operating officer for Texas Health, provides additional oversight.

Parobek pursues his passions outside of work with the same energy he shows on the job. He is married with two children and enjoys adventure travel, golf, hiking the U.S. national parks, taking in the Texas music scene and cheering for his favorite sports teams.

Elizabeth Asturi, Chief Nursing Officer


Elizabeth Asturi

Elizabeth Asturi, M.S.N., R.N., NE-BC,

serves as the chief nursing officer of Texas Health Dallas, joining the leadership team in November 2019.

Her service over the previous four years includes stints with increasing levels of responsibility as CNO at Texas Health HEB and Texas Health Allen.

Asturi's position at Texas Health Dallas is a homecoming, as she served there as associate CNO from 2010 through 2015, where she was instrumental in maintaining Magnet® designation, implementing care models and providing direct oversight of Nursing Administration, Critical Care and Emergency Services. She also led the operations of the hospital's Level II Trauma Designation program, Sexual Assault Nurse Examiner program, Heart Failure Clinic, Women's Heart and Wellness Clinic and Valve Clinic, among other responsibilities. Asturi also has a background in clinical nursing and charge nurse roles, and as a clinical education specialist.

Prior to joining Texas Health, Asturi served as director of Critical Care at United Regional Health Care System in Wichita Falls.

She holds a Master of Science degree in nursing from Texas Christian University and an associate's degree in nursing from Brookhaven College. Asturi is also board-certified as a nurse executive by the American Nurses Credentialing Center.

Asturi serves as president for the North Texas Organization of Nurse Executives. She is also a former member of the board of directors for CareFlite. She has been recognized extensively at both the national and regional levels for nursing excellence.

She lives in North Dallas with her husband and two children. They are active members at St. Andrew United Methodist Church in Plano.

Aurora Estevez, Chief Quality and Medical Officer

Aurora Estevez

Aurora Estevez, M.D., M.B.A., FACOG, has been chief quality and medical officer at Texas Health Presbyterian Hospital Dallas since 2013. She is responsible for advancing clinical excellence and physician leadership and integration, working with a medical staff of more than 1,100 physicians. Estevez has oversight for quality, performance improvement and patient safety, care transitions, physician relations, graduate medical education, medical staff affairs, and ancillary services including lab, pharmacy and radiology.

Prior to joining Texas Health, Estevez served as chief medical officer at NCH Healthcare System in Naples, FL, where she contributed to many system-wide accomplishments including a three star STS ranking in cardiac surgery and affiliation with the Mayo Clinic Care Network. Estevez also previously served as medical affairs officer at two Tenet hospitals in South Florida and was in private practice in Boca Raton, FL, for 15 years.

Estevez is board certified in obstetrics and gynecology. She holds a BS in Biology from the University of Miami, MD from the University of Kansas, MBA from Yale University and completed her residency at Bayfront Medical Center in St. Petersburg, FL.