Welcome to Texas Health Frisco
There's no place in America that's quite like Frisco. That's why it deserves a hospital that's one of a kind. From the moment you arrive on campus, you will see that Texas Health Hospital Frisco was built with you in mind. But it also has touches you wouldn't expect, like boot camps and yoga classes, walking trails and natural building materials like wood and limestone, and a rainwater irrigation system. And that makes us more than a hospital, we're a destination for your health and well-being.
Parking & Transportation
Patients and visitors are encouraged to valet park or self-park in the parking garage.
Dining Options
---
Café
Location: First floor of main hospital
Breakfast
7 a.m. – 10 a.m.
Grab and Go
10 a.m. – 11 a.m.
Lunch
11 a.m. – 2 p.m.
Dining Options, cont.
---
Fresh Market Café
Location: 3rd Floor
Available at all times, the Fresh Market Café offers traditional vending options along with fresh fruit, sandwiches and healthy snacks. Credit and debit cards are accepted.
Chapel
---
Hospital Chapel
People of all faiths are welcome to use the chapel located on the second floor of the main hospital. If you need a chaplain, please ask the nurse or call 469-495-2124.
Gift Shop
---
The Gift Shop
The gift shop is located in the main hospital lobby.
Monday through Friday
9 a.m. – 5 p.m.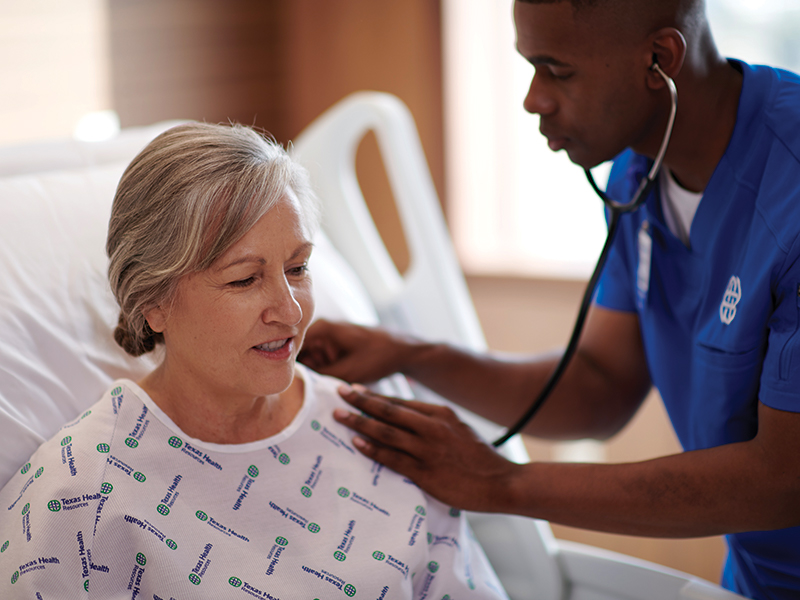 Visitor Guidelines & Your Upcoming Visit
We have modified many of our guidelines to help keep our patients, their visitors, our care teams and the entire North Texas community safe. Find information to help you prepare for your procedure or visit.
Brett Lee

Brett Lee serves as president of Texas Health Hospital Frisco, being named to that role in April 2019.

Lee brings a wealth of health care experience to the position, having spent the majority of his career in leadership roles in pediatric hospitals, including serving as vice president of operations and clinical services at Children's Medical Center of Dallas, where he worked closely with UT Southwestern to plan the opening of a new hospital campus in Plano and collaborated on the recruitment of multiple faculty members. He also has extensive experience working in complex joint venture environments, having served as the president of a joint venture between Tenet Healthcare and Baylor Scott & White Health that operated five hospitals in North Texas, including one in the Frisco market.

Lee earned a Bachelor of Science degree in physical therapy from The University of Oklahoma and a Master of Health Science in health finance and management from The Johns Hopkins School of Public Health. He also completed an Executive Program in Finance and Negotiation at Harvard Law School and earned a doctorate in Allied Health/Physical Therapy from Massachusetts General Hospital Institute of Health Professions. He is also completing a Master of Science in leadership development from the Wharton School of Business, University of Pennsylvania.

Lee is married to his high school sweetheart, Mindy, and they have one school-age son, Preston. In his free time, Lee is an avid runner and enjoys traveling with family.

Dorothy C. Foglia, Chief Nursing Officer

Dorothy (Dort) Foglia

For over 40 years, Dorothy (Dort) C. Foglia, BSN, MS, PhD, RN, NEA-BC, Chief Nursing Officer at Texas Health Frisco, has committed herself to elevating the nursing profession through a proven record of successfully identifying and developing models that optimize care delivery, improve quality, and enhance organizational performance – all while keeping patients, their families, and staff at the forefront of her mind.

Her early foundations in patient care (adult and pediatric critical care) shaped her decision making as a nurse leader and educator, spearheading her efforts in the design and implementation of numerous nursing programs related to education, clinical practice, research, quality, and advanced practice. Her experience has equipped her to provide operational, clinical, financial, and administrative oversight in many healthcare settings.

In 2019, Dort moved from Vice President and Associate Chief Nursing Officer at Children's Medical Center of Dallas, to her current role at Texas Health Resources (THR). Texas Health Frisco is a collaboration between THR and UT Southwestern Medical Center. The new 20-acre campus will bring an acute care hospital and multispecialty clinic complex to this fast-growing part of Collin County. The advanced facility will include environmentally conscious elements combined with high-end technology and specially designed treatment areas. The 325,000-square-foot facility will open in December 2019.

Over the course of her career, Dort has successfully led efforts to improve patient care and safety, patient access and throughput, clinical and patient care technology transitions, clinical effectiveness, strategic/business development, and regulatory readiness. Innovation and vision have been a solid part of her leadership in developing the infrastructure to support the future of patient care. In addition, Dort has been instrumental in achieving initial and ongoing Magnet status in her previous organization. Dort is passionate about people, evidenced by her success in holding leaders accountable to a healthy work environment, resulting in nurse resiliency and retention.

Of equal importance, is Dort's unique and consistent skill in building and sustaining relationships with community and academic physicians. Dort's dedication to advancing nurse leaders is evident through her daily influence at Texas Health and her involvement with the North Texas Organization of Nurse Leader (NTONL) Board, where she serves as the President. She has also presented on a variety of pediatric, critical care, quality, safety, accreditation/regulatory readiness, patient throughput, healthcare, and leadership topics at the local, regional, and national level.

Her commitment to nursing education is also seen through her efforts as a preceptor to graduate students in programs from around the United States, as well as past adjunct nursing faculty appointments at Texas Woman's University (undergraduate faculty) and the University of Texas at Arlington (graduate faculty). Dort is also mentor at the Pennsylvania State University for undergraduate nursing students in the College of Nursing.

Dort is involved in her North Texas community, advocating for neglected and abused children on the Collin County Court Appointed Special Advocates (CASA) Governing Board and working to help provide this population with safety, a roof over their heads, and the tools they need to thrive.

Dort has been married to her husband, Denny, for 41 years. They are proud parents to two children, a son who is an attorney and a daughter who is a surgeon. Dort and Denny spend most of their time with their ever-growing family of four grandchildren.

Robert L. Bass, Chief Quality and Medical Officer

Robert L. Bass

Robert L. Bass, M.D., M.B.A., serves as chief quality and medical officer at Texas Health Hospital Frisco, joining the team in October 2019.

In this role, he is responsible for providing clinical perspective, knowledge and leadership to ensure collaboration and alignment between the hospital and physicians on the medical staff. He also assists with recruitment and retention of physicians.

Bass has been a practicing physician in North Texas for more than 20 years. He is an associate professor of hand/upper extremity surgery in the Department of Orthopaedic Surgery at the University of Texas Southwestern Medical Center. He previously served as vice chair of operations, and medical director of the Ambulatory Clinic for the Department of Orthopaedic Surgery at UT Southwestern. He holds the W.B. Carrell Distinguished Professorship of Orthopedic Surgery.

Bass completed his undergraduate studies at the University of Texas, Austin, and earned his medical degree at UT Southwestern Medical School. He completed his residency in Orthopedic Surgery at the University of Iowa Hospital and Clinics in Iowa City, Iowa, and a Hand and Microsurgery Fellowship at the University of Cincinnati. He is board certified in Orthopaedic Surgery and Hand Surgery by the American Board of Orthopaedic Surgery. He also received his MBA with a concentration in health care leadership from the University of Texas at Dallas.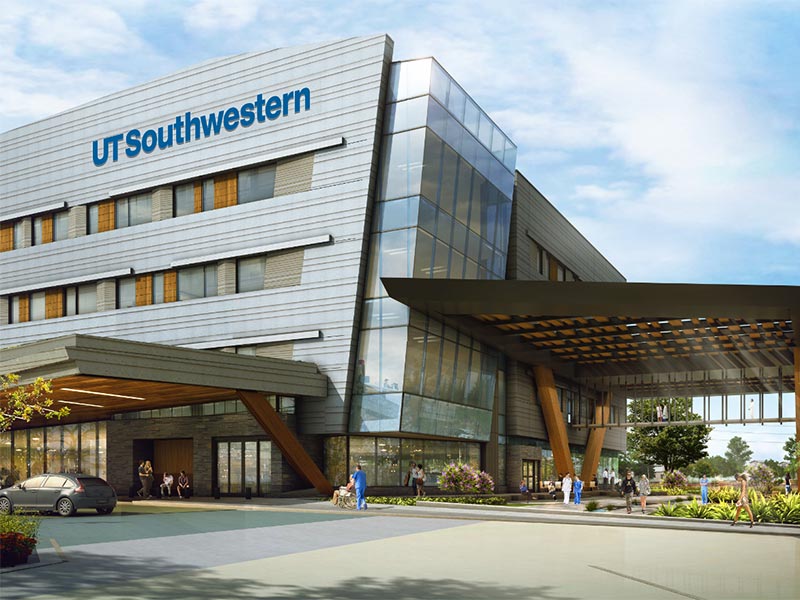 Collaboration with UT Southwestern
Texas Health Frisco has everything you would anticipate from an advanced medical center, including a collaboration with world-renowned UT Southwestern.