Every year we make resolutions and as you know losing weight is often tops on that list. In our attempts to succeed we try everything and yet it seems like many of us fail more often than we succeed. If you haven't found success don't beat yourself up because most of us need expert help to make significant changes — and that is where our program comes in.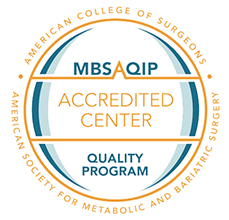 Request a Consultation
To request a private consultation, submit the form and we will be in touch! We can't wait to help you start your journey!
Procedures at Texas Health Frisco
Knowing that every case is different, Texas Health Frisco offers a variety of procedures to meet your individual needs.
Long considered the gold standard in bariatric surgery, the gastric bypass offers the greatest excess weight loss and obesity related disease resolution potential of any of the procedures we offer. The bypass works by both limiting the amount of food the patient can eat (restriction) and limiting the number of calories absorbed through the small intestine (malabsorption). It can be particularly useful for those suffering from uncontrolled type-2 diabetes or acid reflux. Learn more about the procedure.

As one of the newer standalone stapled weight loss procedures, the gastric sleeve has quickly become the most popular bariatric surgery in the United States. It is a straightforward procedure that removes 70-80% of the existing stomach pouch in a vertical manner, using restriction alone to achieve long-term results similar to the gastric bypass. The gastric sleeve does not alter the small intestine in any way. Learn more about the procedure.

As is possible with any surgical procedure, bariatric surgery does not always turn out as planned. While complication and mortality rates have steadily decreased over the years, on average, it is important to remember that these procedures are complex and serious, and for one reason or another, may fail at some point in the future. Learn more about the procedure.

Single Anastomosis Duodeno-Ileal (SADI)

Reduces the risk of diarrhea and nutritional deficiencies often associated with the duodenal switch
Gives patients greater weight loss when compared with standard gastric bypass or gastric sleeve, which is great for those with a BMI above 50.
The SADI-S Procedure can be performed on patients who have had sleeve gastrectomy but experienced insufficient weight loss or a relapse.
Reduces the long-term risk of intestinal obstruction when compared with duodenal switch and gastric bypass.
It is great for people with poorly controlled Type-2 Diabetes as it offers a more powerful metabolic effect when compared with a standard gastric bypass or sleeve gastrectomy.
Unlike gastric bypass surgery, patients experience a reduced likelihood of issues such as unstable blood sugar fluctuations, dumping syndrome, marginal ulcers, food restrictions and intolerance.