"We've got you," caregivers tell Texas Health Fort Worth Patient
He was concerned as he entered the emergency department of Texas Health Harris Methodist Hospital Fort Worth. Dennis Heerwagen, 65, knew that hospitals were waging war with a virus that was causing patients respiratory distress and sometimes death. He had seen the news and knew that others out there needed help. The thought of taking any care away from them plagued him.
But on this day, Dennis also needed help. He had been receiving care for a lung condition, but now was experiencing trouble breathing. Even in the midst of his own medical emergency, Dennis fought both fear and guilt as he walked in the door of the ER. "I'm just a normal person that unfortunately got sick during the COVID time, and I didn't have COVID," Dennis says.
In the ER, Dennis asked the doctor if he had done the right thing by coming in. Dennis remembers that moment clearly: "He said to me, 'I hate to tell you this – not only did you do the right thing, but had you not done this, it would have been the wrong thing.'"
At that moment, Dennis understood just how close he had come to perhaps losing his own life. He prayed again for an angel and then felt a warm arm around him. The nurse taking care of him looked Dennis in the eye as she embraced him and said simply, "You don't have to worry. We've got you. We're going to get through this together."
The next few hours were a blur as physicians on the medical staff and nurses went to work on Dennis, helping diagnose and treat blood clots in his lungs and finding more clots that were on their way from his legs to his lungs. Dennis was stabilized and sent to the ICU for careful monitoring. There, he was overwhelmed by the care and attention he received.
"Two shifts a day would come in, one during the day and one at night, and they were the most beautiful people," Dennis remembers. "Nurses would sit on the end of your bed and tell you about their kids and talk about the times. People were arranging the room and making sure it was just as sterile as possible. There were doctors coming in and people running tests on me, and each and every one of them had a story."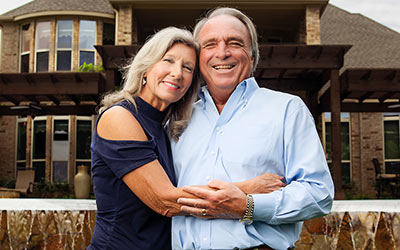 Dennis stresses how important the people around him were to his recovery. Because of conditions related to COVID, families and visitors are not allowed into the hospital, and Dennis missed them. "You walk into the hospital and my wife couldn't go in. It's that moment when you put your hand up and your wife puts her hand up, and you say goodbye," he remembers, a catch in his throat.
In the ICU, Dennis was recovering. On his fifth day in the hospital, Dennis turned to his nurse and told her of his strong desire to go home. "We've got you," she told him, echoing the phrase that had brought him so much comfort days earlier from a different nurse. "We're going to get you home today." When Dennis was wheeled out of the hospital, a team of nurses clapped and cheered, tears streaming down their faces.
Now rehabilitating at home with his wife by his side, Dennis works closely with his primary care physician, pulmonologist and cardiologist through virtual visits and phone calls. At this point in his journey, Dennis is focused on his health and on two other missions: showing appreciation for the caregivers he says saved his life, and sharing the message that medical care for other conditions can't stop, even in the midst of the pandemic.
"People are staying away from the hospital and they shouldn't," Dennis says. "If I had done the right thing earlier on, I may not have had [what I had]. I try to tell friends of mine who are my age to go to the hospitals and find the doctors. We've got to get them back together."
Dennis also took the time to sit down and write a heartfelt letter to the leaders of Texas Health Fort Worth, telling them his story and sharing his gratitude for the care he was given at the hospital.
"I live today because of your staffs," he wrote. "I live today because of the doctors, nurses, pathologists and surgeons who cared for me to make sure that I did. Step by step, whether that was in admissions through the emergency room or ultimately into the ICU unit, the communication and care was beyond anything I could have imagined."
"As a society, we take for granted our medical profession for its skill and excellence," he continued. "Covid-19 brought that forward so that at the front of everything we see today, media and in person, the profession has a face and a name. They are our neighbors. They are our friends. They are the first, second, and third line of defense between catastrophes for our families."
Thinking back on his recent hospital stay, Dennis says he felt a healing presence in the staff of Texas Health Fort Worth. "[Angels] help things come together," he explains. "They know what to do. You feel them. They arrive at the right times, the strange times. And I met a bunch of angels in the hospital."