Fort Worth's Emperatriz Terrientes got the care she needed from the comfort of home.
Emperatriz Terrientes needed to see her doctor, but with the rise of coronavirus and the uncertainty of the global pandemic, she did not want to leave her house and potentially expose herself or her family to COVID-19.
"I've been having some problems with my legs after I got a hernia surgery, but suddenly this COVID thing appeared," said Emperatriz, a resident of Fort Worth.
It's not that she didn't want to see her doctor. Emperatriz had started a healthy relationship with Texas Health Family Care's Todd Richwine, D.O., around six years ago. And she trusted him with her care and that of her family.
"We got to know Dr. Richwine because he was referred to us by my husband's kidney doctor. We were looking for a family doctor since we moved to Fort Worth in 2014. I found him to be really good. He would listen to me at every appointment. Most of the time you go to a doctor and they are in a rush, but he would take the time to listen."
Now, it was simply a matter of making the appointment. Emperatriz has two sons who have both been diagnosed with asthma, and she's also currently taking care of her parents, who are unable to get back to Panama during the global pandemic. With so many family members at risk, the best course of action was a virtual visit.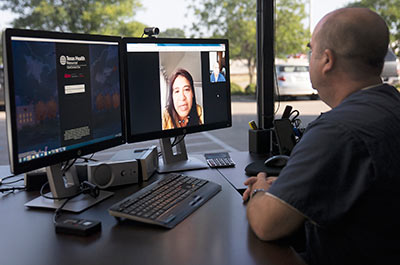 Emperatriz having a virtual visit with Dr. Richwine
"Virtual visit is another word for telemedicine. What it really means is that we're able to see you visually either through a download of an app or on your iPhone, Android, any type of device with the capacity to send video and audio," explained Richwine. "It's a lot more personal than a phone call. There are more visual clues that people give off. Like coughing while they're talking or sweating a lot or having to pause when they're short of breath. These are all things you can't pick up on a telephone."
During their twenty-minute virtual visit, Dr. Richwine and Emperatriz were able to go through her symptoms and chart a course of action.
"She had a lot of pain. She had weakness in her legs, from the pain and from the pressure that her problem was causing," said Richwine. "It really decreased her quality of life quite a bit. She wasn't able to walk out and just simply get her own mail. She wasn't being able to take care of her elderly parents."
"Dr. Richwine was able to recommend some additional testing. The office called me for my next appointment at the lab. And I was able to go there with a lot of safety measures," expressed Emperatriz. "I stayed in my car until they were ready to take care of me. Everyone had a mask and hand sanitizer. That made me feel really safe, you know?"
The virtual visit was a better choice for Emperatriz in a number of ways. She didn't have to deal with the added pain of climbing into her car, driving to the office, and sitting while in such pain. This way, she was able to see her doctor from home with the comfort of her environment, where she felt safe.
"The ability to do virtual visits made me feel safe and secure. Like I was being taken care of, but at the same time I was safe at home," she added.
But that was only part of the story. With her elderly parents visiting from Panama, and the airport there closed due to the pandemic – her mother was running out of her medications. With the ability to perform virtual visits, Dr. Richwine was able to help her mother, too.
"My parents came here in March, like five days before COVID exploded. The airport in Panama has been closed since March. So she was running out of some of her medications and she started having bad acid reflux," said Emperatriz. "She needed to see a doctor. I told her the only doctor that I can recommend is mine."
At first, her mother was hesitant because of the technology she'd have to use, but with a little help from Emperatriz, she was able to schedule and complete her own virtual visit.
"Emperatriz is a great daughter and very supportive. She set up the virtual visit with her mother, who frankly, probably isn't very technologically savvy," admitted Richwine. "We were able to have a visit, and help her mother enjoy being in the United States.
Richwine added, "When I was talking with Emperatriz' mom, her dad jumped in and said hello. We talked some about Panama, where I have been on mission trips. We talked about when we were going back. Those types of things. So you're able to still have that connection with people that you can't have on the telephone. You can smile at each other and you could enjoy each other's conversation."