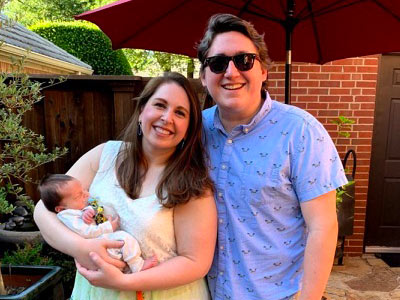 Her birthing classes had been canceled. Her tour of the hospital had been canceled. Her family from Idaho couldn't come for the delivery. Not only was Faith Rheiner disappointed that she and her husband were missing out on these parents-to-be milestones, but her anxiety was also running high because the coronavirus pandemic was predicted to peak right about the time of her baby's arrival.
Faith worried about her safety and that of her newborn. Because her pregnancy was considered high risk, she was especially scared of catching COVID-19 before or after delivery and possibly being separated from her baby. As she heard the news of cities restricting hospital visitors, Faith became terrified as well that she might have to deliver her baby alone. Her fears were largely calmed by her obstetrician, her perinatologist and the Labor & Delivery staff at Texas Health Arlington Memorial Hospital.
"It was great to have the support of so many to mentally prepare for what to expect," Faith says. "They helped keep me and my husband updated on changes in hospital protocols and policies. They were very reassuring in regards to my high-risk pregnancy and delivering during such a strange time."
Faith also relied heavily on the Texas Health COVID-19 & Pregnancy webpage to check on visitor policies and other useful information about what to bring and prepare for once at the hospital. "From the moment we arrived at the hospital, we felt safe and cared for. They had limited the entrances, and had staff doing temperature checks and screenings. On our way to Labor & Delivery, we quickly realized that it was a secure place that was separated from actively sick patients."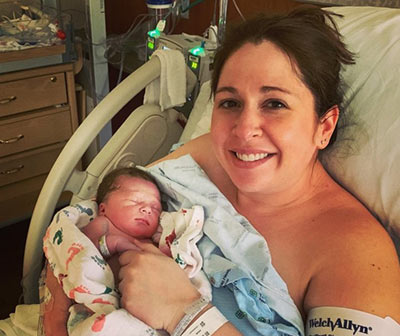 Once in labor, Faith's blood pressure became an issue and she had to be induced earlier than anticipated. This made for over a day of laboring before baby Logan finally made his entrance. After delivery, Faith experienced a flair-up in her sciatic nerve and was in excruciating pain. Through the ups and downs, the nurses were there for her.
"My labor was long and we ended up spending five days in the hospital, so we had a lot of different staff supporting us throughout that time," she recalls. "During my labor, I felt very supported emotionally and physically. Every nurse we had was professional, kind and nurturing. Each team member, including nurses and physicians on the medical staff, that walked into our room was familiar with my medical history and explained what the next step would be. They always took the time to answer our questions.
As my labor started to intensify, the nurses were supportive in giving me options to help ease the discomfort—from things like a birthing ball, to meds, to making sure the anesthesiologist was there promptly when I was ready for an epidural. They also made adjustments as needed to let me rest when my labor stalled. It was clear that my comfort and well-being were a priority."
When it came time to push, Faith was happy to have delivery nurse Mary Tran on hand as "the perfect labor coach". With Tran's encouragement and positivity, the 32-year-old mom to be says she felt like she could do anything.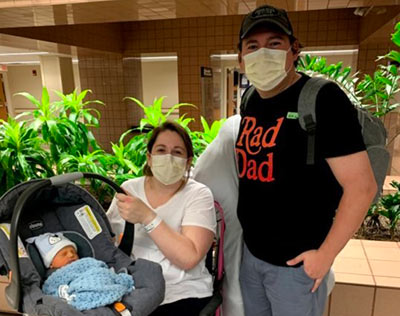 "Once our son was born, we had a whole team of people in the room taking care of him and me. Everyone was so happy for us and sharing in our joy as they got us all settled. During recovery I had complications with fever and excess bleeding due to my long labor. The nurses and physicians on the medical staff checked on me frequently to ensure I was recovering well," she adds.
Faith is grateful for Mother-Baby nurse Hannah Le as well, who she says was there to take care of Logan when she was in a great deal of pain and sleep deprived. At one point, Le even brought Faith and her husband ice cream to help them feel better. "She was like a mom to us, so reassuring and caring."
It wasn't until the new family was discharged and asked to again wear their masks that Faith gave the pandemic a second thought. She offers this advice for other expectant moms preparing to deliver during the pandemic: "Do what you can to prepare for delivery, but know that your healthcare team will help you each step of the way. They are there to keep you and your family healthy. It is okay to be disappointed or sad that things may not go as expected, but know that it will still be an awesome experience because at the end of the day you get to welcome your baby into the world."
For more information about what to expect during your maternity stay, visit TexasHealth.org/COVID-Pregnancy.