"I feel like I have COVID" he typed into the app before getting a response seconds later
"My name's Tim Trotter. My temp is 100.2 and I've got a terrible headache. I feel like I have COVID."
Tim typed those words into a screen on his phone, not knowing what to expect. Within moments, he was messaging with a provider via Texas Health Hospital2Home, a program designed to give patients free access to ER physicians on the medical staff of a Texas Health hospital for up to seven days, via their mobile device or computer, after being discharged from a Texas Health emergency room.
"We saw an opportunity to better support the communities we serve by expanding the Texas Health Hospital2Home program to help answer COVID-related questions and testing inquiries" said San Banerjee, vice president of digital experience at Texas Health. "We're glad that it has helped provide support when they needed it most."
The week prior, Tim Trotter and his wife, Barbara, had been on a dream trip to South Africa, enjoying the majesty of Victoria Falls and the wild animals they saw on safari. As borders were being closed and Americans instructed to return home, the Trotters left Africa to return to North Texas.
"We flew through London and I probably got the disease in the airport or on the plane coming back," Tim, 60, surmised.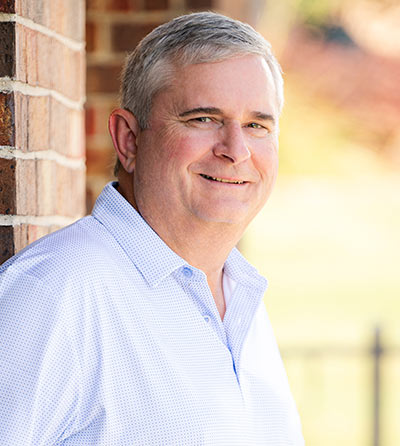 After landing back in the U.S. on March 16, Tim self-quarantined as instructed by the CDC. On day four of his isolation, he began running a temperature. Though it never went above 100.4 degrees Fahrenheit, Tim began to feel terrible.
"Day six, it hit me. I felt like I was run over by a truck," Tim remembered. "I've never had such a bad headache in my life – it was in the back of my head, like a bad allergy headache. All I know is that I had something."
It was a Friday, and Tim called his regular physician's office, which was closed for the day. A recorded message instructed patients to call the CDC if they felt like they might be infected with the virus. "The CDC said that if you didn't have shortness of breath, just wait, self-quarantine, and call my doctor again Monday," Tim said. A resident of Denton, Tim knew that Texas Health Presbyterian Hospital Denton was less than 10 miles away and could care for him should breathing become an issue.
Wanting to get a test to confirm his suspicions, Tim explored his options. At the time, testing was limited to those over 65, or with a higher temperature than his, or who were frontline workers. Fitting into none of those categories, Tim explained that he didn't have options other than going to the hospital, which he didn't feel like was the right choice for him at the time. "I just wanted to get a test," Tim said.
It was then that he received an email from Texas Health. After easily downloading the Texas Health Hospital2Home app, Tim began typing into the message window about his concern that he may have COVID. Through Hospital2Home patients can message, share images, even video chat questions with a medical provider, all from the comfort of home.
"They came back and said, 'We'll put you in the system in the queue to get a test done,'" Tim said. The physician, a doctor on the medical staff of Texas Health, reminded Tim that if he had respiratory problems, he needed to call 911 or get to the hospital quickly. Tim messaged with a few other questions over the weekend and, Monday morning, he was notified through the app that he had been scheduled for COVID testing that afternoon at a Texas Health location near his home.
"Every time I asked a question, it was remarkable how fast they answered it," Tim said about the assistance he received through the Texas Health Hospital2Home app, which also allowed him to ask about timelines for results.
Tim's test determined that he was indeed positive for COVID-19, and his primary care physician discussed the results with him. Barbara was negative for the virus and did not experience any symptoms.
Hearing that those who had successfully battled COVID could donate plasma to help others, Tim received antibody testing and was named a candidate for donating plasma after being symptom-free for 28 days.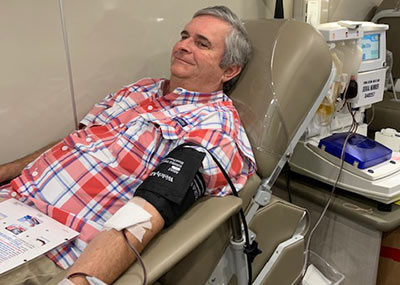 Tim Trotter donating plasma
"I donated at Carter BloodCare in Fort Worth, in a special RV they had set up for those who were donating plasma to others fighting COVID," Tim said. "The guy that took my blood said that my blood was already assigned to someone that night."
Obviously moved by the opportunity to help others, Tim mentioned that he would be donating plasma again. "It may be one of the better things I do in my life," he said.
Today, Tim is back to enjoying a retirement filled with activities like pickle ball and golf. He has kept the Texas Health Hospital2Home app on his phone. "I'd absolutely use it again," Tim said. "I had somebody there and I could ask questions."
He also wrote a different kind of message to the people behind the screens who helped him through a difficult period in his life. He logged back into the program to say:
"Thank you to all the doctors that helped me get tested. I was positive and just went 28 days and had an antibodies test and today gave plasma. Keep up the good work and pass on thank you to all."
For more information about the Texas Health Hospital2Home program, visit TexasHealth.org/H2H