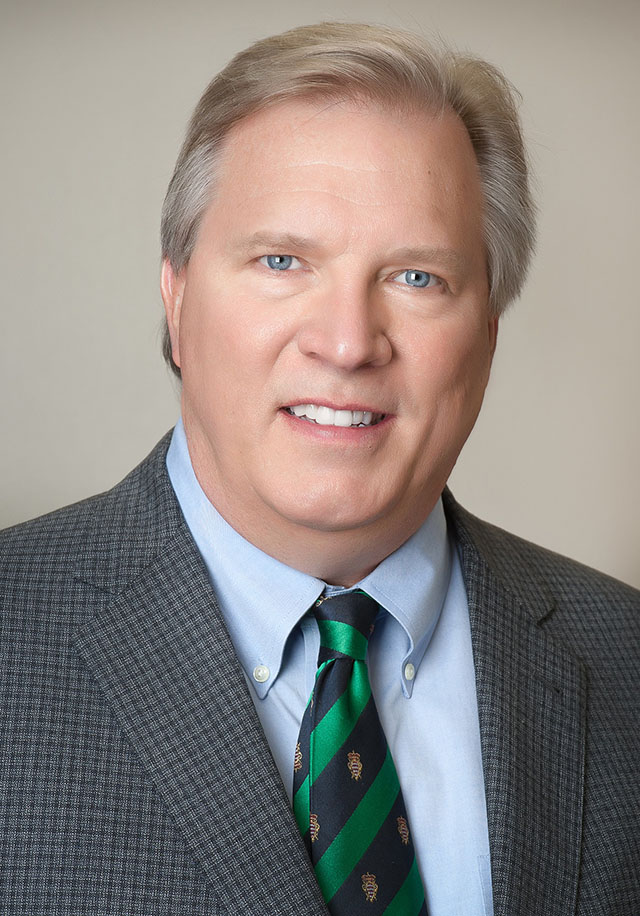 Andy Dollahite, M.D., interim chief medical director and a former long-standing orthopedic surgeon on the medical staff of Texas Health Harris Methodist Fort Worth Hospital, is eagerly counting down to the spring of 2022 and the opening of the new Jane and John Justin Tower.
"It's fair to say that with the addition of the Justin Tower, Texas Health Fort Worth will transition from a well-regarded, large community hospital to a significant medical center with an academic affiliation, featuring advanced technology and superior capabilities that didn't exist previously in Fort Worth," says Dr. Dollahite.
Q: Beyond the bricks and mortar of the Justin Tower, what will the new building mean to physicians caring for their patients at Texas Health Fort Worth?
Dr. Dollahite: One word immediately comes to mind -- commitment. Commitment to the medical staff, to their patients, to Fort Worth and Tarrant County, to a new graduate medical education program, and to an environment that will improve the patient and family experience. Texas Health Fort Worth and Texas Health Resources (THR) have made major investments in new technologies not previously available to patients in the community, and they are leading efforts to increase the number of physicians available to care for our community by establishing a graduate medical education program. In short, the Justin Tower expands the hospital's footprint with a beautiful environment and a desirous location for young doctors to train at a state-of-the-art facility.
Q: Will the new Justin Tower improve quality of care and access to care?
Dr. Dollahite: Absolutely. There is a natural link between new technology and enhanced quality of care. The skill of the physicians and access to advanced technology will maximize capabilities, favorably impacting patients and the care they receive. With the addition of 15 operating rooms (ORs) that are each 1,000 square feet and the repurposing of the 24 existing ORs in the Sid Richardson Pavilion (SRP), surgical care at Texas Health Fort Worth has room to grow, keeping pace with our community's needs and patient expectations. The ORs in the tower will provide for today's care and tomorrow's technology such as artificial intelligence and areas not even realized. Surgeons simply won't find a finer facility in the area in which to operate.
Q: Did physicians have input into the design of Justin Tower?
Dr. Dollahite: The surgeons, anesthesiologists, and operating room nurses had considerable input because the new tower has always been thought of as a surgical bed tower. We built live mock-up patient and operating rooms and invited all to visit, evaluate, work, and operate within, all before proceeding with the final design. Surgeons and OR nurses from a variety of surgical specialties including general surgery, plastics, orthopedics, cardiac, neurosurgery, and others, gave the proposed OR a test drive. Through this real-life experience, many suggestions resulted in beneficial changes to the final design. Now, we have high confidence that when we open, a surgeon will walk into an OR that he or she helped design and be pleased with the overall atmosphere. The tower focuses on several primary service lines – orthopedic surgery, neurosurgery, and transplant surgery. It also advances the hospital's commitment to cardiovascular and vascular surgery as it fortifies the services already provided in the cardiac tower. The Justin Tower will also enable the hospital to perform advanced and highly complex procedures like transplantation, robotic surgeries, and higher order operations involving the heart, lung, liver, brain, and kidney.
Q: How will the Justin Tower improve the patient experience?
Dr. Dollahite: The tower's design recognizes that patient, physician, and staff experiences are intertwined. Patients will find it easier to enter and exit the hospital. Physicians will find technologies and facilities that will enhance their ability to care for their patients. Nurses and other staff will benefit from a design that improves workflow and the quality of their work life. It's a win-win-win for everyone.