Texas Health Fort Worth helps man walk upright again.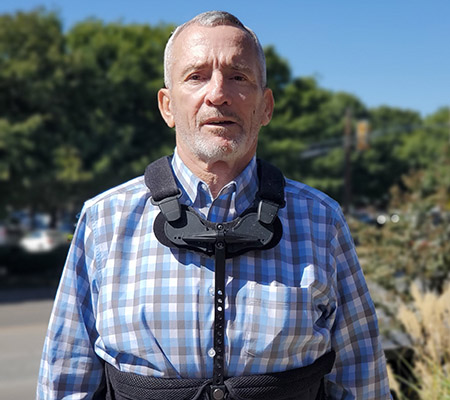 Walking upright: It's something we learn as toddlers. We celebrate this achievement early in life before we begin taking it for granted each and every day. But through injury and aging, some people lose their ability to walk in that upright position, the one that relays confidence and allows them to do the things they are used to doing.
"I was in so much pain and slumped over so bad, I was ashamed to be around people," said Michael Williams, a Glen Rose man who suffered with back pain and spine deformity. "At one point, I didn't even leave the house, unless it was absolutely necessary."
Williams raises white-tail deer for legalized hunting, and has worked as a high school wrestling coach and a bull rider. He knows, first-hand-, how grueling work can take a toll on the body. "Back in 2016, one of the deer broke out of the corral and started charging behind me. I was hit square in the back and knocked unconscious," Williams said. "That's where my story really begins."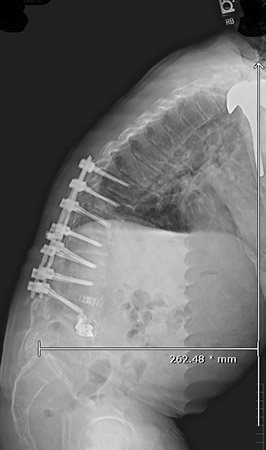 Riddled with pain, Williams endured close to 14 back surgeries, taking place at facilities across North Texas. Some surgeries were supposed to address his initial back injury from the deer incident, and some were corrections on previous back surgeries. His spine eventually became deformed. He relied on the use of a walker, which is how, in July of 2019, this 59-year-old shuffled his way into Texas Health Harris Methodist Hospital Fort Worth – and into a new reality.
Williams met with Cyrus Wong, M.D., a neurosurgeon on the medical staff at Texas Health Fort Worth and North Texas Neurosurgical & Spine Center, a Texas Health Physicians Group practice. "Michael's center of gravity was completely off, causing him to lean forward by more than 10 inches every time he attempted to stand or walk," Wong said.
After undergoing several diagnostic studies, including MRI and CT scans, along with physical exams Williams was diagnosed with scoliosis – a sideways curving of the spine – and flatback syndrome, a condition where the lower portion of the spine loses its normal curvature. "When you have flatback syndrome, you're in constant pain and disability, you have difficulty standing up or looking straight, and your daily activities are hindered or simply become non-existent," Wong explained.

Williams underwent pedicle subtraction osteotomy, a complicated surgical procedure that allows a neurosurgeon to strategically reshape the vertebrae to realign a deformed spine. After his spinal procedure, Williams was cared for at Texas Health Fort Worth. "The day after surgery, a nurse came to my room and said I needed to start walking. I told her she'd lost her mind," Williams said. "Eventually, I got out of bed, but I didn't feel any pain. I walked up and down the hallways near my room, and I didn't want to stop."
And he hasn't.
"His constant state of back and neck pain no longer exists," Wong said. "He's a man living life and enjoying every minute of it, and from a medical standpoint, that's the exact outcome we want to see."
Today, Williams is undergoing physical rehab at a facility near his home in Glen Rose and gaining more strength each day. "When you've been through all the pain and surgeries I've been through, and suddenly walking with no pain a day after major surgery, that's what I call a miracle."
Find out how Texas Health can help with your back and spine care. Find a physician or dial 214-612-7033 for a physician referral.