Prior to undergoing weight-loss surgery, a Texas Health nurse found herself beginning to limit and plan her life around her weight.
Texas Health Harris Methodist Hospital Southwest Fort Worth Nurse Navigator Vanessa Pierce, R.N., never had a problem with her weight until she had children. But she found that after each child, she hung on to a little extra weight.
She had her last child at 43 and had gained a significant amount of weight. She tried almost every diet for weight loss and was successful in losing it.
However, she had a hard time keeping it off.
When Pierce and her husband started planning for their summer vacation a few years ago, she would discard certain ideas like a Mediterranean cruise or mountain vacation.
Because of her weight, she knew that she would not have the stamina to do much walking and would most likely sit on the porch if they went to the mountains. She was beginning to limit and plan her life around her weight.
In February 2012, she decided to have gastric sleeve surgery. Antonio Castaneda, M.D., a physician on the medical staff at Texas Health Harris Methodist Hospital Fort Worth, performed the weight-loss surgery. After the surgery, she lost 68 pounds. She was learning to eat right but was still leading an inactive lifestyle. Although she had lost the weight, she did not feel healthy or have much energy.
She soon realized that even with the weight-loss surgery and healthy eating, she would not be able to continue losing weight or keep the weight off without some type of activity.
So, she hit the gym.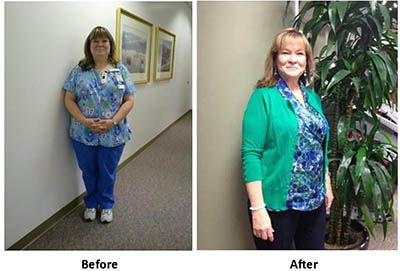 Pierce, who worked at Texas Health Fort Worth from 2005 to 2012, began working out two days a week with Alex Britain-Timmons, a fitness specialist in the Texas Health Fort Worth Fitness Center.
"Alex keeps me accountable and motivated. When I build up the endurance to exceed my 30-minute session, she increases the intensity. This has helped me build strength, muscle and stamina and is the first time since my 30s that I have felt so healthy," she said.
Pierce is playing racquetball again, a sport that she has not attempted in decades. And weight is no longer limiting her vacation options. She recently traveled to Paris for her daughter's 30th birthday and walked up to 15 miles a day without getting tired.
"I still have not reached my weight loss goal," she said. "Working out with a personal trainer has been my biggest constant and my biggest success. Even if I don't eat right seven days a week, I've kept the weight off because of my commitment to personal training."
Pierce's confidence has also increased. She would avoid taking pictures at all cost, and when she did, she would hide behind her husband, her kids, a shrub or another person or object.
"I don't mind taking pictures at all now."
Pierce's Tips
It's just a number: "Never let your weight or age become an excuse for not working out."
Start with a fun activity: "Find a physical activity that you enjoy. Mine is racquetball."
Work with a trainer: "There is great value in working out with a personal trainer. They hold you accountable and help you to reach your goals in spite of excuses. Even when I don't feel like working out, Alex encourages me so that I at least show up for my appointment."
Doctors on the medical staff practice independently and are not employees or agents of the hospital except for resident doctors in the hospital's graduate medical education program.
Get more information about the Texas Health Weight-Loss Surgery Program, or to schedule an appointment.