Pat Kidd's spunky attitude and infectious smile suddenly began to wane. If Kidd walked just a few steps, she was out of breath. It was a completely foreign feeling that the 81-year-old knew she needed to address.
Kidd underwent a transcatheter aortic valve replacement (TAVR) procedure at Texas Health Heart & Vascular Hospital Arlington, becoming one of the hospital's first patients to receive the specialized procedure. The TAVR procedure is also offered at Texas Health Harris Methodist Hospital Fort Worth, Texas Health Presbyterian Hospital Dallas and Texas Health Presbyterian Hospital Plano.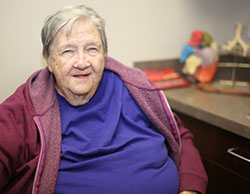 "I feel like a trailblazer," Kidd said. "They told me I'd be one of the first patients to have this procedure, and I was scared. But if being one of the first patients could help someone else, I was glad to do it."
Three physicians on the medical staff at Texas Health Heart and Vascular Hospital Arlington performed the procedure: Dr. Juzar Lokhandwala, cardiologist; along with Dr. James Norcross and Dr. Baron Hamman, both cardiothoracic surgeons. A team approach is key to the success of the TAVR procedure. Interventional cardiologists, non-invasive cardiologists and cardiovascular surgeons on the medical staff each have a role in the valve replacement procedure.
According to Lokhandwala, patients in their 70s or older who suffer from failing, narrowed aortic valves can benefit from this less-invasive TAVR procedure.
"Pat had a heart murmur and severe blockage in her aortic valve," said Lokhandwala, who explained that close to 90 percent of all TAVR procedures go in through the groin area.
Surgeons access the body's maze of blood vessels through an opening in the patient's groin, or femoral (leg) artery. From there, the cardiologists carefully guide a catheter through blood vessels in the abdomen and chest, finally reaching the heart. The stent valve, located on the tip of the catheter wire, is then inflated, the catheter removed, and the implant begins regulating blood flow to the heart.
Kidd vividly remembers difficult times before her TAVR procedure.
"I couldn't walk very far. It got so bad, I couldn't go shopping with my daughters," Kidd said. "On one hand, I saved money I didn't need to be spending, but I was missing out on life. That served as my motivation"
Post-surgery, Kidd is breathing better now. Typically, a patient would be hospitalized for five to seven days for an open heart procedure, according to Lokhandwala, but TAVR reduces a patient's length of stay.
"Pat went home a day after surgery, Lokhandwala said. Bottom line, we want to create the best outcome so patients like Pat can enjoy their time with friends and family."
How Old is Your Heart?™ Take our assessment to gauge your risk, or find out more about Texas Health heart and vascular services near you.