Navy veteran gets help with peripheral arterial disease at Texas Health HEB
While in the Navy, it was smooth sailing for Donald Curl, as he effortlessly ran up and down ladders on the USS Long Beach — the world's first nuclear-powered surface warship. That was more than 50 years ago during his service in the Vietnam War. But recently at age 70, simply walking five minutes in his house created a painful, burning sensation in his legs.
Last month, Curl heard about Texas Health Harris Methodist HEB's new vascular rehabilitation program, which addresses peripheral arterial disease, also known as PAD. And unknown to Curl, he is one of more than 8 million people in the U.S. battling PAD, according to the Centers for Disease Control and Prevention.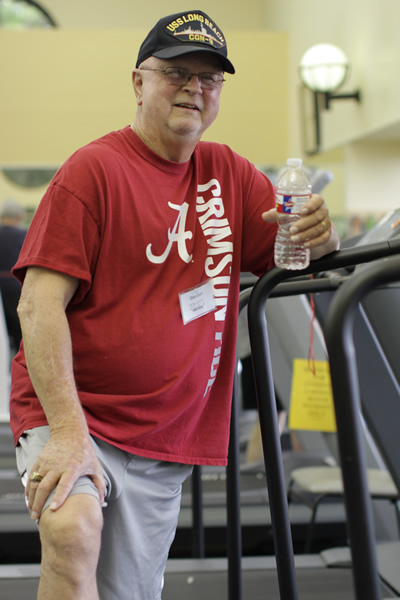 Texas Health is the only health care system in the state of Texas offering the unique program to PAD patients, and it's available at several Texas Health facilities across North Texas, including Texas Health HEB.
"We know that individuals living with PAD are at a higher risk of coronary artery disease, heart attack and even stroke," said Sheryl W. Brown, Texas Health Resources' program director of Cardiac Rehabilitation. "We wanted to address the immediate needs of these patients, because along with the leg pain, PAD can lead to decreased circulation in the legs, potential gangrene, and even loss of limbs."
Unlike traditional cardiac rehab, PAD patients focus on cardiovascular strengthening exercises in a typically non-ECG monitored format. To increase stamina and improve circulation in the legs, patients exercise on a variety of equipment, including treadmills and stationary bikes.
Since his diagnosis at Texas Health HEB, Curl said the vascular rehab program has been a tremendous help. The proud grandfather of three is exercising, learning about nutrition and improving his overall health and well-being.
"I want to live and see my grandkids do something special, so I come up here and get physically tortured," laughed Curl. "I'm enjoying it, really. If I want to stay healthy, I need to keep exercising, and this program has got me back to somewhat being normal."
Halfway through his vascular rehab program, Curl says the hard work is already paying off.
Before rehab, Curl could only mow for two minutes without his legs hurting, but he's now up to 30 minutes without pain.
"No pain, no gain definitely rings true in vascular rehab," said Angela Vizcaino, an exercise physiologist at Texas Health HEB. "You have to be physically and mentally tough to complete it, but the hard work is worth it in the end."
According to Vizcaino, the claudication pain — described as a burning or cramping sensation in the legs, by patients — is temporarily increased by working the muscles, which increases blood flow in the legs. A repetitive cycle of exercise and rest allows the clinician to monitor the patient and avoid injury.
"Our goal is to reduce or eliminate claudication pain," Vizcaino added. "So, we help him understand his body's pain tolerance by pushing him a little past his comfort level, backing off, and then pushing him some more as he walks on the treadmill."
The therapeutic exercise program focuses on key benefits, which include improving walking tolerance, quality of life, muscle strength and endurance; along with reducing cardiovascular risks.
Curl willingly volunteers that his lifestyle put him in an unhealthy predicament.
"I was a smoker, and when I retired in 2009, it seemed as if that's all I did," he said. "All those cigarettes probably led to my clogged arteries."
Last August at Texas Health HEB, Curl had a stent inserted in his heart and four more inserted near his left groin. That's also when he made a decision to put down the cigarettes and participate in cardiac rehab. Now undergoing vascular rehab, he's hoping to pick up activities he enjoyed before retirement.
"I would walk the 10K during the Fort Worth Cowtown Marathon, but my leg pain put an end to that," Curl said. "I had more fun drinking and smoking cigarettes, but all jokes aside, I'm hoping that when I leave vascular rehab, I'll be able to do some serious walking again."
To learn more about Texas Health HEB's broad range of health services and educational programs, visit hospital services.