On a seemingly ordinary Tuesday in mid-July, everything changed for Donato "Don" Villaflor, B.S.N., PCCN.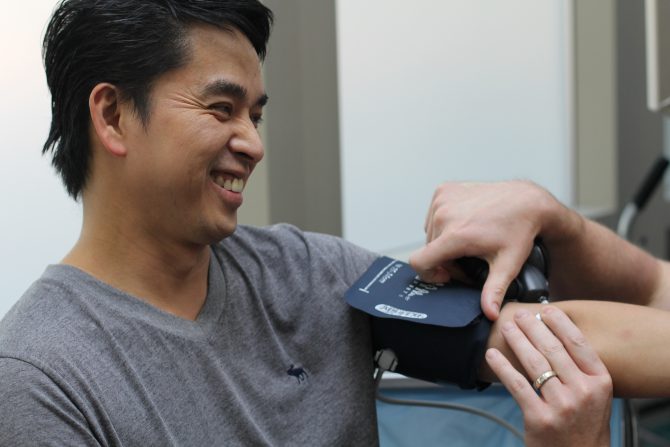 After working the night shift in the Cardiac Telemetry unit at Texas Health Dallas, Don hit the gym for an hour, as was his routine.
Having hereditary high cholesterol, Don, 41, knew the importance of a healthy life style, including diet and exercise. In fact, he had recently reduced his cholesterol from 237 to 117, with his physician's guidance, by making a few diet modifications and committing to a regular exercise schedule.
When he arrived home after the gym and started feeling pain in his upper chest, he knew something was not right, but was hesitant.
"Working as a nurse caring for cardiac patients, I know the symptoms of a heart attack frontwards and backwards," he said. "I was not experiencing the textbook stabbing-type of sharp pain. It was just a little heaviness on the upper left side of my chest. It was never at a high-level of pain, more like a three or a four on a scale of 10. Plus, I'm not on cholesterol meds and I don't have any risk factors – no diabetes, no high blood pressure. I really did not think it was a heart attack."
To be on the safe side, Don asked a friend to drive him to the Emergency Department at Texas Health Allen to get himself checked out. An electrocardiogram (EKG) confirmed the 20-year nursing veteran was indeed having a heart attack, and needed to be transported via CareFlite immediately to Texas Health Dallas for an emergency cardiac catheterization.
"Dr. Saleem Mallick [an interventional cardiologist on the medical staff at Texas Health Dallas] was on call that night," Don recalls. "It turns out I had a 99.9 percent blockage of the circumflex, which branches off from the left coronary artery to supply portions of the heart with oxygenated blood. I was awake and just in shock the entire time. It was so unexpected. But then I just had to go with the flow as everything was happening."
Dr. Mallick believes he knows what caused the heart attack.
"After the procedure, Dr. Mallick asked me what I was doing when I felt the chest pain. I told him I was working out in the gym before everything happened," Don said. "He thinks it is the narrowing of the arteries by cholesterol plaques that progressed over time, then became complicated when the plaques ruptured and clots formed in the area to cause the obstruction of blood flow."
A New Perspective on Patient Care
Don returned to work full-time a month later, on Aug. 15, 2015.
He says the seriousness of the situation was made less stressful by the compassionate care he received.
"Being in the hospital is a life-threatening experience and having somebody around you that treats you like their own family member truly makes the hospital stay a pleasant experience," he said.
Don also believes that his personal experience has helped shape the way he delivers care for patients in similar situations.
"I share my story with everyone, my patients in particular, because I believe that with the knowledge and experience I have as a nurse, plus my personal encounter with an MI, I am able to educate my patients in a way they can understand better – not only from textbooks, but also from a lived experience," he said. "I feel that once my patient learns that we share a common experience, they are more eager and receptive to learning. I take that as an opportunity to provide them information they need to cope with MI."
Don uses his experience to motivate his patients to make changes.
"A heart attack can affect anyone, any age, even the health care provider in front of them," he said. "I always emphasize the importance of lifestyle modification in dealing with MI. I encourage my patients to participate in the Cardiac Rehab program, sharing with them the good things it has done for me."
Nearly one year after his own heart attack, Don has successfully completed two phases of Cardiac Rehab at Texas Health Plano, which helped him resume his prior function.
"I became confident that I was doing well because the Cardiac Rehab team was there for me," he said. "The habit of weighing myself every day, working out and adhering to proper nutrition were reinforced. I feel stronger than before and I can run longer on the treadmill. It was hard saying goodbye to the people who were with me from the start. But I know this means that I am moving forward, and ready to do things fully on my own."
Don offers the following advice to his colleagues and patients alike:
"I want people to be cautious. I want them to exercise. I want people to live a very active lifestyle, because a heart attack can happen to anyone. It's scary. It doesn't have to be that painful either, like with my situation. Staying active is critical to your health. Exercising three times a week, doing exercises that you like to do, the kind that you can maintain, is the key. We ate out a lot before, but now we trim down our restaurant choices to be able to cut down on fatty foods. We also set a schedule to go out and do the things we like to do. I also try to find ways to reduce stress – photography is one of my hobbies. Also, one of my greatest mistakes was not calling 911 when I initially felt the chest pain. When it comes to heart attacks, time is muscle; any wasted time becomes a dead heart muscle. You have to act quickly even if you suspect something might be wrong. Listen to your gut."
How Old is Your Heart?™ Take our assessment here to gauge your risk, or find out more about Texas Health heart and vascular services near you.