Sometimes life throws you a curve ball, as it did for Sylvia Garcia. The 75-year-old was recently on her way home to Texas after enjoying time with family in California when she met with an unfortunate accident. While leaving her son's house before daylight to catch an early flight, she failed to notice a large stone in her path that caused her to trip and fall.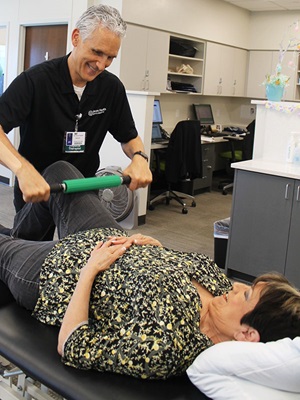 "I knew something wasn't right because the pain was excruciating, but I thought maybe I had simply sprained my knee," Sylvia says. "I somehow managed to get on the plane and make the three-hour trip home with my little dog in tow. However, I only made it a few feet past the gate and I just couldn't walk any more. I had to ask for wheelchair assistance the rest of the way."
Sylvia was able to drive herself home and resolved to visit with her doctor the following day. Beyond being a bit battered and bruised, Sylvia learned she had fractured her left patella when she fell. The fracture, known as a nondisplaced transverse fracture, caused the small bone in her kneecap to break in two. Although broken, her kneecap stayed in place, but the injury made it difficult for Sylvia to put pressure on her leg. The normally active senior was now struggling to even move.
Thankfully, it was the type of injury that could heal without surgery. Instead, Sylvia was placed in an immobilizer brace that ran the length of her leg to keep her knee straight and stabilize the separated bones in her kneecap.
Once she had time to heal, the Fort Worth resident was referred to the Alliance campus of Texas Health Sports Medicine to continue on her journey back to good health. When she arrived for her evaluation, she was met by physical therapist Kevin Karrenbrock.
"Sylvia came in with a heavy limp on her injured leg and she was walking with a cane," Karrenbrock explains. "She had just been taken out of her long leg splint and was needing to work on regaining her range of motion."
Because of the intense pain she was still experiencing, Sylvia admits that she was hesitant to move her leg at first. Being so immobile was difficult for the "weekend warrior" but the area around her knee was swollen and her kneecap was very stiff, making it hard for her to bend or straighten her knee.
Over the course of 8 weeks, Karrenbrock slowly but surely helped Sylvia regain her confidence in using her leg. He began by having her simply lift her leg against gravity and tighten her thigh muscles to gradually strengthen her leg. As therapy progressed, Sylvia was able to start moving her kneecap in multiple directions followed by icing and leg elevation.
Karrenbrock also administered edema massage therapy to help flush the excess fluid out of her system that had been causing Sylvia's knee to swell. "We ultimately worked on subtle balance training on a rocker board and single-leg stance training to give her more confidence in putting weight on her left foot and leg. Within a few treatments, Sylvia was walking more normally and with more confidence. She was soon able to move without the need for a cane," he says.
Sylvia is now back to doing all the things she loves, including gardening and walking her dog. She tries to keep up with the stretching exercises she learned while in therapy but attributes her successful recovery largely to the staff at Texas Health Sports Medicine.
"Kevin was awesome and provided such relief. I was in a lot of pain but after the second therapy, it was like night and day. I could feel the difference and I could tell Kevin was really knowledgeable. It was his exercises and knowing what he was doing that helped me heal," she adds.
To learn more about the services offered at Texas Health Sports Medicine or to find a location near you, visit TexasHealth.org/SportsMedicine.