Makenzie Beaver and her husband Shawn have a loving home filled with children — five boys and one girl, to be exact.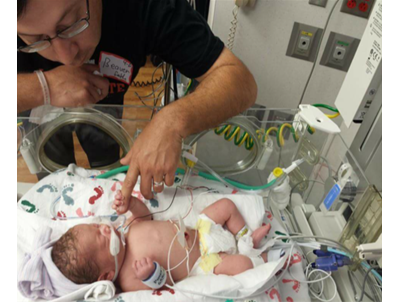 They had twins through the miracle of fertility treatments (one they would unfortunately lose to prematurity), had gone the adoption route and even made a commitment to being foster parents. Because of Makenzie's ongoing battle with endometriosis and polycystic ovarian syndrome (PCOS), conception was difficult for the Beavers. It wasn't until they were in the process of adopting one of their boys that Makenzie learned she was expecting on her own. It would be a girl.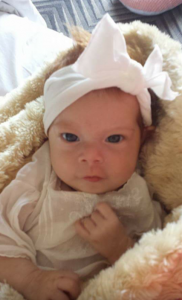 Makenzie wanted to have a natural childbirth at home with the help of a midwife and doula. But by week 10 of her pregnancy, the mom-to-be was experiencing extremely itchy palms and feet. She was diagnosed with ICP, a condition that causes the liver to malfunction and warrants an early delivery in most cases. Instead of her plan for a home birth, Makenzie had to accept that she would be induced in the hospital. During fetal non-stress tests to check on the baby's ongoing progress, doctors also expressed some concern about her general health although nothing was ever pinpointed. Sensing things weren't quite right, the coupled turned to their faith and lots of prayers to help get them through the rather difficult pregnancy.
Just as there were ups and downs in Makenzie's pregnancy, on delivery day at Texas Health Harris Methodist Hospital Fort Worth, her epidural wouldn't take. She toughed it out to give birth to 6 pound, 6 ounce baby Mabel while a family friend videotaped the event — and the roller coaster continued.
"Immediately following the delivery, the nurses asked my friend to stop videoing," Makenzie recalled. "They said Mabel wasn't breathing well and they wanted her to go to the nursery for tests. After being taken to my room, I looked up to see about five people standing in my door. I remember the concern and worry on their faces as they described Mabel's condition. We were taken to the NICU and that's where we saw our sweet girl with tubes and wires coming from every direction."
"When you think of NICU, I believe most people think of prematurity. But you don't see the rare conditions that are also treated there. Doctors explained that Mabel had a severe congenital diaphragmatic hernia. It was jaw-dropping to see the X-ray. From her breast line and below, it was completely black. Everything had slipped through a hole in her diaphragm and had crowded her chest!"
The Beavers patiently waited as Mabel was cleared for surgery 24 hours later, not knowing if their daughter would pull through. When she did, Makenzie and Shawn were told that Mabel could spend months in the hospital's Neonatal Intensive Care Unit. Makenzie responded by telling the staff that the family wanted her out in two weeks for her brother's elementary school graduation and that they should be prepared to see a miracle.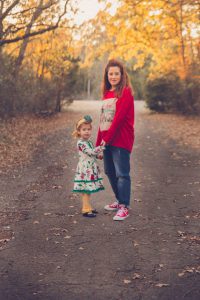 "We knew that after everything she had survived, she would continue to do so," Makenzie said. "Every hour, we had friends, family, pastors and church members coming to pray over #MiracleMabel and the hospital helped facilitate this. We prayed every day for a line to be removed, for her to take down a bottle, for her ventilator to be turned off, for her body temperature to hold. And, every day we watched tube after tube be removed and struggle after struggle be overcome. We left the hospital and drove straight to Brayden's graduation. Mabel continues to inspire our family to be prayer warriors for the NICU. We are so thankful for the amazing nurses and doctors there that we feel a lasting bond with the hospital."
Makenzie said she has a special place in her heart for the nurses who helped her breastfeed when she was recovering and to those who journaled in the book she left by Mabel's isolette. Now at three years old, Mabel is doing well. The Beaver family continues to attend all NICU reunions and celebrations at Texas Health Fort Worth. The Beaver children sacrifice their birthday presents each year as donations to the NICU, and one year they even held a Build-A-Bear birthday party so they could donate all of the bears to patients.