"The nurses were all so kind and the experience was so positive," said Patty Mallard. "I felt really comfortable in the Margot Perot Center for Women and Infants."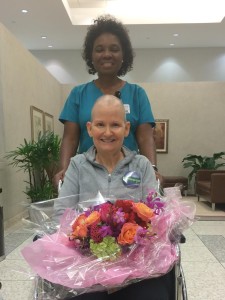 Patty Mallard was a healthy, active 56-year-old. She frequented the gym and worked full-time as a pre-kindergarten teacher. So when a routine mammogram turned up a spot on her breast, she wasn't especially worried.
But, a second mammogram, needle biopsy and core biopsy would ultimately lead to the news that she had invasive ductal carcinoma.
About 80 percent of all breast cancers diagnosed in the United States are invasive ductal carcinomas, or IDCs. Mallard's cancer was a small but very aggressive form fueled by the hormone therapy she was undergoing. She was presented with two treatment options by her OB/GYN physician, a lumpectomy or a mastectomy, but Mallard wasn't quite ready to commit to having surgery at her physician's hospital of choice. Instead, she sought counseling and additional information through the Breast Cancer Alliance of North Texas, a Texas Health Physicians Group practice, on the campus of Texas Health Presbyterian Hospital Dallas.
At the Breast Cancer Alliance, Mallard and her husband met breast surgeon W. Lee Bourland, M.D. Dr. Bourland helped the couple better understand the possible repercussions of Mallard's treatment options, and fully supported her when she made the decision to undergo a bilateral double mastectomy.
"If I had undergone a breast-conserving lumpectomy, I would have had to have radiation therapy and would probably always worry about a recurrence," Mallard said. "I chose a double mastectomy with chemotherapy because it seemed more permanent and the outcome more optimistic. The staff at the Breast Cancer Alliance was very compassionate and prepared me well for the procedure. They also helped me make the connection with an experienced plastic surgeon (Gregg Anigian, M.D., of Dallas Plastic Surgery) for the subsequent reconstruction."
Because of the existence of R2 protein that made Mallard's cancer a higher risk case, chemotherapy was done prior to surgery in an effort to reduce the size of the tumor and make it easier to surgically remove. During the course of Mallard's three-month chemotherapy regime, she lost her son to an unfortunate accident. She tried to stay strong through the challenges of chemotherapy and grieving her only son, and readied herself for surgery in October.
The surgery went well and Mallard was to spend three days in the hospital after her surgery, but she passed out shortly before being discharged.
"I was a little weak so the staff helped me get approved for one more day of recuperation," Mallard said. "The nurses were all so kind and the experience was so positive. I felt really comfortable in the Margot Perot Center for Women and Infants and very well taken care of. My husband was able to stay over in the room, and we had our privacy."
"Staying busy is good for me. I'm now back at the gym and working. I follow Dr. Bourland's orders and visit with him every three weeks. I plan to remain on a good course and really beat this thing," she added.
Physicians employed by Texas Health Physicians Group practice independently and are not employees of the hospital or Texas Health Resources.