Ironically, a heart attack may have saved Yvonne Coble's life.
When doctors performed a chest scan on 52-year-old Yvonne Coble following her heart episode in May, they noticed something out of the ordinary on her left breast.
"They saw a small lump and wanted to do a biopsy," Coble said. "I found out by accident that I had breast cancer."
Two weeks later, she was diagnosed with triple-negative breast cancer, an aggressive and sometimes deadly form of cancer.
"Going through two major diagnoses was almost impossible," she said. "It has impacted my life emotionally and physically. But I got through my heart attack, and I will get through this."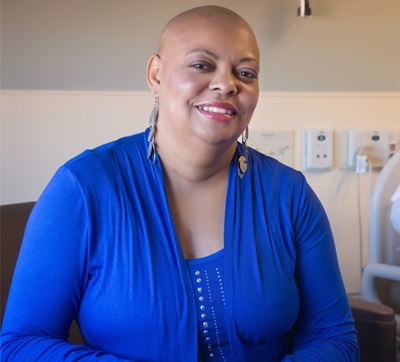 According to Dr. Kory Jones, medical director of the breast program Texas Health Arlington Memorial Hospital, triple negative breast cancer is a difficult diagnosis for anyone to accept, let alone understand.
"With this type of breast cancer, estrogen, progesterone and HER2 receptor proteins are not present in the cancerous tumor, which makes it difficult for the tumor to respond well to targeted breast cancer drugs," Jones said. "This type of cancer produces inflammatory-type hormones that unfortunately stimulate the growth of cancer cells, which is why chemotherapy before or immediately after surgery remains the standard treatment.
"Everyone takes the news differently, but Yvonne looked at it like, 'I survived a heart attack, so what do I need to do to survive cancer?' She credited her cardiac episodes for saving her life."
Jones performed a lumpectomy, removed several Coble's lymph nodes and began immediate chemotherapy. Before starting chemo, Coble made the decision to go bald – she went to the barber shop and asked them to cut off all of her hair, which was nearly half-way down her back.
"By cutting my hair, I'm taking control of the situation, not the other way around," Coble said.
When it comes to a strong family unit, Coble is grateful for hers. Family members take turns driving her to and from doctor's appointments and cancer treatments. Coble said her battle with cancer has been an educational experience for her entire family.
"When people hear cancer, they are quick to put you in the grave, because they don't understand," Coble said. "I have knowledgeable doctors and nurses, but I still took the time to do my own research."
And she didn't just educate her family members. She shared her health issues with strangers, too.
"I told my story through testimonies at my church. I used to hide my scars, but then I realized I'm going through this for a reason. My situation can possibly help somebody else."
Physicians on the medical staff practice independently and are not employees or agents of the hospital or Texas Health Resources.