Gabrielle Nolen-Fratantoni is blessed to have three healthy children — two boys and one girl. Her two youngest children were both born via un-medicated vaginal birth after cesarean (VBAC). Having a vaginal birth after having a cesarean, or C-section, delivery can be a safe choice for most women.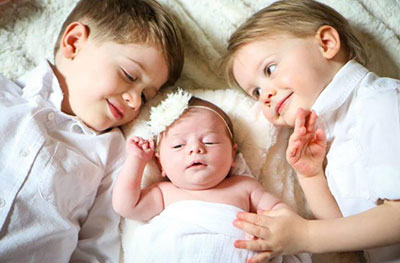 "I knew immediately after my first birth that I would have a VBAC in the future or, at the very least, a TOLAC (trial of labor after cesarean)," Gabrielle said. "I carried my first baby and bonded with him all those months and neither of us got to experience labor in the natural sense. It wasn't because of any choice I or my doctor made that led to a c-section, but rather because of a true emergent situation when I began seizing and my body began shutting down at 37 weeks. As time went on and I educated myself, I became increasingly passionate about VBAC."
When Gabrielle became pregnant for a second time, she began researching VBAC websites in hopes of finding the right support for her. She came to discover that several of her friends as well as the doula (birth companion) she hired had all delivered with the Midwife Services through Texas Health Harris Methodist Hospital Fort Worth. She was thankful to find a group of women whose beliefs were similar to hers: that birth was not merely a condition but a treasured time during which a woman should have the birth experience she desired, whatever that might look like.
A Collaborative Approach
"The certified nurse midwives on the medical staff at Texas Health Fort Worth work in collaboration with a woman's physician to encourage natural childbirth but we are also able to perform medical procedures and interventions in the safety of a hospital setting should the need arise," said Kathleen Donaldson, CNM, a certified nurse midwife with Acclaim Nurse Midwives located on the Texas Health Fort Worth campus. "Educational and risk-benefit discussions are initiated at the first visit by our midwives. Shared decision making then continues throughout the pregnancy between the woman and other care providers. In Gabrielle's case, we were there to support her TOLAC and subsequent VBAC and were immediately available at all times throughout the labor process."
For Gabrielle, the plan to go into labor with the goal of delivering vaginally and unmedicated was of the utmost importance and she knew were she wanted to do so. Although located within five minutes of two large and well-known hospitals, she and her husband chose to drive to Texas Health Fort Worth because of the hospital's reputation as a baby-friendly facility and the Hospital's support of VBAC deliveries.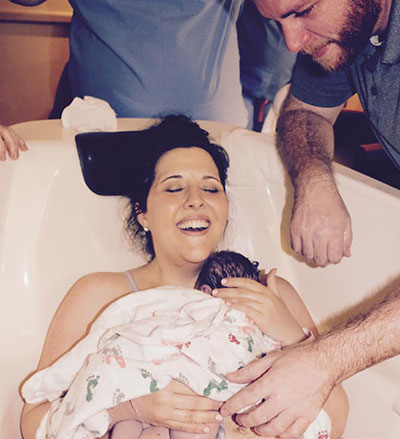 In preparing for her first VBAC, Gabrielle admitted that while she wholeheartedly supports the educational process she didn't attend any classes because she didn't want any outside influences coming into play. Instead, she spent a great deal of time in prayer and she continued to focus on medical research in support of VBAC. With her second VBAC, Gabrielle had no apprehensions as she no longer considered herself a VBAC but rather a VBAVB (vaginal birth after vaginal birth). She knew what to expect and how rewarding and empowering it would be to give birth the "good old fashioned way."
"With my first VBAC, I labored at home for over 20 hours and delivered at Texas Health Fort Worth within 40 minutes of arriving. I don't recall much, but I know I was surrounded and supported by very kind, calm and collected women who are now part of a beautiful birth story. They each were incredible and made sure the room was peaceful and my baby entered into a place of sweet joy. With my second VBAC, I arrived after my water had broken. Again, everyone was kind, calm and so supportive of the soothing environment my husband and I desired," she added.
Words of Wisdom
For any woman who may be considering a VBAC, Gabrielle advised that it's important to find a provider who shares a passion for VBAC and to hone in on a healthcare environment that wants that for her.
"Quality resources are available to help a woman in preparing for a VBAC, and great many women have journeyed the path and are available to talk about their experiences," Donaldson added. "It's a very personal decision that shouldn't be made lightly. I always advise a woman to prepare herself by being at an optimal weight, participating in regular exercise, and being mentally and emotionally ready. These are things she has control over. She should be vigilant and positive in her desire but also keep an open mind, as the situation may change. Our desire is always for a healthy mom and a healthy baby."