Routines stretch and soothe sore muscles during pregnancy, such as in the back, legs and shoulders.
Ashley Griggers was in her second trimester with her first baby when she began experiencing horrible back pain. She couldn't sleep or get comfortable during the day so she turned to her obstetrician, Dr. Karen Slabas, for help. As a member of the Texas Health Presbyterian Hospital Allen medical staff, Slabas knew of just the solution for Ashley. She recommended the mom-to-be take a Prenatal Yoga class through the hospital.
Texas Health offers prenatal yoga to expectant mothers of all activity levels. Prenatal Yoga is designed to stretch and soothe muscles that can become sore during pregnancy, such as in the back, legs and shoulders. It has also been successful in improving sleep and reducing anxiety in expectant moms.
Although Ashley had always walked and worked out on her own, she had never tried yoga. Through the class, she learned deep breathing techniques and meditation to help her relax in preparation for delivery day. Once she started taking the class, Ashley no longer suffered from back pain.
"My pregnancy during my third trimester was pretty easy," she said. "I didn't have swollen feet or body pain, and my OB said she could tell the difference in how I carried — and ultimately how I delivered. She attributed both to the yoga classes."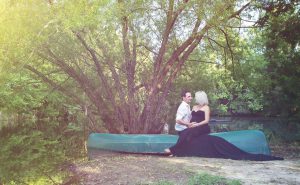 "Back pain is the number one complaint I hear from expecting mothers," according to Jessica Ladd, Director of Operations for the North Texas region of Oh Baby! Fitness and class instructor. "During yoga, I guide my students through exercises similar to those used in physical therapy for back issues. I have found over the years in teaching hundreds of students that these particular exercises are the perfect tools to build strength and balance in a woman's body. Prenatal Yoga is one of the best gifts an expecting mother can give herself. It is the perfect preparation for body and mind, whether she is delivering vaginally or cesarean."
Ashley's son Ace was born at a healthy 7 pounds, 2 ounces. Neither mom nor son experienced any issues during the birth process. Ashley is now busy getting settled in to motherhood and said she misses connecting with herself as well as other women through the yoga experience.
"I would recommend prenatal yoga to all pregnant mothers. Ace is right at two weeks old and I miss my class so much. The only regret I have is that I didn't start the class sooner," she admitted.
To find a prenatal yoga class, visit TexasHealth.org/Yoga.