Everywhere you turn, there are stories of patients coming into hospitals with not a bed to spare, of weary caregivers leaving for quieter jobs or other fields. Texas Health is not immune to these struggles, but that's not our daily reality.
Hospitals are busy, and the situation varies at each facility. As a health system, we are fortunate that we can support one another.
Recently, when Texas Health Harris Methodist Hospital Azle was hit hard with a high number of COVID-positive patients, respiratory therapists from Cleburne and Denton arrived to help their Azle colleagues care for patients.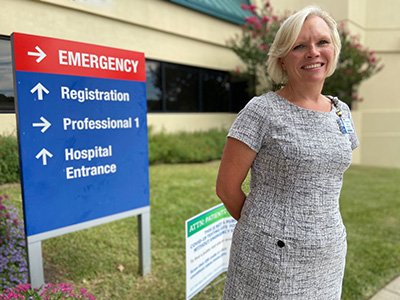 Tonya Sosebee, M.S.N., R.N., NEA-BC
"All of our staff have been impacted, but our respiratory therapy department has shouldered the majority of the burden with the influx of patients requiring oxygen or ventilator support," said Tonya Sosebee, M.S.N., R.N., NEA-BC, Texas Health Azle's chief operating officer and chief nursing officer. "Thankfully, Texas Health Harris Methodist Hospital Cleburne and Texas Health Presbyterian Hospital Denton sent respiratory therapists," Sosebee said.
Texas Health Harris Methodist Hospital Southwest Fort Worth has also had many patients requiring oxygen or ventilator support, and while they had the staff to handle the influx, equipment was running low.
Becky Tucker, president at Texas Health Southwest, shared, "We had a critical need to increase our respiratory equipment resources because of the high number of patients needing respiratory intervention. Sister facilities loaned us ventilators and BiPap (bilevel positive airway pressure) equipment. While everyone is busy and experiencing challenges, we're all jumping in to help one another so we can care for our communities."
After 20 months of coexisting with this virus, we've learned to be nimble and expect change. In late September, with COVID hospitalizations declining, Texas Health resumed scheduling and performing non-urgent outpatient surgeries and procedures. And we evaluate inpatient non-urgent procedures regularly, by location, performing procedures when capacity allows and pausing when needed.
At Texas Health Physicians Group practices, patient visits are at 111% of 2020 volumes. Virtual visits have increased from 5% of total volume to 10%, and we're conducting many COVID-19 tests in our clinics, at curbside for in-car collection and through our testing centers. Texas Health Breeze Urgent Care locations and DispatchHealth have helped care for patients closer to or at home, and Breeze locations are offering monoclonal antibody treatments, as are many of our facilities.
And yes, caregivers are weary but also dedicated and resilient.
"Hands down, it's teamwork," said Jamie Schweitzer, B.S.N., R.N., CEN, a nursing supervisor at Texas Health Harris Methodist Hospital Fort Worth who will mark 26 years at Texas Health emergency departments in December.
"Our doors never close; we can't turn it off. Everybody helps. That's just our culture. We know when to step up, to say, 'I see you're overwhelmed, what can I do?' It just works."
Praise from patients and families, and community appreciation, also lift caregivers' spirits.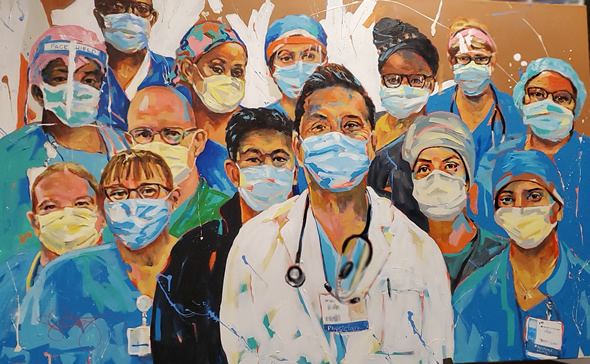 The Texas Health Plano "superheroes" who helped Susie Cortez's dad recover from COVID-19.
Recently a nationally recognized artist symbolically honored the people who cared for her father at Texas Health Presbyterian Hospital Plano. Mario Cortez survived COVID-19, and to show their appreciation, the Cortez family presented Texas Health Plano with a personalized painting.
"Before putting brush to canvas, I thought of the Justice League, where you see Superman and Wonder Woman and all the superheroes standing in solidarity," said Susie Cortez, a fine art consultant and well-known visual artist. "That's what I visualized for this painting, but the superheroes captured in this piece are the nurses and doctors that helped my dad recover from COVID-19."
Mario spent a total of 10 days at Texas Health Plano and credits his successful recovery to more than just medication and oxygen treatments.
"Every day, all the nurses would lift my spirits up," Mario said. "God only knows what was going on in their lives while they were helping heal me."