Janice Kelly and her husband have trusted Texas Health Arlington Memorial Hospital for more than 50 years. Discomfort following surgery led her to outpatient rehabilitation in the midst of the COVID-19 pandemic to receive care that she says "was life-changing."
Heart surgery last year brought promise of a more active lifestyle for 76-year-old Janice Kelly. It enabled her to get off the medication she had long been tied to for treatment of her atrial fibrillation (Afib). But being sedentary during the recovery left Janice with pain in her hip. The resulting discomfort led Janice to the outpatient rehabilitation program at Texas Health Arlington Memorial Hospital. The hospital is one she and her husband have trusted for more than 50 years. This time was no different, except for it being in the midst of the COVID-19 pandemic.
"Before scheduling anything at the hospital, I spoke to the rehab department about its safety protocols," Janice recalls. "I got the information I needed to feel comfortable in moving forward with therapy. Everyone was proactive when I arrived. I was asked some questions about the virus, had my temperature taken, was given a sticker to wear that showed I had 'passed the test', received my mask and away I went."
The road to better movement
At her first appointment, Janice was met by physical therapist Steve Messimer, DPT, ATC, MDT. Messimer quickly learned that Janice not only was suffering from hip pain but also had soreness in her right arm leftover from rotator cuff surgery several years earlier. She would compensate for her shoulder discomfort by using her left arm to reach for items on her kitchen shelves. It wasn't the best solution for the normally right-handed Janice, so the two decided to focus on her shoulder initially.
When asked to do an exercise known as a walkup along the wall, Messimer quickly saw that Janice had little ability to raise her arm. "Right away, he told me that we would be working on exercises to build muscle and upper body strength. After just two visits, I was so happy with the progress that I returned to my gardening," Janice says.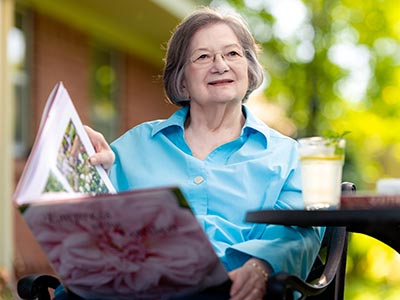 Messimer then shifted focus to Janice's hip. "Initially, she wasn't even able to lift her leg up off the table. We worked to build her hip strength to get her performing a more normal gait pattern when walking. It was a process. We would change things up based on what was or wasn't working.
Understanding the limitations that prevent someone from performing a task adequately is the key to what we do as therapists. I am thankful that I had the opportunity to help Janice achieve her goals, and grateful that I also made a friend along the way," Messimer says.
During the course of therapy, Messimer noticed some swelling had developed in Janice's feet and legs. He encouraged her to visit with Jennifer Gibson, MOT, CLT-LANA, an occupational therapist at Texas Health Arlington Memorial, and coordinated the paperwork with Janice's primary doctor.
Gibson recognized the telltale signs of lymphedema, a condition that causes fluid buildup and painful swelling. It turns out Janice had tried wearing compression socks at home to alleviate her symptoms but had difficulty in getting them on. At Texas Health Arlington Memorial, she underwent lymphedema therapy to rid her body of the excess fluid and increase her mobility.
"We used Velcro compression garments and bandages in conjunction with the lymphedema therapy for what is known as a total Combined Decongestive Therapy," Gibson explains. "Mrs. Kelly's positive attitude and 'never give up' determination have helped her reduce the swelling and feel better."
A commitment to ongoing well-being
Janice worked with Steve twice a week until she completed her physical therapy at the end of June. She admits she would have gladly gone every day if necessary because the care she received was life changing.
"I was always a very active person. Not feeling well and being inactive was bad for me not only physically but emotionally as well. The care I have received has changed my whole outlook. I've now signed on with the hospital's fitness center to keep up with my progress once I complete my occupational therapy," Janice adds.
When it comes to getting needed care during the pandemic, Janice offers some advice: "Ask questions to help you decide what's right for you. I got the reassurances I needed before and during my sessions to help me feel comfortable. Steve and the other staff members would sanitize the equipment after every use, and sometimes I was the only patient in the facility at the time.
My family has felt comfortable on the Texas Health Arlington Memorial campus for many years. We will continue to look toward this hospital for services and care to keep us going."
To learn more about physical and occupational therapy through Texas Health, visit Rehabilitation Services.