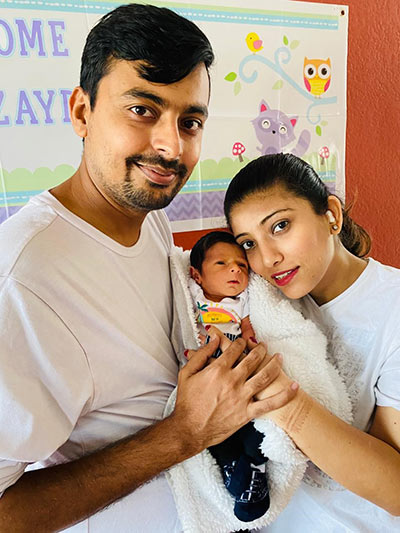 It was nearing 3:30 a.m. when Pooja Charaniya awoke with a splitting headache. When she started running a fever later in the day, she and her husband decided they needed to visit an urgent care clinic. It was April 11, and Pooja was 22 weeks pregnant at the time.
With the COVID-19 pandemic well underway, the staff at the urgent care clinic directed the 28-year-old and her husband to the emergency department at Texas Health Harris Methodist Hospital HEB for coronavirus testing. Pooja tested positive for the virus, so she was admitted to the hospital for observation.
Not much was known at the time about the possible effects of the virus on pregnant women, but Pooja was closely monitored by hospital staff. When she didn't exhibit any further symptoms and her baby showed no signs of distress, the mom-to-be was discharged to home isolation two days later.
Unfortunately, it didn't take long before Pooja had developed a cough. "The next day, I had pain in my ribs and was also having issues breathing so we did a telemedicine call with one of the doctors at the hospital," she said. "The doctor advised my husband to keep watch on my oxygen level and to bring me back in if the oxygen level dropped below 95. Early the next morning my oxygen level was around 88, so it was back to Texas Health HEB."
Collaborative Care for a Family in Need
Now in ICU, Pooja's oxygen level continued to drop, and she was soon diagnosed with pneumonia. It was decided that she should be transferred to Texas Health Harris Methodist Fort Worth, where a high-risk neonatal team was equipped to care for her baby at such an early gestational age should Pooja require delivery.
Texas Health Fort Worth also offered round-the-clock access to an in-house maternal fetal medicine physician, COVID Intensive Care staff and an OB Critical Care team, who could intervene on behalf of Pooja or her infant in a moment's notice. These teams had recently completed training to prepare for safely delivering and caring for pregnant COVID patients and their newborns during the pandemic.
"I don't remember anything after being moved from the ambulance into the hospital," Pooja recalled. "My husband has told me that the hospital staff did everything they could for me and my baby, and that discussions were had about our desire for intervention to save our baby. Maternal fetal medicine specialists were brought in to check on me and baby every day, and nurses from the Labor and Delivery staff did ongoing fetal monitoring while I was hooked up to a ventilator."
"Ms. Charaniya came in on April 18 as our first pregnant patient who was positive for COVID-19," explained Lindsey Canon, RN, RNC-NIC, director of Texas Health Fort Worth's Center for Women and Infants Services. "Because information and protocols were constantly changing at the time, it was very important that the collaborative team from across the hospital, along with the Labor and Delivery nurses, maternal fetal medicine physicians and neonatal ICU high-risk delivery staff knew what precautions to take if Ms. Charaniya was going to need to be delivered emergently. During her stay on the designated COVID-19 unit, she was ultimately intubated to make it easier for her to breath. She remained on a ventilator until the first of May and was finally discharged on May 7."
"There were no clear-cut treatments proven to be of benefit to pregnant COVID-19 patients at the time," added Bannie Tabor, M.D., medical director of Maternal Fetal Medicine on the medical staff at Texas Health Fort Worth. "Remsedivir and convalescent plasma required special CDC approval, and the effects of steroids routinely given for fetal maturation were yet to be seen in a COVID patient. But when Ms. Charaniya was intubated and it looked like she may not survive, it was determined that the benefits of these measures outweighed the risks. The Neonatal Intensive Care staff was prepared with an isolette and resuscitation equipment on hand outside Ms. Charaniya's room at all times, in case she were to deliver. Thankfully, that equipment never had to be used."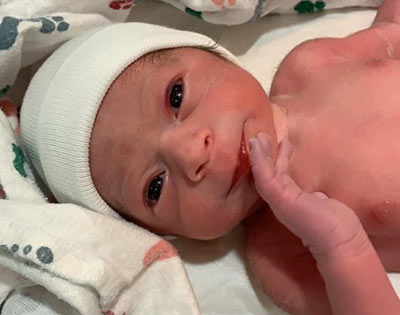 Pooja went home almost 20 pounds lighter and she needed some support for several days until she could walk again properly. "I was blessed. God had some plans for me and my baby, and I appreciate everyone at the hospital for giving us the chance to live. At one point, I told my husband that I didn't think I'd be fine, but the doctors performed a miracle and saved me and my baby. My family and I are so thankful to everyone who was there for us at Texas Health HEB and Texas Health Fort Worth."
Pooja and her husband grew especially fond of Dr. Tabor, who continued to check on the family even after Pooja's discharge. So much so, that they decided to have Dr. Tabor deliver their first child.
Come delivery day back at Texas Health Fort Worth, Pooja was again tested for COVID-19 upon her arrival. This time, the test came back negative. Baby Zayd was born on July 22 without complications.
"Doctors originally told me that I might have to have a cesarean section, but it was a natural childbirth and my husband got to be there with me. Everyone who came into the room had enough protection for our safety and theirs. The rooms were cleaned often, and we were checked on regularly, which made us feel very comfortable until we were able to take our newborn son home," she said.
"When Ms. Charaniya came back to us to deliver her baby, it was truly one of the most memorable experiences for our whole team. I know we all spent countless hours and days worrying about and praying for her and her family," Canon admitted.
To learn about having a Texas Health baby, visit Women and Infant Services. Read more pandemic birth stories at Right There With You. Whatever Comes.