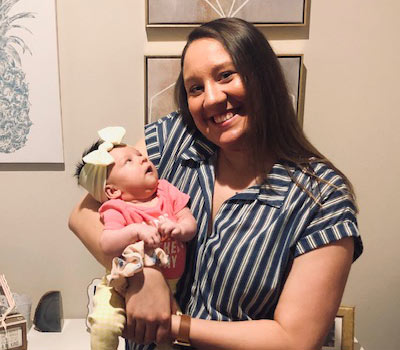 Rikke Gutierrez was well into her first pregnancy and making preparations for the arrival of baby Ivy when the coronavirus pandemic hit. Suddenly, she was faced with attending her prenatal visits by herself. She began hearing that expectant moms might have to go alone in the delivery room as well. The normal anxiety she had of becoming a first-time mom turned to real fear.
"This was our first child, so I was super worried and anxious about everything related to the birth," Rikke says. "Not knowing what was to come with the virus was especially unnerving."
Rikke's due date was fast approaching in May, and she had many questions about what to expect at the hospital. Could she have a support person on hand? Would visitors be allowed in to see her and baby Ivy? Would she be required to wear a mask throughout the birthing experience?
Once she arrived at Texas Health Arlington for delivery day, Rikke was greeted by what she describes as an amazing group of nurses and staff who put her at ease. "Everyone made me feel so comfortable. They answered all of my questions and took such great care of me and baby. I felt like they weren't my nurses, but rather family."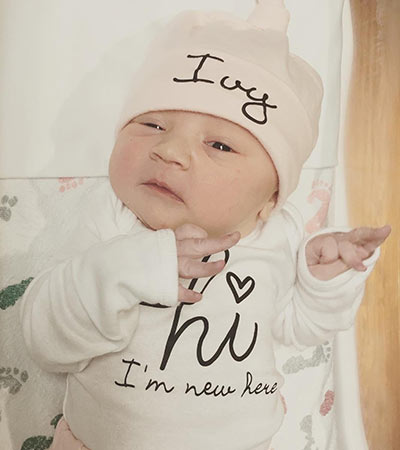 Rikke says the L&D nurses were quick to reassure her that she was not alone in her birthing experience, no matter the circumstances. Although she was able to have her husband in the delivery room, she was calmed by how efficient the nursing staff worked — especially since she only pushed for about six minutes before Ivy arrived on the scene.
The Gutierrez family is now settling in at home, but Rikke says she misses the nurses and staff who made her first delivery such a great experience. She offers this advice to other expectant moms: "It was a scary time as a new mom, but you can be assured that you will be in great hands. Don't be afraid to ask anything of the labor and delivery team; everyone is there to help. I wish I could have seen the faces of the nurses who cared for me. I probably won't ever know what they looked like, but they all had kind eyes."
When the pandemic subsides, the Gutierrez family looks forward to having more people around to help welcome baby Ivy into the world. But for now, mom and dad are getting some quality bonding time with their sweet girl.
To learn about having a Texas Health baby, visit Women and Infant Services. For more consumer stories, visit Right There With You. Whatever Comes.