When Julia Hager had her first son Miles at the Margot Perot Center in 2019, the architect at HKS Dallas had no idea she would be leading the $56 million renovation project just two years later. Her maternity and delivery experience at that time gave her insight into what makes the center so special for mothers and their babies.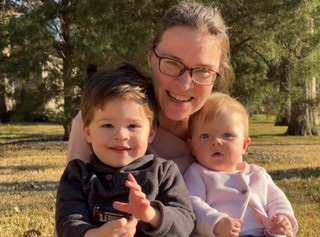 Julia, Miles, and Maya Hager
Her takeaway? The staff at the center makes all the difference in the world.
"I was referred to the Perot center through my doctor's recommendation. I was so impressed by the quality of care. The staff treated me like royalty, and this was long before I knew anyone," says Hager.
Today, Hager knows the staff by name and uses her experience as a patient to help guide the redesign project. "My focus was to figure out how to re-craft the space to meet a high level of care, from aesthetics to design. The staff spends so much time with their patients. I knew it was important to support them in the care they provide so they can spend as much time with patients in less steps."
In the fall of 2021, Phase 1 construction began. The timing coincided with the delivery of Hager's second child, Maya, at the center. This time, she knew all the staff by name and was able to experience the center through the eyes of a patient once more.
"I came away with tremendous respect for the staff. It's incredible to watch them do what they do. That's the fragile nature of the design process – asking the nurses to enter our world and talk about space – this is not what they do every day. Yet they offered me their professional opinions throughout the entire design process. To see them in their element was just an incredible experience."
Hager knows that the $56 million renovation at the Margot Perot Center is the project of a lifetime. "Building on the legacy is incredible and a great honor. Everything from the HVAC, plumbing and elevators are getting upgrades. My goal is to set them up for success to deliver the next 100,000 babies over the next 40 years."