Want to Make a Difference?
Campaign Devoted to Renewing the Perot Center's Mission to Serve the Community
"When you invest in the Margot Perot Center renovation, you're impacting thousands of lives, and that's priceless. Individually and community-wide you're doing something for someone else. For us, job one is a healthy baby and a healthy mom. We want them to leave saying their experience was great!"
—Dr. Eugene Hunt, Chairman of the Obstetrics and Gynecology Division at Texas Health Dallas
In September 2023, the Margot Perot Center for Women and Infants will celebrate 40 years of service to the women of North Texas. The center enjoys a stellar national reputation for obstetrical, gynecological, and whole woman care, sees 5,000 births, and provides care for more than 175,000 patients annually.
Faced with burgeoning patient demand, increasing patient expectations, and the limitations presented by a nearly 40-year-old structure, Dr. Eugene Hunt, chairman of the Obstetrics and Gynecology division at Texas Health says renovation was the only answer.
"We are trying to do something that will last another 40 years. The technology in the labor and delivery rooms, the operating rooms, and at the nurses' stations will be leading edge. This will enable physicians, nurses, and the whole healthcare team to more easily deliver the best care possible."
The Foundation is grateful to the many community volunteers and donors who have already stepped up to support this campaign effort. For more information and to support the Perot renovation, please contact Shannon Fisher at 682-236-5965 or ShannonFisher@texashealth.org.
---
A Patient Story
See how the Margot Perot Center made a difference in this family's life.
---
40 Years of Care: Continuing the Legacy of the Perot Family's Gift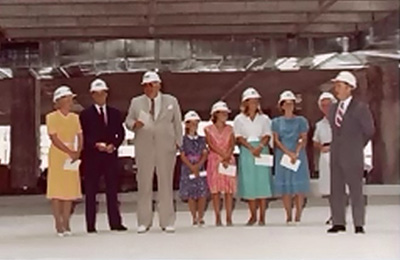 The Perot Family
Since 1983, the Margot Perot Center for Women and Children has provided exceptional care to moms to-be, mothers, infants, daughters, sisters, and grandmothers. The premier women's healthcare center was made possible through a gift from the children of Ross and Margot Perot in honor of their parent's 25th anniversary.
---
Make a Difference with Your Gift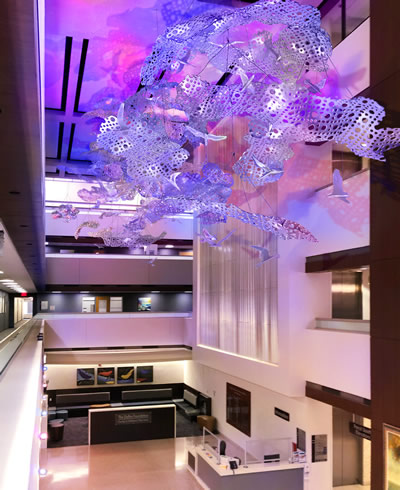 We invite you to be part of the Margot Perot Center renovation and leave an enduring mark on your community with a gift. Every amount helps!
You may honor someone you care about by sponsoring one or more storks that are featured in the beautiful new art installation in the atrium. Your gift of $1,000 sponsors one stork; your gift of $2,500 sponsors a muster of storks. Everyone who sponsors a stork will be included on a commemorative plaque in the lobby.
There are also naming opportunities available beginning at $10,000. Flexible pledge terms make it simple to leave a lasting impact on thousands of women and children in North Texas. To learn more about the renovation or ways to give, please contact JaneCostello@TexasHealth.org.
Without the expansion, some needs will have to wait. With your help, they may not have to.
---
Phase Three of Project Benefits Women from Maternity to Maturity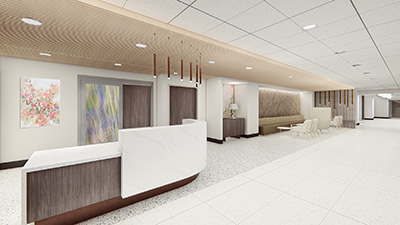 "Medical care has changed in the past 40 years. Our goal is to create living spaces where women can find a sanctuary for rest and healing. Everything we do is designed for the patient, from the color of the walls to the lamps in the rooms."
—Rita Hendricks, Senior Project Manager, Margot Perot Center
---
Architect Sees Perot Project from Both Sides Now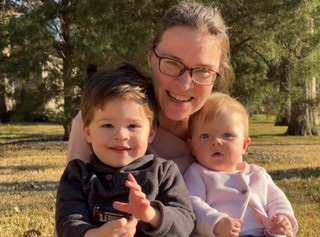 Julia, Miles, and Maya Hager
"My goal is to set them up for success to deliver the next 100,000 babies over the next 40 years."
—Julia Hager, lead architect for the $56 million Perot renovation